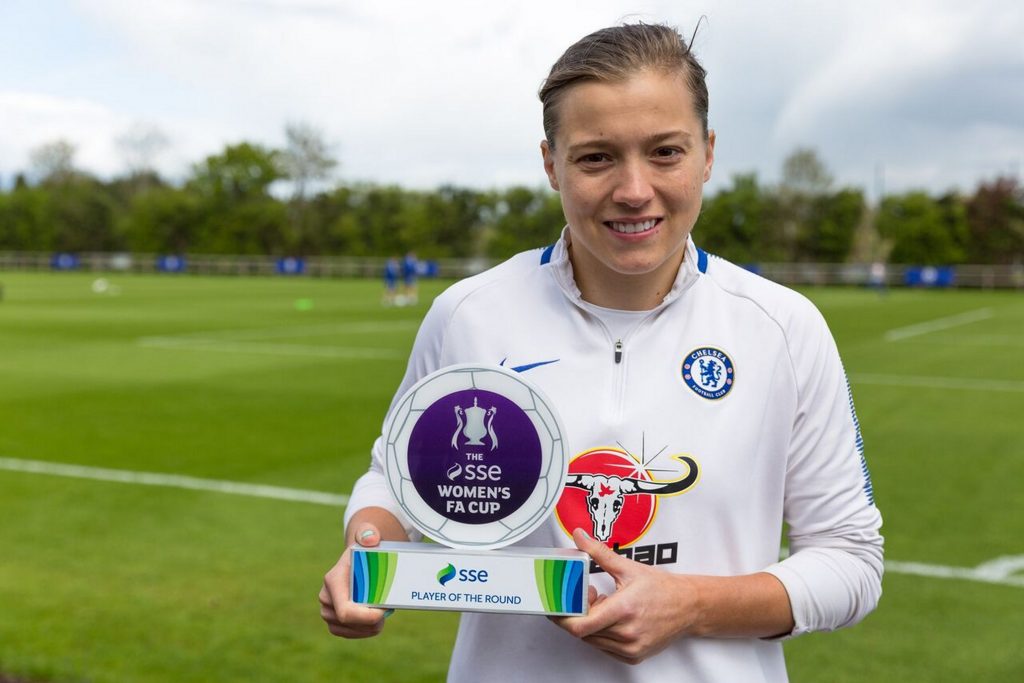 Two years ago Fran Kirby fired Chelsea to an SSE Women's FA Cup final that ended in defeat, now she wants to rewrite history at Wembley.
Such are the honours already picked up by the 24-year-old forward it comes as a surprise to learn Kirby has yet to win an FA Cup.
A cup-tied spectator in 2015 as new side Chelsea beat Notts County to lift the trophy and she was then powerless to stop Arsenal beating the Blues to the title at Wembley the following summer.
That season it was her extra-time goal that got Chelsea to the final and now, having downed holders Manchester City with a brace in the semi-final – a performance that saw her earn the SSE Women's FA Cup player of the round award – she wants to go one better.
"Of course it's nice to have personal recognition," she said. "But it's all about getting the team trophy, that's what's on my mind at the moment and anything personal is just a bonus.
"I'm really looking forward to the final, it's a massive honour to be able to play at Wembley.
"It would mean everything to me. When you're growing up the FA Cup means so much, it's such an historic trophy to win.
"I wasn't able to be part of the team when they did win it in 2015, so it would be a massive moment for myself personally and also for the club to show how much hard work we've put in this season.
"We've got to try and get a bit of revenge from our last FA Cup final where Arsenal beat us, so hopefully we can come away with the trophy this time."
Chelsea currently sit top of the FA Women's Super League and are in the semi-finals of the Champions League – although they trail Wolfsburg 3-1 following Sunday's first leg.
Kirby was also named both the Professional Footballers' Association and the Football Writers' player of the year this week and, while she insists her focus is on winning silverware with her team, those awards have not gone unnoticed.
"The main thing for me is that it's been voted for by players I'm playing against week in, week out, or those who are watching each week and writing about the sport," she added.
"This season has just been a case of building momentum, keeping on working hard in training – on and off the pitch – in the gym or extras after team training.
"And I've been doing whatever I can to keep myself fit and keep myself healthy."
SSE Women's FA Cup final opponents Arsenal have won the competition a record 14 times – most recently in 2016 with that 1-0 victory over Chelsea – but the Blues have faced them twice in the league this season and have yet to taste defeat.
Leading Kirby to head to Wembley in confident mood.
"We can take confidence from those league games," she concluded. "Even in the draw we dominated large parts of the game – we could have maybe scored a few more goals.
"We know that we've got goals in this team and that we're solid at the back so we need to make sure we keep our confidence and momentum building – then hopefully we can put in the right performance."
By Sportsbeat
Tickets are now on sale for the SSE Women's FA Cup Final on Saturday 5th May at Wembley Stadium connected by EE. For more information about tickets and SSE's involvement in women's football visit www.sponsorship.sse.com