The latest issue of She Kicks – the magazine for women's football – hit doormats and email inboxes at the start of December and #SK64 is packed with plenty of interviews and content from the women's game in the UK and further afield.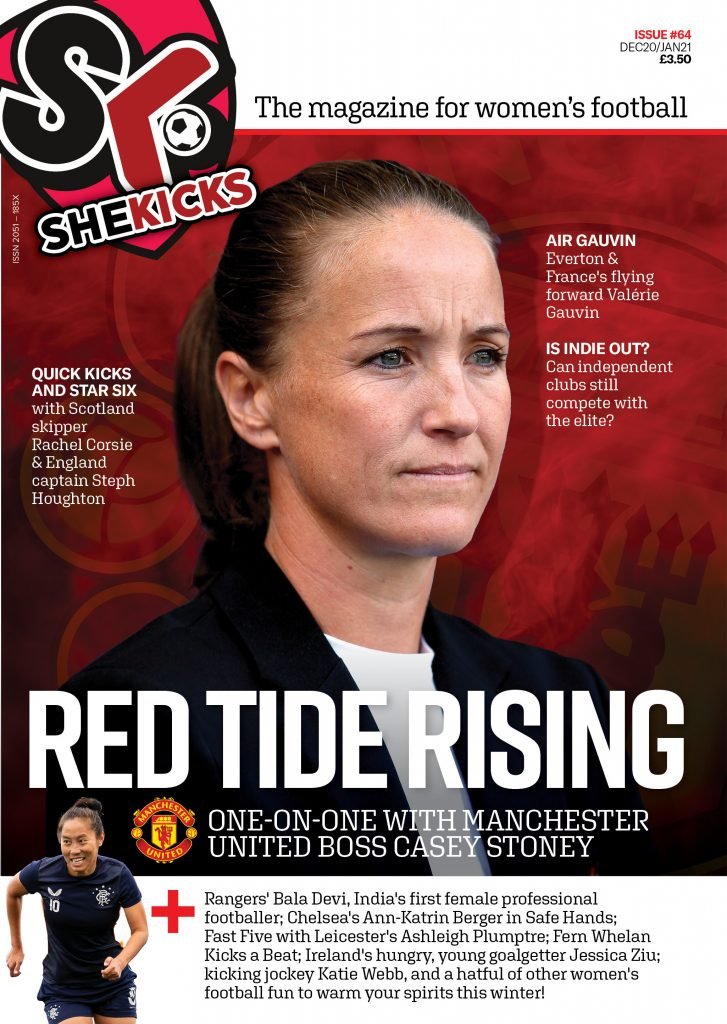 Standout features include a seven-page 'Coach Kicks' interview with Manchester United's Head Coach (and former England skipper) Casey Stoney, in which she reveals that she has started sitting on the drinks box as a way to, "try to stay out of the game a bit more, sit down a little bit more. Obviously with Covid, I can't actually sit on the bench, because you need to be two metres apart, so the drinks box works for me. I can still be pitch side but I can sit down."
Stoney also talks about how you learn many things in coach education and in terms of communication to, however dealing with the real-life human element of dealing with a group of individuals is something you need to discover yourself: "knowing people in your environment and how to manage them, I don't think anyone teaches you."
And she also laments something many managers will have learned and have to live with due to the peculiarly public nature of their role… "Nobody tells the plumber they've put the taps wrong, but everyone thinks they can be a better football manager."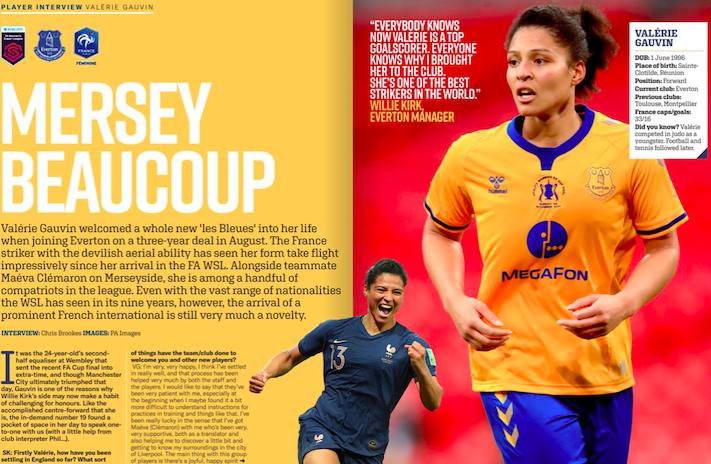 Other top names in #SK64 are Everton's French star striker Valérie Gauvin and both England and Scotland captains Steph Houghton and Rachel Corsie, while we find out a little more about India's first professional female footballer Bala Devi and quiz Germany and Chelsea goalkeeper Ann-Katrin Berger about her position.
Plus, 20 years on since Croydon beat Doncaster Belles in the FA Women's Cup Final and five years since 1.FFC Frankfurt lifted the UEFA Women's Champions League trophy, in the face of increasing investment from top European men's sides, we investigate: Is there a future for independent clubs in the elite women's game?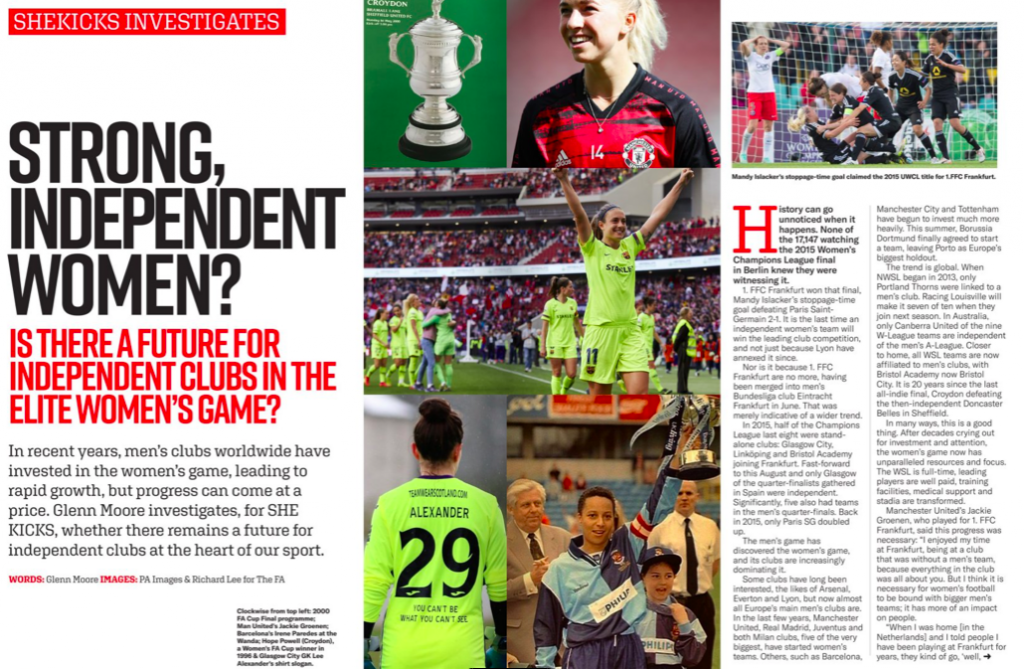 There's Vivianne Miedema reaching the record 50 goal milestone for Arsenal in the FAWSL, former England defender Fern Whelan discussing her career through her musical tastes, young Irish talent Jessica Ziu, footballing jockey Katie Webb, Wales's Lily Woodham, Leicester City's Ashleigh Plumptre, as well as news, galleries, posters and a bit of fun too, all packed into 72 full-colour, A5-sized-pages.
In short, #SK64 includes
:
– Extended feature with Manchester United head coach Casey Stoney
– One-on-one with Everton's France international striker Valérie Gauvin
– England captain Steph Houghton in Star Six
– Quick Kicks with Scotland skipper Rachel Corsie

– Rangers' Bala Devi, India's first professional female footballer
– Safe Hands with Chelsea's Ann-Katrin Berger
PLUS – She Kicks investigates : Can independent clubs still compete?
Click HERE (or on the cover image above) to buy your copy.
OR, why not take out an Annual Subscription for only £25 (inc UK postage)? Click HERE for Annual Subscription details.
BACK ISSUES also available. More info HERE.