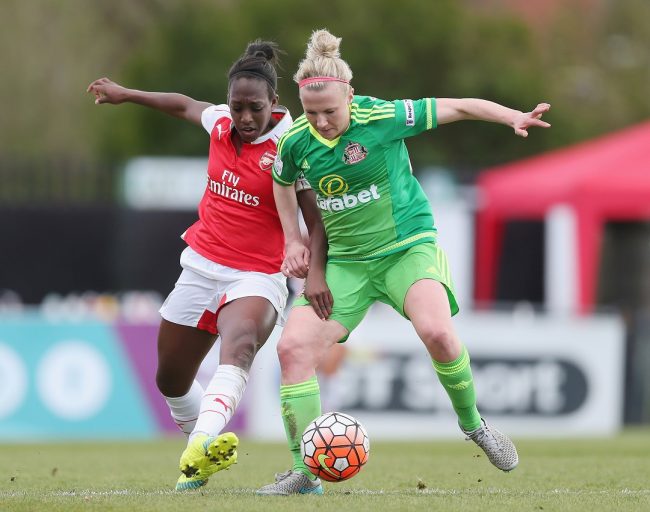 Through a career so far spent in five countries, Sunderland's Kylla Sjoman has gotten to grasp just how pivotal a safety net is for a footballer. Whether it's on the support system a player needs on their way up, the cushion of a plan beyond the beautiful game, or just the belief to follow their instinct, the warm-hearted Canadian-Finn has much to share.
One thing that could never be said about Kylla's journey is that it has lacked diverse and sometimes brilliantly quirky details. While playing for USL W-League club Boston Renegades in the summer of 2009, she was getting set for Independence Day in a place overlooking the city, watching the sun come up with a friend as they heard Neil Diamond rehearsing 'Sweet Caroline' for his Fourth of July show close by.
The situations in which her football life has placed her have not always been so wonderfully surreal, but sometimes what seems a testing situation to begin with can ultimately yield great happiness.  She recalls how that was true of her time in Glasgow when she joined Celtic in the Scottish Women's Premier League four years ago.
"I worked part-time in a bar – I was a Canadian, working in a Caribbean bar…in Glasgow! That was tough because I had literally just gone from playing with Canada in front of 22,000, to working in a bar and trying to juggle training and getting back to an elite level.
"I think I came into Celtic at a definite time of transition, where they were starting to recognise the growth of the women's game. David Haley (manager) and Adrian Filby (commercial director), they took it upon themselves to try and provide more resources.
"At the time I came in, I had to earn my own money, and then I got helped with expenses for playing; I definitely couldn't have done it without another job. I lived in the East End of Glasgow and would walk maybe 100 metres from my flat and could see Celtic Park.
"Glasgow I feel is my home away from home, in the UK. My best friend from Germany moved over with me – he's still up in Glasgow and he has a little baby and everything – and I really settled in because people seem to have this friendly kind of way.
"I feel like Glasgow has this harsh stereotype but I saw a completely different side."
As well as connecting with Glasgow in general, Kylla's Celtic twice reached the Scottish Women's Cup semi-final. Although different in many ways, the North East of England wasn't all that foreign to her when she arrived in January last year, unveiled as a new signing at Sunderland alongside ex-Liverpool midfielder Lucy Staniforth.
"I think coming to Sunderland was actually one of the smoothest transitions I've had. I knew a few people in the area; the players I'd played with down in Doncaster like Tori Williams, Helen Alderson.
"Also, just a great group of girls who made me feel welcome. I don't have a car and Brooke Chaplen would offer to come pick me up and take me to training, and Meg Beer – they did a lot to help me out."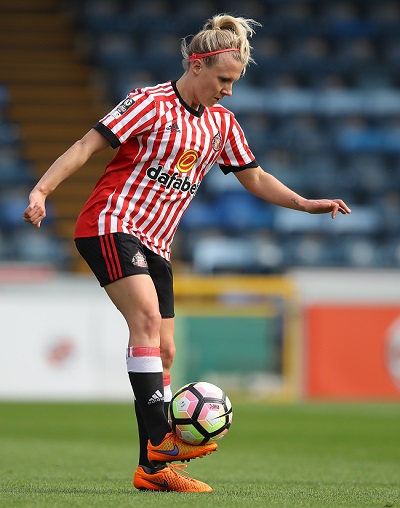 As with Kylla's career in general, though, it's never entirely been a bed of roses, and a torn ACL is just about the sharpest thorn to burst your bubble. With the magical benefit of hindsight, the devastating April 2016 knee injury she suffered ultimately gave her bonds she continues to cherish today.
For a while, though, the Canadian international was left just longing for some of the everyday basics again.
"I was down in London for the first three days at the hospital and then Sunderland brought a car down and brought me back up to my apartment. One of my really good friends from Northern Ireland came over and was literally at my door when I came back from surgery and looked after me for a week.
"A day after she left, another one of my friends from Scotland came down and looked after me. I was getting cabin fever at this point and she got a wheelchair and was pushing me around Newcastle so I could actually get out and enjoy some fresh air.
"After that, my best friend from Germany, who lives in Glasgow now, he came down and took care of me for a couple days, and then a week or two after that my mom came over. I was so lucky with the people that looked after me.
"The injury was where my friendship with (Sunderland defender) Rachel Pitman really built. She had surgery two weeks before me so having a rehab buddy like that was fantastic; just coming in each day, having a laugh, working hard and pushing each other to our limits.
"We're both really competitive and our physio, Sophie, would put us against each other in different aspects and we'd just keep going and going and neither of us wanted to stop! I wouldn't have been back on the pitch if it weren't for her pushing me.
"Also, Paul Parker, who's our strength and conditioning coach, there was a point where I didn't know if I was going to make that final hurdle and I was struggling with a lot of things and he really pushed me on and gave me the confidence."
Such an injury often brings home just how precious and fragile a playing career really is, with the need for an overall plan outside of the game highlighted all the more.
"It's about empowering footballers to know that there's so many opportunities post-football."
While seeking greater knowledge on what is being done overall to support players, Kylla also became involved in the Eleven Campaign as an ambassador.
"I would say there's a lot of support and following already for women's sport in North America. I saw there's a bit more inequality in British football and so I applied for and went to a FIFA Equality Inclusion conference in Zurich, thanks to some help with expenses from a friend in Germany.
"The guys from Eleven Campaign were there and the whole idea is celebrating diversity and inclusion through sport, so they've gone to 11 countries and filmed 11-year-olds, girls, boys, and how football has affected their life and character. Right now, they're doing a fundraising page and they're hoping to bring those kids to England to play a match, and they're all going to train together and it's just to see how they interact through the power of football, even though they all speak different languages.
"They're doing a documentary on it and I just wanted to get involved."
Together with a fellow North American who pulled on the red and white Sunderland stripes not all that long ago, U.S. winger Beverly Leon, Kylla sees scope to help players in the UK women's game in another specific way.
"Being a female footballer in general, you don't play for the money. It's a short-lived career and Bev and I both understand that you need to take advantage of that while you can, but also creating something to fall back on when you're done playing.
"Bev came to me with the idea, and I thought it was fantastic, of a player career development programme. It's just creating opportunities, internships, networking events where players can focus on their role as footballers but also build themselves outside of football.
"I've spent the last ten years playing professional/semi-professional football so I don't have the same work experience as a lot of 30-year-olds, but I think there's so many employable skills that you learn as a footballer: communication, dedication, time-management, teamwork. It's about empowering footballers to know that there's so many opportunities post-football.
"We're still in the works with it but we feel that it's lacking in the women's game here, so it's another resource."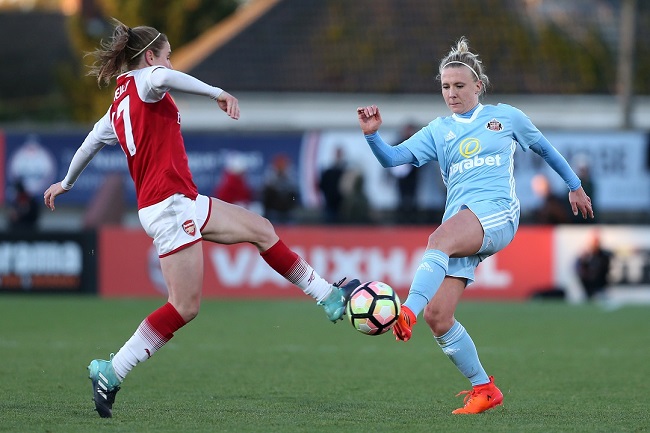 People from each juncture in Kylla's career have left an imprint of inspiration on her, with Scotland goalkeeping legend Gemma Fay one such example, at Celtic. As she said, Glasgow is Kylla's home from home, and it shows in amongst some of the speech she has picked up from her British years!
"I say 'wee' all the time, like 'oh we'll go for a wee coffee' or something. I say it when I go back home and my dad just laughs at me.
"I say 'rubbish,' 'that's class,' and there's some language I picked up in Scotland that my friends in North America are shocked at!"
In addition to roaming the left flank for Sunderland as a wing-back in the current system, Kylla loves to travel and has visited Paris and Italy in the last year, as well as domestic spots like the Lake District. A lover of different cuisines (and just food in general, she says!), one of the few aspects of her time in the North East she has been frustrated by is that she hasn't gone and seen more live music.
"…be confident in your skill-set and in your hard work and where that will take you, and don't doubt it."
Football has not opened its doors to her without some resistance, but it has been the corridor to life on a uniquely colourful stage. Reflecting on some of the very testing moments she has had to contend with, has there ever been a point at which she has felt at a crossroads, when the economics felt stacked against her, or the happiness was just far too absent?
"I think that almost happened in Germany, because I had a really hard time at one point. I was at the point where I thought 'maybe I need to go home and be around my family.'
"Being quite isolated and alone at times, just because of the language barrier and not feeling I could open up about things, it was a hugely testing part and it definitely made me stronger. I knew if I went home then, that was pretty much me giving up and I probably wouldn't come back to playing in Europe.
"I think I always knew that no matter where I was in the world, my family was 100 percent behind me. My parents have always pushed me to pursue it and take and chase every opportunity that's come to me, and I wouldn't have done it without their support.
"I have my tattoo (shows design on her wrist), it says 'perhe', which means 'family' in Finnish, and I got that when I was at university. Even through the tough times and having to have jobs on the side, my parents have always been like, 'that's amazing, you get this opportunity to travel here and here,' and it changed my outlook to be like, 'yeah, this is a pretty awesome life.'"
Admitting to still feeling that wanderlust flickering, Kylla says the picturesque beauty of Vancouver and the open arms of her family and home are always in her thoughts. She tells how the words of former Canada keeper Karina LeBlanc have become a personal mantra – 'I want to leave the game better than when I came into it.'
For now, helping others understand how to lay the foundations for something beyond what they do on the pitch is a pretty good supplement to her own continually-impressive career. What about if she had something to share with the Kylla who was just beginning to play, back at Cliff Avenue Strikers?
As she thinks back, it draws her to the guiding voices she heard growing up, and how she came to see, in time, that your potential is never defined by another's opinion.
"Take every opportunity, but also be confident in your skill-set and in your hard work and where that will take you, and don't doubt it. I had one coach and he was like, 'I think you'd make a much better coach than you do a player.'
"I remember that set a lot of doubt in me and it took a lot to build me back up from that. I had this amazing freshman season at ASU (Arizona State University), I got Rookie of the Year and I was feeling fantastic, I came back to Vancouver and played for the Whitecaps over the summer, played some practices and games alongside Tiffeny Milbrett, a world champion, and it was that summer he said it to me.
"He was like, 'yeah, you see the game but I don't think you have it athletically to go on.' I'd just come back to Canada and this guy's telling me pretty much that I can't do it and I think that's why I fell out of the (national team) system for so long.
"I know my next year at ASU, I was really insecure about my play, and so I'd say don't listen to the doubters. I was lucky enough to have two amazing (college) coaches in Tracey Bates-Leone (1991 FIFA Women's World Cup-winning midfielder) and Ray Leone, and they were like, 'come on, you're a great player,' and 'I think you should go for the (Canada) U20 team.'
"So, it's about standing up for the player you are and surrounding yourself with people that believe in you."
Interview/article by @chris_brookes