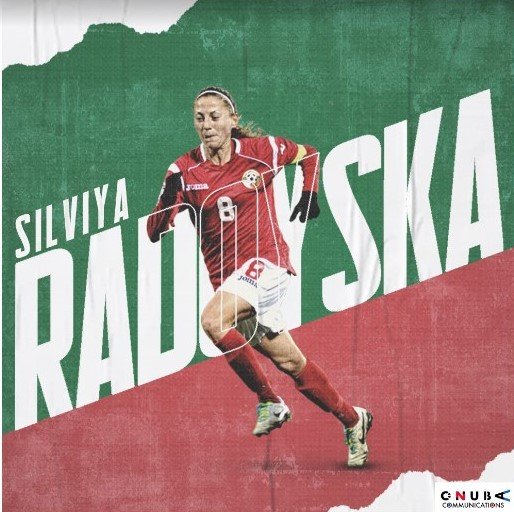 Widely considered as one of her country's finest ever players, former Bulgaria midfielder and captain Silviya Radoyska picked up no fewer than 17 pieces of silverware during her distinguished playing career.  
Able to look back on multiple appearances in the UEFA Women's Champions League, 13 years as a senior international, a spell in Spanish football and ten domestic league titles with FC NSA Sofia, Radoyska is now making her name as a promising coach – one of a select few to be chosen to benefit from the FIFA Coach Mentorship Programme. 
On all this and more, Silviya caught up with She Kicks' Nick Aitken.  
She Kicks: Good afternoon Silviya, thanks for your time. You're considered among Bulgaria's all-time best players, so I'd like to start by asking about your playing career. Can you tell me about some of your most memorable moments?  
Silviya Radoyska: My career in competitive football started back in 2003, when I played my first games for Bulgaria's U-19 team, and the good memories just kept on coming! I was fortunate enough to win 17 domestic trophies and many individual awards as a player. The first title I won will always be special, as will the first time I won the Bulgarian Cup. I scored twice to help decide that final which felt really satisfying, more than anything because of how much it meant to my team-mates and the coaching staff. This was how I established myself as captain of FC NSA Sofia.  
Subsequently, our repeated participation in the UEFA Champions League brought more chances to appear on the international football scene. I was starting to attract interest from coaches of foreign clubs and received an offer to play in Spain, where I played for top-division team Sporting Huelva. I had a great time there, but I think my most memorable moment was a match in the Canary Islands, when I scored two late goals that helped us beat Las Palmas 2-1. My team-mates carried me above their heads and I felt so happy to be able to help my team, and for the fact that here I was, a girl from a small country like Bulgaria, breaking through and earning the respect of everyone at the club.   
Last but not least, I must mention my years in the senior women's national team. I was the captain for all 13 years I played for the senior side, I was always so proud to wear the captain's armband, hear the anthem and it was an important part of developing my leadership ability. I think the best moments were the tournaments we won in Malta and in Bosnia & Herzegovina, which were part of the UEFA Women's Football Development Programme, and I can still remember the joy of holding Denmark – who were one of Europe's top-four sides at the time – to a 0-0 draw in FIFA World Cup qualifying!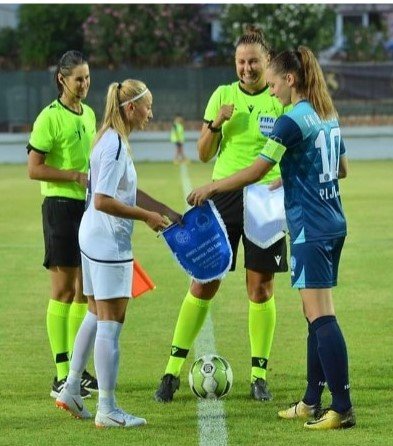 SK: You're now making the transition into coaching and are head coach of Bulgaria's U-19 team, plus head coach of FC NSA. What do you think are the key qualities of a good coach? How do you combine the different demands of coaching a national team and a club team? 
SR: I must say that my transition from the role of player to coach was not an easy task, given that I have always been very emotional and gave everything on the field – so now as a bystander it is a little difficult for me to stay in the dugout sometimes! In some situations I can't help but want to dive in and try and help the team, but with time I'm managing to keep this passion I have in check. Not long ago I won the Bulgarian title for the first time since becoming a head coach, which has really inspired me to keep working hard at club level.  
Is it hard to combine a club and national-team role? At the beginning it was a little difficult for me to coordinate the two jobs, but thanks to good organization and the support of my colleagues on both coaching staffs, things have got easier. There's quite a big difference between working with a national squad and a club team, because at club level a coach gets to work with their players every day and mould them the way they want to.  
At the national team though you only get to work briefly with the players over a few training camps during the year, so you have to narrow the focus down to more simple things like tactics, the vision for the team and the players' individual requirements. So, though it can be tough sometimes, it's an honour and a pleasure for me to have these two roles. And in 2018, with the U-19 national team, we qualified for the WU19 EURO Elite Round for the first time, which was a historic success for women's football here and a highlight for me as a coach. 
When I think of the qualities of a good coach, I think the main thing is not only to have football knowledge, but to know how to react at certain moments, to make decisions quickly and in a timely manner, both tactically and psychologically.  A good coach in the first place must be a good psychologist and educator, to know her players well and get the best out of them, to develop the qualities of talented young players and – through collective efforts and clear goals – help the team fulfil their competitive potential.  A coach needs to lead by example, not just in football terms but as a person too. 
SK: How would you assess the current situation in Bulgarian women's football? What are key areas to work on in the short- and medium-term to keep raising standards? 
SR: Regarding the situation with women's football in Bulgaria, I think that things are improving slowly but positively.  We have many talented young players that us coaches must continue to support, encourage and develop, but the truth is that the Bulgarian Football Union must also increase its efforts in supporting clubs and coaches working in the field of women's football, both financially and educationally.   
We need to aim on making our league semi-professional in the future, which will require work in the fields of media promotion, coverage and finding sponsors for the women's game. The return of the senior national team, with our players getting the chance to play in competitive matches and in WEURO and WWC qualifiers, is vital for giving them opportunities to appear on the international stage. This is particularly important for young players, who need experience in matches like that, playing against the best, to grow as footballers. 
SK: You have been included as a mentee in the FIFA Coach Mentorship Programme, in which the likes of Pia Sundhage, Vera Pauw, Jill Ellis, Jorge Vilda and a host of other huge names in women's football coaching are working as mentors. How has the experience so far helped you to grow and progress as a coach? Tell us about the collaboration you have with your mentor, former Croatia women's coach Dean Klafurić? 
SR:  My inclusion in the FIFA Coach Mentorship Programme was a dream come true and a great honour, given how many mentees from countries with a real tradition in women's football are taking part.  The opportunity to rub shoulders with, to gain experience and to hear stories and recommendations from the most prominent coaches in women's football has been invaluable, both for me personally and for my work as a coach. 
My work with my mentor Dean Klafurić, who is a great person and professional, has opened new horizons for me in terms of seeing football, coaching, new ideas, working methods, and modern tools used in the training process. He's gave me invaluable advice that I've followed in my work ever since and which have been very useful, not least because some of those ideas to key to helping me coach NSA to the title within a year of starting this programme.  This proves how much I've grown as a coach, so I'd like to send a special thanks to Dean and to all those involved in the FIFA programme.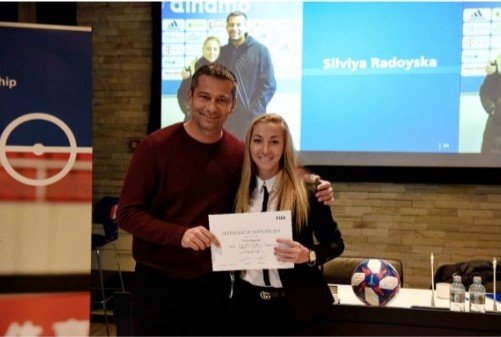 SK: One final question: you were part of the organisation for the WU17s EURO in Bulgaria in 2019. How did it feel to have Europe's top young players competing on Bulgarian soil? Why is it important for Bulgarian women's footballers to regularly compete against elite teams? 
SR: First of all, I would like to thank Iveta Bankova [Head of the BFU's International Department and Director of the 2019 Women's U17 EURO] for the opportunity she gave me to be part of this European Championship, which we hosted.  It was not only useful for me to observe the best young football players in Europe, but also to gain experience through discussing ideas with the other coaches and see the current trends in European women's football, which I will apply to my future work as a national–team coach.   
What is more, I think that this WEURO gave a boost to the popularity of football among girls in Bulgaria. Those who had the opportunity to participate in the European Championship felt like real stars, got to rub shoulders with and compete with the best, and showed that Bulgaria also has a place among the European heavyweights.  
I believe that all of us working in women's football here have realised that only through purposeful work and joint effort can we achieve good results at national-team level.  I think that the chance UEFA gave to our country to host such a big European event had a very positive effect on our women's football, and proved that it should not have to live in the shadow of the men's game! 
Article brought to you by @onubacomms, specialists in multilingual digital content and promotion in women's football. 
Lindi Ngwenya: "If players feel valued and supported they're much more likely to perform at their best"