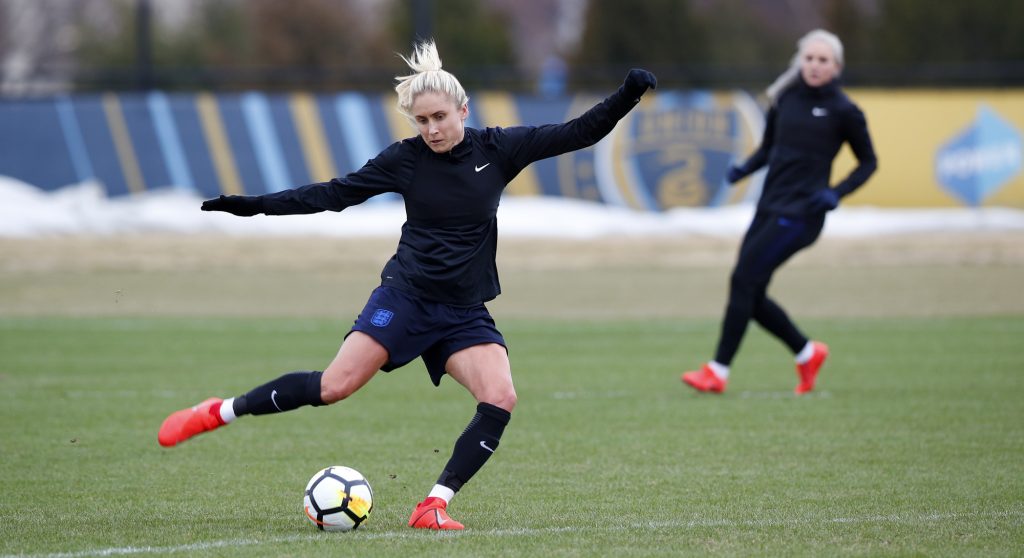 England and Manchester City captain Steph Houghton was chatting ahead of the Lionesses' SheBelieves Cup 2019 opener against Brazil in Philadelphia today. Still smiling after her side's FAWSL Continental Trophy win at the weekend, she talks about the importance of having experience across the squad, the strides being made under Phil Neville's tenure and how keen they are to pick up wins over the next three games…
On whether there's any fatigue amongst Manchester City's players after a long game on Saturday:
I think when you win games you're on a bit of momentum and happy to win games and for us as part of this squad it's a bit of a new focus and allows us to feel a bit fresher, Sunday was a bit of a struggle, I'm not going to lie (it was a tough last ten mins) but we've got here we've trained and everyone is raring to go.
On whether she has said anything to Leah Williamson, a potential defensive partner today, about the game:
Leah had a great game on Saturday and we were on that side last year…it's about mutual respect and now we're in England colours I think it's all about making sure we're right to go and hopefully win the three games here.
On having missed out last year [due to injury] but being pleased to be back at the SheBelieves Cup:
I'm massively pleased. I think Phil joked that I didn't fancy it last year, which wasn't the case of course. Being at this tournament, is fantastic for us to play against the likes of USA, France and Germany and now with Brazil and Japan it's an unbelievable opportunity to go and test ourselves against the very best. So, I'm Excited to be here and along with the other girls we want to put on a good performance.
On the nature of the tournament, being intense, fast and furious in terms of games and demands – what the positives are as a player:
It's interesting for us as a group because it's going to kind of mimic the group stage of a World Cup and for us to be in that mindset of travelling, training, playing, and recovery – it's going to be like that for ten days in France – so for us it's a perfect opportunity to test how we work as a team, to be able to individually get your recovery strategies right, use whatever you need to do to be right for the games. A lot of us have experienced a tournament like this but for the youngsters like Georgia Stanway, Lauren Hemp, Sandy McIver and others it's important that they know that we need to be on our game no matter how much we have travelled. So it's going to be exciting to play these three physical games and see where we are at the end of the tournament.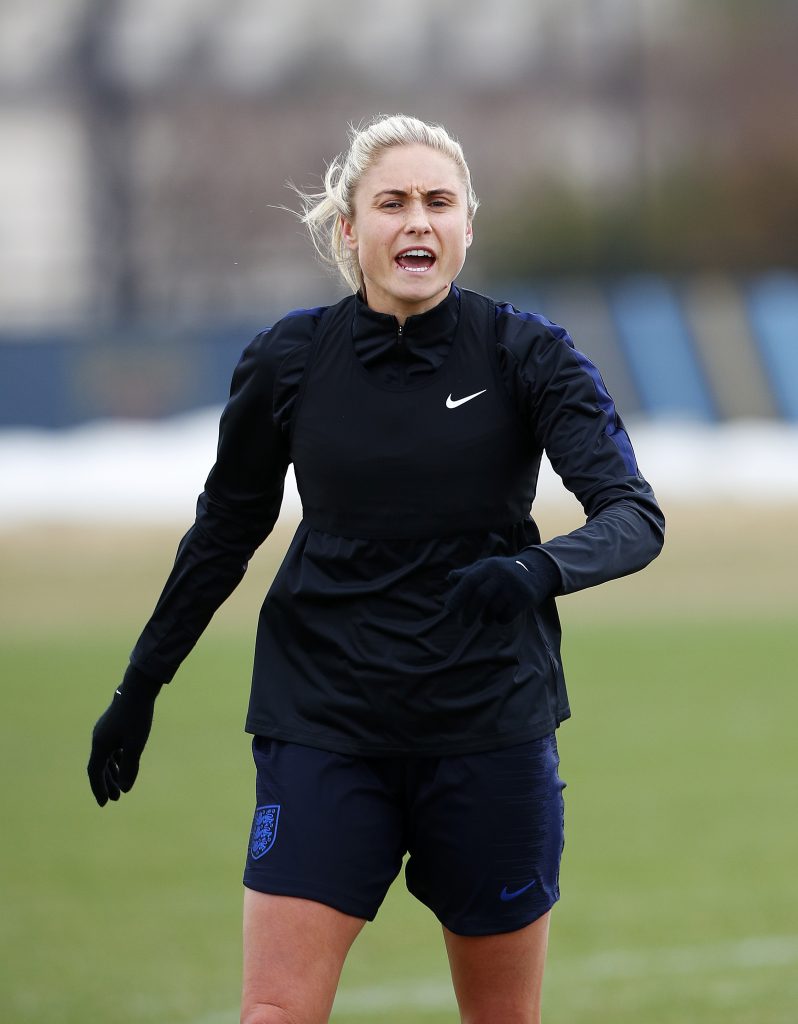 On the 1-0 win over Brazil in October and how this will be a different proposition:
They've obviously brought a few more players along so we know potentially that there could be a bit of a different Brazil personnel but at the same time I think the style of football will always stay the same. We had a great performance in Nottingham that day and it could have been a few more goals for us but at the same time we know that it's important that we keep clean sheets against the best players and that includes Marta. Hopefully she can play the 90 minutes because for us as defenders it's important to test yourselves up against the best and she's definitely one of them.

On players being missing and what potentially could be the first choice back four [at least the back four that played at the Euros] being unavailable to Phil Neville since he took over:
For us we have to take it as a plus, it gives exposure to other players. I think for us, we know that within a tournament you're not going to necessarily play the same eleven or the same back four every single game, so you have to try and test out new partnerships, get experience with other people and it's for the experienced players to try and help those players along. So, for the likes of Abbie McManus and Leah, Gemma Bonner, Alex Greenwood, it's important that they play against these types of teams because if we can improve everyone in the squad we will be a better team for it.
On what perhaps has changed to make England series contenders for the World Cup, given that they more of a surprise package in 2015:
We've been through a lot together over the past four years. In 2015 we made history just by winning a knockout game so I think we've come a long way in the standard of football we play, the way that we play, the physicality of us all – we are a lot fitter than we were then. For us to be able to challenge the top teams we needed to improve in certain areas and we've certainly done that. Physically, we are one the best teams in the world. Technically, the way that Phil wants us to play is something that most of us are used to at club and we're trying to implement at country so for us I think we are better prepared. For us as a squad as a whole, the standard of the squad has definitely risen over the last four years.
On the first year under Phil Neville:
For him as a new manager coming in and and for us as players to get used to his management and his staff and how we works, obviously takes time, like with anything that does changes. He has settled in really well and he has the respect of all the group and he's the manager, he makes the decisions and what he wants us to do, we will do and that relationship between us and him and his staff has grown a lot over the last few months. It's not been the easiest road in terms of 'we've won every single game'. Sweden maybe could have been a turning point for us, I think we've learned a lot. The Qatar training camp was unbelievable, for us all to go there and train hard and push ourselves. I think as a manager he's probably learned a lot about the women's game and how we need to be adaptable in every scenario and we're really enjoying playing underneath him and long may that continue.
On the belief in the side now, that mentality of 'going toe-to-toe' with top sides:
When we beat USA in the SheBelieves Cup in 2017, that was probably a trigger to say that no matter how we play, we know that we can play against the best, we can use our strengths to stifle the best in the world. We've won some great games over the years, obviously France in 2017 – that was a massive moment for us – but we have got winners in our side, players that want to play against the best players. And, we've got some of the best players in the world in our squad and I think we probably don't give ourselves justice in terms of the quality we have in here. We have to go into these games with belief and really push to the best we can be as a group and push the best in the world. 
On how close the team are to where Phil Neville wants them to be:
I think if we do ever get there, I think he'll still want more. We'll never ever get to the point where we are perfect but I think we are very close to all of the ideas that he's putting across, I think we're very close to adapting to be the full package. We've learned a lot over the last year, there's been a lot of transition with players and staff and we embrace every challenge that is put in front of us, always with the mindset of putting the team first and I think we've adapted really well as a team to do that.
On being in great form, personally, and where she is in terms of maintaining that but with an eye on peaking for the World Cup in June:
I'm the type of player that likes to be playing games. I don't like to rest. Though, with my experience, I know that at some point I need to maybe take my foot off the gas to be able to peak for the World Cup and I think that's the same with every player. They'll have plans in terms of the S&C from England and also Man City to make sure that you don't run out of steam come the World Cup but for me, I'm on top of the world at the moment: I'm sitting in Philadelphia, just won a cup with Man City and top of the league, so hopefully a win over the next few days will make it even better.
WATCH THE GAME & VOTE FOR YOUR PLAYER OF THE MATCH (details below):
England v Brazil (Wed 27 Feb, LIVE on BBC FOUR at 9PM)

2019 #SHEBELIEVES Cup ENG v BRAZIL – Vote for your #Lionesses Player of the Match