Substitute Gayle 'Fez' Formston was the heroine when Liverpool's 1996 FA Cup semi-final against Arsenal was decided on penalties. So when the final against Croydon looked certain to be settled from the spot, the 20-year-old was thrown into the fray with a minute of extra time remaining.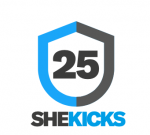 It's debatable whether Fez even touched the ball before the final whistle, but she still volunteered to take a penalty kick. With team mates Jill Thomas and Jody Handley having missed, and teenager Rachel Brown [Finnis] saving Tara Proctor's effort, the shoot-out was poised at 3-2 in Croydon's favour.
Fez, at that time a purchase ledger clerk at the legendary Adelphi Hotel in Liverpool, was crowned '1993 Penalty Queen of Cheshire Runner-up' as a teenager. But even with that great accolade from the Ellesmere Port Round Table to her name, she didn't particularly regard herself as an expert.
Even so, as the Liverpool striker placed the ball on the spot, she knew exactly where it was going, until Croydon shot-stopper Lou Cooper's positioning put her off. The rest, as they say, is history.
It's now 25 years since that fateful final, but seeing as it's a historic weekend in the history of the competition, we thought we'd bring you the former Liverpool and Leeds captain's thoughts on that shoot-out, her career highlights and thoughts on the women's game today…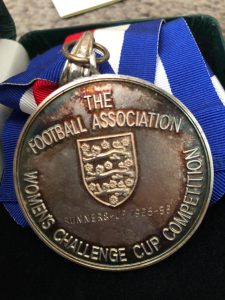 SK: Kicking off with the 1996 FA Cup final, where does that rank in your football memories?
GF: Probably in the top five. It's something that's still talked about because a lot of us still see each other, a lot of the team from that day, we still meet socially and now and then it's brought up. Officially, it gets spoken about a bit at FA Cup weekends and tournaments whenever penalty shoot-outs go on.
SK: It seemed a bit harsh on you coming on as a sub – was that your first kick?
GF: I think it was, but a similar thing had happened in the semi final. We played Arsenal and I came on and I think there was maybe five minutes left of that game and again I took the last penalty, but luckily in the semis I scored it. I think that was the thinking in the final, to put me on to take a penalty, because I'd done it under pressure a few weeks earlier.
SK: Were you the specialist penalty taker then?
GF: Do you know, I don't even know how it came about. I don't think you're quite as nervous when you're young, and maybe I was just quite confident with penalties. But I wouldn't say I was the specialist, because I wasn't like a first team choice at the time. I think I just put my hand up and said, 'Yeah I'd like to take one'. I won a penalty award when I was 18 or 19 and it was 'Penalty Queen of Cheshire, Ladies Runner-up' so maybe I was living off that!
SK: What did you think when it didn't go in?
GF: What I thought probably isn't printable! I clearly remember that I wanted to put it low down to the keeper's left, that's where I'd put the semi-final one. So I was walking up thinking, 'Yeah, same place'. But I remember seeing Lou Cooper stood slightly to one side and I was like, she's quite tall so if I don't quite get it in the corner she could just stick her foot out. So I was in two minds and as I ran up I leaned back too far and put it over the bar and that was it.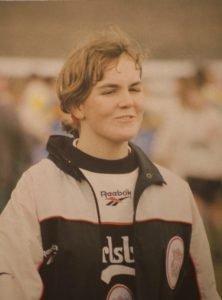 SK: What was the reaction?
GF: I was gutted. Croydon were jumping around and our girls were crushed on the floor. I felt guilty. It was like, you had one job! That was it.
SK: Was everyone okay with you afterwards?
GF: I remember sitting with Jody for a bit and, you know, no-one held it against me. I think there was just a general sense of disappointment throughout the whole team, the staff, and we had quite a few fans who'd come down because we'd put on a couple of coaches.
SK: How long had you been at Liverpool then and how long did you stay?
GF: I joined from Leasowe (now Everton) just after Liverpool had been in the 1994 final as Knowsley and I was an unused sub in the 1995 final. After the 1996 cup final there was quite a turnover of managers at one point and a few players left. There was a core of us who stayed and I became captain. Even though I was still young, I think I was probably one of the more senior players at the time and a bit more experienced. I left around 1998/99 to Everton for a season then to Leeds and then back to Liverpool.
SK: How did it go at Leeds?
GF: They'd just won the Northern Premier and got promoted into the top division and I stayed three seasons. I only knew one or two of the girls a bit, so it was like a clean start. I ended up being a centre half there but I loved it, I got Players' Player and Manager's Player in the first season and I was made captain in the second.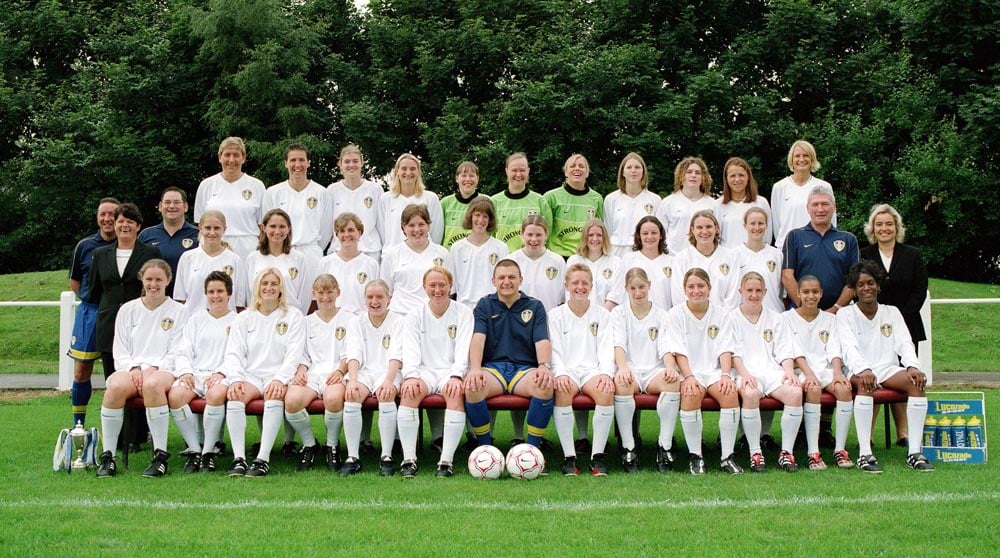 SK: Did you enjoy being skipper?
GF: I was proud of it at the time. I always played to the best of my ability anyway, but with the captaincy you feel a bit more responsibility to put that extra bit in to try and encourage everyone else.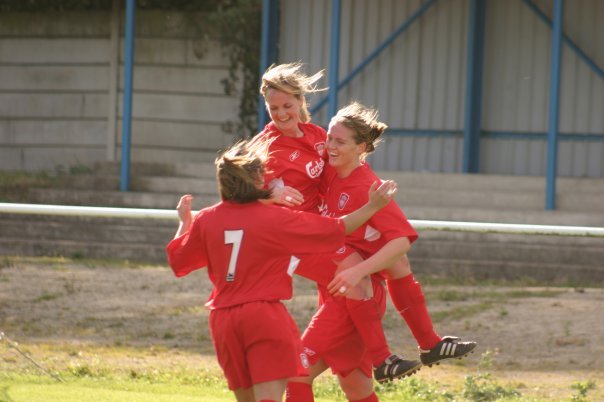 SK: What are your happiest memories?
GF: We were fortunate to go to Singapore with Liverpool when I rejoined them around 2004. All funded by the club bar, about £200. We played three games out there and were treated like celebrities as they loved all things LFC. I also went to Bilbao with Leeds and played a game out there. Another good memory, the FA 'Day the World Played Football' Arsenal v Liverpool on 9 December 1995 at Highbury. We were so grateful for the heated benches and floor in the changing room that day!
SK: Any funny memories?
GF: When I was at Everton I was just about to come on up front against Tranmere and our keeper got sent off because she'd swiped Sue Smith up in the air. So I had to go on and go in goal – first touch of the ball was picking a Sue Smith penalty out of the net.
SK: You've played in many FA Cup matches over the years, is it a competition you're fond of?
GF: It's got good and bad memories for me! Early round FA Cup games really make me miss the playing days because you get to see the passion, hopes and dreams of the underdogs and the camaraderie between the players.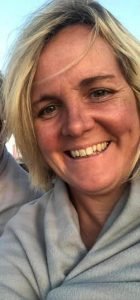 SK: Will you watch this weekend?
GF: I'll probably watch it. We thought it was marvellous getting to the two finals we did, playing at Tranmere and Millwall, but now they're at Wembley and it'll probably be massive crowds and televised. There are opportunities now to make a career from it – when I first started playing we had to pay subs, pay for the referee and the pitch, buy your kit, wash your own kit.
SK: Wish you played these days?
GF: I loved what we had, I often say I would rather have played when I did than now. Back then we had camaraderie between the girls, we were all local and would socialise together.
SK: What would you change about today?
GF: I'm proud of what we did and there were a lot of trailblazers when I played, Gill Coultard, Kaz Walker, Hope Powell, Brenda Sempare, Tara Proctor, Becky Easton, Maria Harper, and people like Sylvia Gore who was a trailblazer in the 1970s and did an awful lot for us when she was at Liverpool.
I don't always feel they get the recognition that they played their part in the history of the women's game. It's kind of sad that a lot of people following women's football don't know about players from the past and even further, from way back when.
I'll always be grateful for the many varied opportunities football gave me and the numerous friends I've made over the years of playing. I'd encourage any young girl to get into football regardless of ability or background. Hopefully Sunday's game can be another great advert for the sport.
Gayle was speaking to SK's Catherine Etoe.
One of Fez's former teammates, Stacey Daniels, is fund-raising for life changing treatment due to her debilitating symptoms of MS. Can you help a little? ⬇️
Former Leeds United striker raising funds for life-changing MS treatment