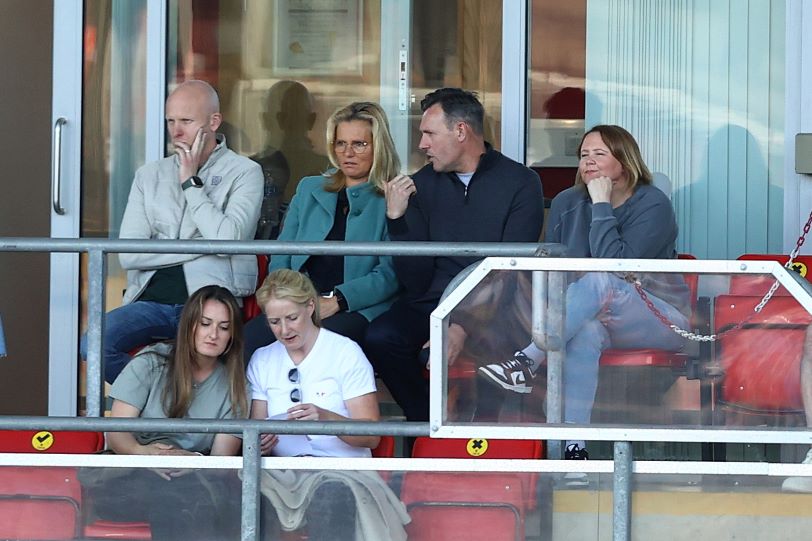 England head coach Sarina Wiegman will announce her squad for the FIFA Women's World Cup from a flourishing community club tomorrow.
The decision to reveal the 23 players at a special event in Sutton Coldfield, Birmingham follows the Lionesses' equal access success and has been made to highlight the strong connection between the grassroots game and England teams. This will reinforce the squad's determination to positively impact participation levels, inspire future generations and also the crucial role grassroots clubs have played in the players' development.
Boldmere St. Michaels FC will host the prestigious announcement. The Midlands club were first formed in 1883 and are home to a total of 70 teams across 18 different age groups across women's, men's, girls' and boys' football.
Approximately 60 girls and boys from the club are expecting to participate in half-term football sessions before and after Wiegman speaks to the nation's media from the club to give insight on her squad selection.
The landmark moment will begin England's countdown to their opening game of the tournament on Saturday 22 July against Haiti in Brisbane, Australia.
Earlier this year, the Lionesses' EURO legacy wish was achieved with the Government announcing the game-changing decision to provide girls with equal access to football in schools, as part of an all-sports pledge. However, it remains The FA's strategic objective for girls to have equal access to football in the community through growing the number of girls teams within grassroots clubs and ensuring Weetabix Wildcats and Squad sessions are easily accessible.
Kay Cossington, The FA's Women's Technical Director said: "We're delighted to take such a major announcement into the heart of a football community and shine a light on Boldmere St. Michaels FC. The decision really emphasises the strong connection between the Lionesses and the game's grassroots. The squad have used their platform to collectively champion equal access to football and it's fantastic to visit a club who shares that ethos. Boldmere St. Michaels are a great club with brilliant provision across girls' and boys' football, so a very appropraite location for our World Cup journey to begin."
Carly Cartwright from Boldmere St. Michaels FC said: "We are delighted to have been asked to host such an exciting event and as a club, are really pleased to see that all the hard work, support and commitment from our ever-growing band of volunteers, employees and the wider community is being validated.
"In 2017, the new Directors had a vision for Boldmere St Michaels Football Club, but what has been achieved since then, has far exceeded expectations. The club has grown exponentially over the last six years and now, in our 140th year, to be asked to be such an important part of the Lionesses' World Cup Squad Announcement, is a huge honour for us."
Kevin Shoemark, Birmingham County FA's CEO: "On behalf of Birmingham County FA and all football within our County boundary, we are delighted and honoured that The FA has chosen one of our respected, three-star England-accredited grassroots football clubs to make this prestigious announcement.
"Following the success of the Women's Euros, the interest and growth in women's and girls' football is at an all-time high locally and nationally. In making the announcement, we wish Sarina, the squad, the coaching and backroom staff every success at the World Cup and thank each member, past and present, for all they have done and continue to do in promoting all aspects of the women's and girls' game."
The squad will be first announced at 2pm on Wednesday 31 May.