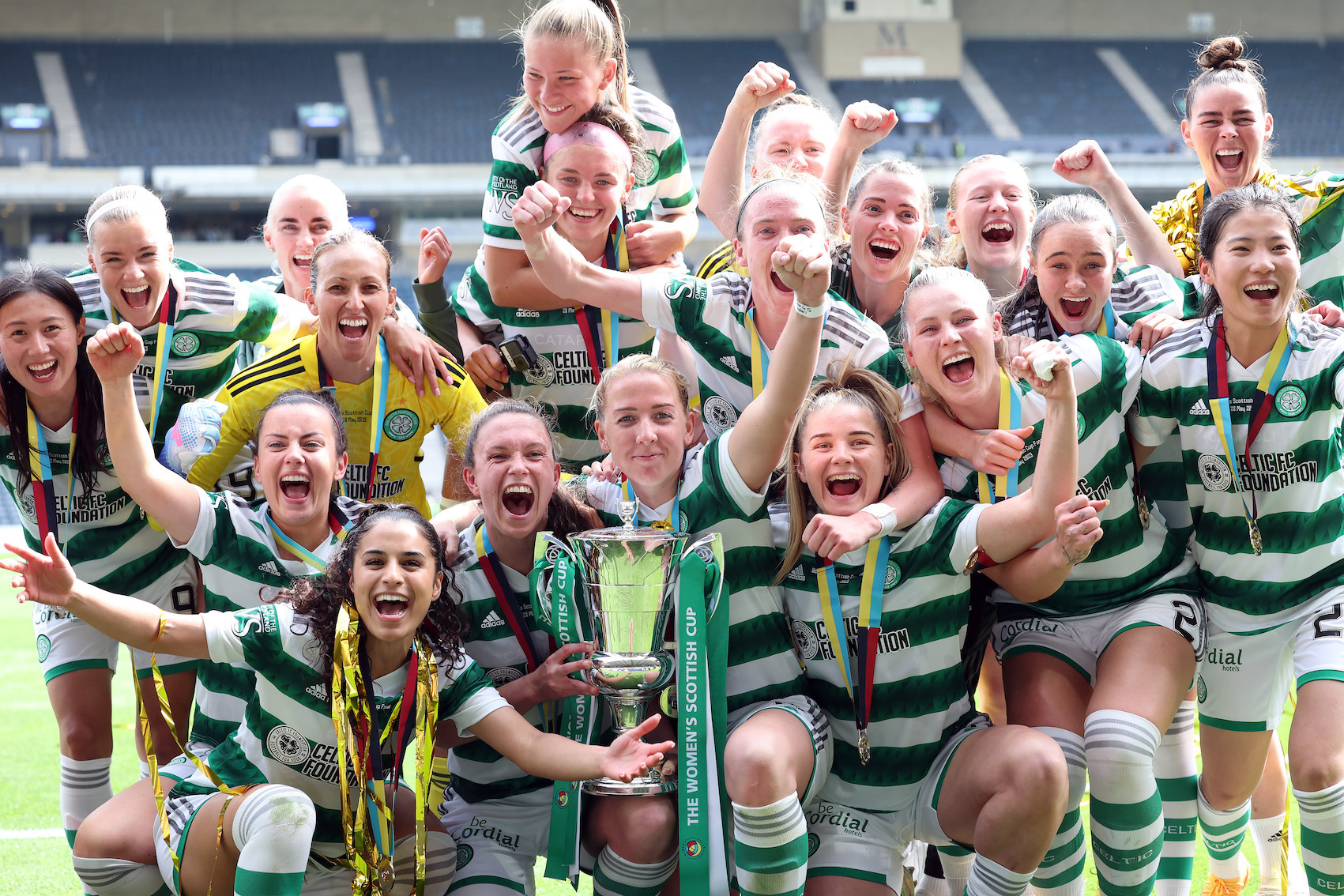 Sunny Glasgow served up another milestone day in the women's game north of the border as the Women's Scottish Cup final was played out at Hampden Park for the first ever time, reports Catherine Etoe.
Competing for a newly crafted trophy were Celtic and Rangers, two Old Firm rivals who had narrowly missed out on the Scottish Women's Premier League title to Glasgow City in a dramatic finale last weekend.
Ahead of this big kick off, it was almost impossible to call a winner. But after a goalless first half, a close-range strike from on-loan Leicester City forward Natasha Flint and a Claire O'Riordan header helped retain the title for Celtic in front of 10,446 fans.
Teenage forward Laura Berry did manage to carve out a splendid goal for Rangers late on, but VAR – in use for the first time in a domestic women's match in Scotland – ruled out the strike for offside.
A second successive Sunday of disappointment for League Cup holders Rangers then, but a celebrated bounce back for Celtic. Here's a little of what the respective managers, winning goalscorers and Rangers skipper Kathryn Hill had to say to the press afterwards…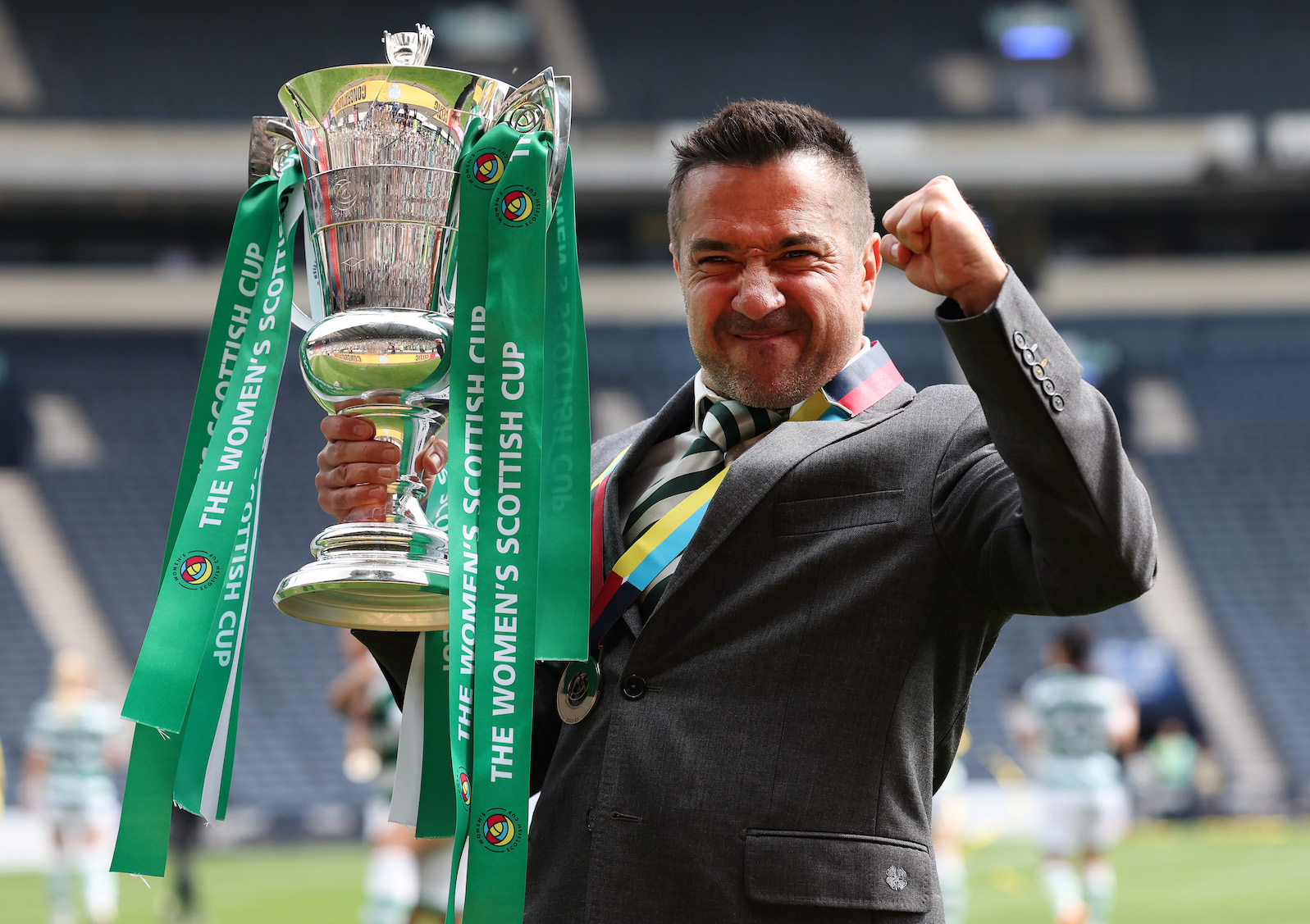 Celtic boss Fran Alonso
On gearing up for the final:
It was very hard picking the girls up after we didn't win the league. But we transferred this anger and disappointment into aggression, into passion. I was worried about the mental reaction, but they never gave up, they never let me down. That's the perfect ending that I feel the girls deserved. It's a very special day for me and for my family.
On how it compares to winning the cup last season:
Last season was like a movie, with 10 players for so long, winning in the dying minutes. Epic. At the time that was probably my favourite game in football, but because of what happened last weekend and what they've done today and the last few weeks, I think for me today it means so much more. It means the world. The fans deserve it. They came in big numbers again and were singing the full 90 minutes once again.
On keeping the team together:
Most of them want to be here, they want to play in the Champions League, which we have earned. We will do our very best to keep most of our players if not all of them. We know how important it is to do things like we did last week in renewing Caitlin Hayes, the player of the season, for three years; that gives us stability. Hopefully we do the business we want and we keep most of the players.
On keeping the growing number of fans with them:
I love them, the girls love them and that's why we play football. We give our very best to try to please them and they are responding in the best manner which is by coming back in numbers. In the last game of the season we were heartbroken not to give them what they deserved but they got it today.
On the SWPL season:
Credit to us, to Glasgow City, to Rangers, we have changed the Scottish game forever and credit to Hibs and Hearts and every other team that has participated because we made the best season ever. It's a league that's followed everywhere. In the last month my email is full of players from all over the world who want to play for us.
Goalscorer Claire O'Riordan

On bouncing back:
It was difficult to finish off the season the way we did last week but in some ways we took the positives which was a record crowd at Celtic Park and another three points. We just got back into work as we do every day, every week. It was a tough task but it was important that we stuck together and ground out the result.
On rewarding the fans:
It's so important to be able to give back to the fans and you can see that when you [see] how we celebrate with them. The time we give to the young players that come to support us and the families that bring them – that connection is really important to grow the women's game and we're really pleased to have that and to celebrate together. It's all special and words can't really describe it.
Goal scorer Natasha Flint
On playing at Hampden:
We played here before, we did what we needed to do in the semis, and we needed to do exactly the same as we did then today and we did, we worked hard all week for it and myself and the girls deserve it
On scoring the opening goal:
It's always great to get on the scoresheet, especially as a striker. We got what we needed to do, we won the cup.
On her time at Celtic:
I've absolutely loved coming. There was no doubt about me coming here. I think since I've come in I've fit well into the team, it's obviously a brilliant club to be at.
On whether she might stay:
I'm going to be serious, I don't really know what I'm doing at the moment but I guess we'll see in pre-season where I'll end up.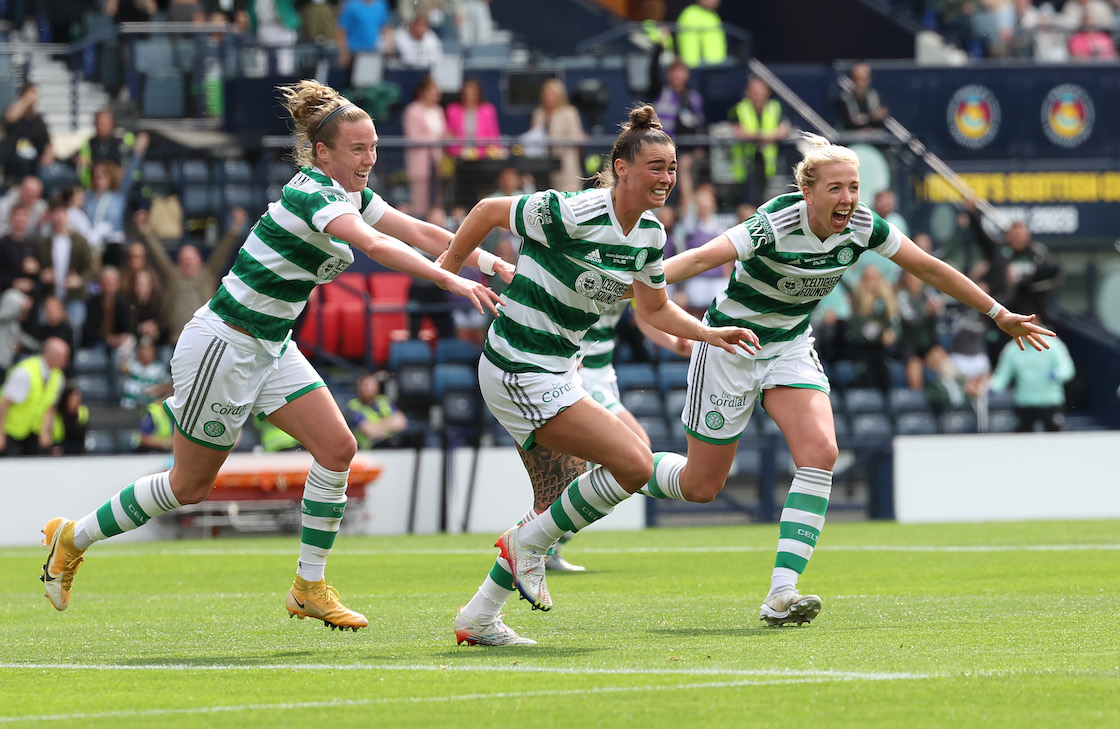 Rangers' outgoing manager Malky Thomson
On missing out on a potential treble in the space of a week:
It's fine, fine margins. When you do create opportunities to score you've got to take them. Certainly the league campaign, we know that in certain games that we should have converted when chances have been created and we've never done that. But I've got to say that no matter what, we always kept the light at the end of the tunnel for us. We were still always playing for something this season. We've managed to win one trophy, get to the Scottish Cup final and were very close to retaining the Championship, so it's a lot of positives.
On the outlook for the women's side now:
The principles of the club will stay the same. It's always the case where at the end of the season we'll reflect on it and look at where do we need to strengthen the squad moving forward. That'll be a conversation when the new manager comes in.
On acknowledging the fans:
If you look at us at the end of the game for the girls, for me, to go over to the fans – and they're hurting just now – but they're still going over there and still respectful and appreciative of the fact that the numbers have turned up and are getting bigger and bigger.
On teenage striker Laura Berry and her ruled out goal:
Disappointed for Laura because it would have been fantastic for that young girl to have scored at the national stadium. She's 15 years of age. That fills my heart with joy because I come from a background of developing players and she had no qualms about being on that park; she was not fazed by it in any shape or form.
Rangers captain Kathryn Hill
On the positives for next season:
We've got one trophy this year. There will be positives to take into next season and we need to make sure that everything that went wrong is better next year and we learn from it and that's all you can do. As disappointing as today and last week was, we've got to try and learn from it, that's what football's all about.
On saying farewell to manager Malky Thomson, who is returning to work with Rangers Academy:
We've just said our goodbyes in the changing room. I would have loved to have given him a win and a trophy to send him off because I think he deserves that. For me, he's been massive, he's helped me a lot throughout this season with things off the pitch that no-one knows about as well, so he will be a big miss.