World Cup winner Abby Dahlkemper joined Manchester City on a two-and-a-half-year deal in January and immediately slotted into the centre of their defence like she'd been playing there all season. Quick, strong and supremely comfortable on the ball, she has won several titles with different teams, and is surely aiming for more of the same in this next chapter of her stellar career.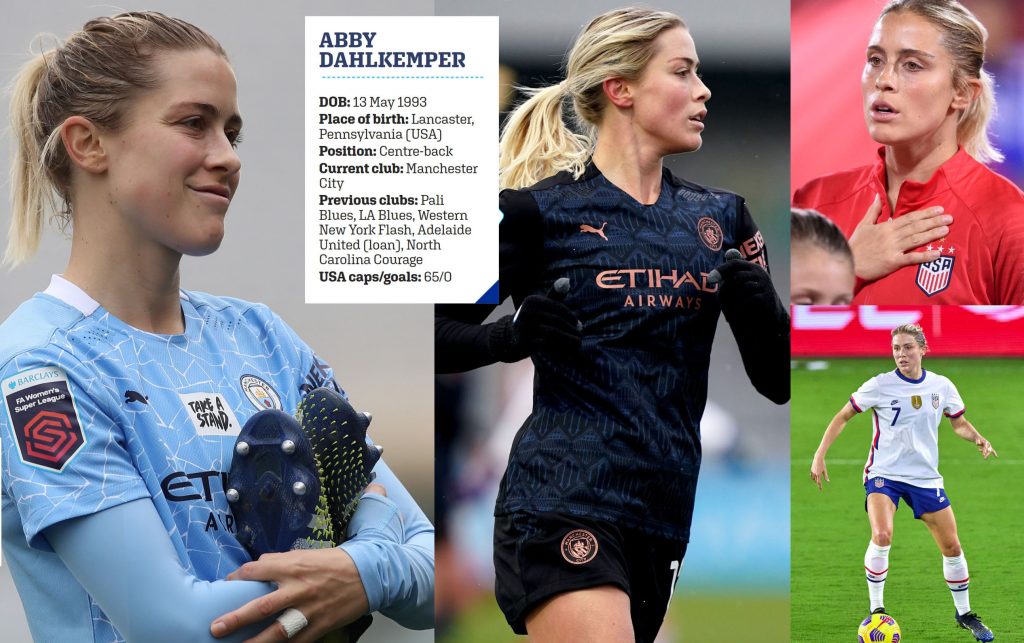 Dahlkemper has dealt with and bested many of the world's top forwards but how will she cope with the triviality of our Quick Kicks…
How would YOU describe YOURSELF as a player?
I feel like I am a passionate player, who cares a lot about the team and wants to help us win in any way possible.
You get to choose the music the team run out to for a game or training, what do you pick?
'Eye of the Tiger' by Survivor.
Outside of your own training/ games, how much soccer do you watch?
I watch a lot of soccer. I like watching all kinds, from different leagues, whatever is available online.
If you weren't a soccer player, what other sport would you want to be a professional in?
I feel like women's volleyball would be pretty cool.
What would be your dream ticket (for a gig, sporting event, restaurant or anything!)?
The NBA Finals or a Super Bowl or something? I really like sports, so something like that. Also, a good restaurant ALWAYS sounds nice.
You are asked to take a team practice session, what do you have the team doing?
The team is always very competitive – that's the reason why we win games – so playing small-sided games would be fun!
What words or emblems have you or would you have embroidered on your playing boots (cleats) and why?
I think I would honestly like a picture of my dog on my boots. That would be amazing! Or there's a quote that my mom gifted me a while ago: 'she believed she could, so she
did.' I think that's a really cool and inspiring thing to remind women to keep pushing the boundaries and knowing we can achieve anything we set our minds to.
You win a short holiday on a weekend off, where do you choose to go?
I would probably choose Santorini or somewhere in Greece, or the south of France or Italy. Somewhere hot!
I also think it depends on the time of year, because I recently read an article saying that Finland was a really cool place to visit, so maybe there, too? Or somewhere in the north where you can see the northern lights and stuff.
To order the latest issue of She Kicks magazine click here.