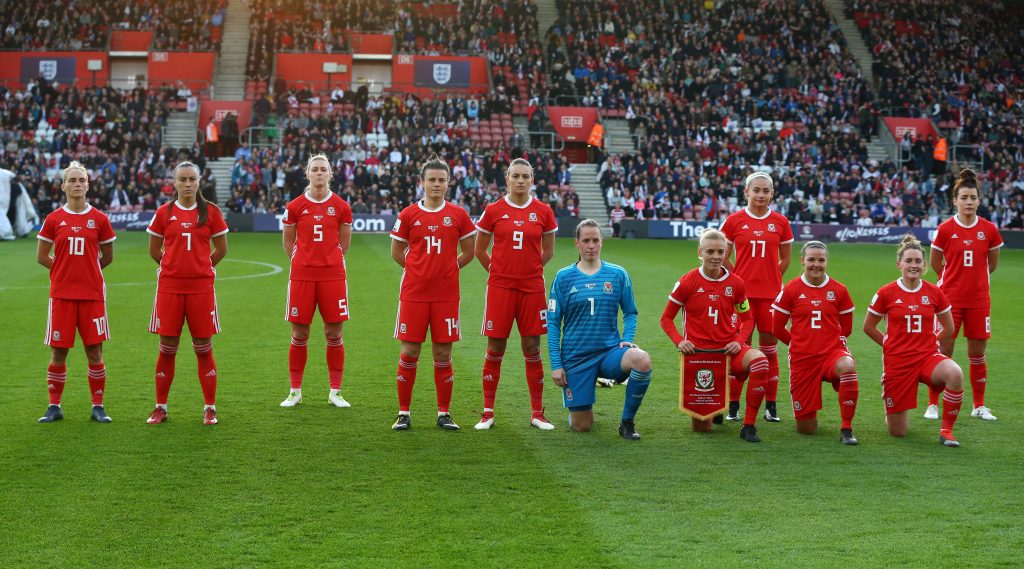 A brave and passion-filled performance of discipline, dedication and unity saw Wales Women hold off the strong favourites England and earn a 0-0 draw, a point and a massive result in terms of its place in the history and development of the Welsh women's game on Friday night.
The Lionesses came at them in the opening few minutes and mounted attack after attack on Laura O'Sullivan's goal, particularly in the last half hour, but they could not find a way past the inspired goalkeeper and her tenacious team mates.
There was a bloody nose, cramp, there were finger-tip saves, blocks and full-stretch interceptions, goal-mouth clearances and raucous support from both the home support and travelling fans. It was tactically spot on for Wales, a glorious display of defensive grit from the girls in red and a frustrating evening for Phil Neville's side – though the England manager was quick to offer praise to their opponents, particularly the strong-running lone forward Kayleigh Green and of course the girl in green.
(And remember there was a strong shout that Tash Harding's close-range effort on 8 mins was over the line when Lucy Bronze cleared – but it's a moot point, after the fact. Sort of.)
Here's what the grinning Wales manager Jayne Ludlow had to say after the game…
On the brilliant performance of her team and how well they played:
They did. We've worked extremely hard over the last 18 months and we're still very much a developing team with areas to work on but with regards to the commitment they put in tonight and the work ethic it was 'Welshness'. That's what we needed tonight. Coming here was always going to be tough and thankfully the girls did their jobs.
On where it ranks in terms of Wales' historic results:
From a female football perspective? Probably the best. ['Am I right Foz?' She asked Cheryl Foster, former Wales striker who wasdoing  co-comms for Radio Wales and in the back of the press conference room.] Yeah, any England v Wales game is massive whatever sport you talk about. We did our jobs today. We came here and we competed. We're a very small nation in terms of women's football right now, low numbers etc but when we have everybody fit we're a good team and we compete.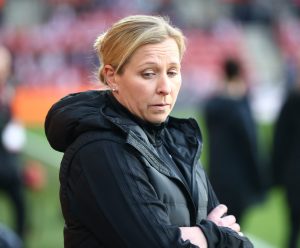 On whether the interest in the game will help push the game in Wales:
I hope so. I hope it helps to push all of our development programmes, get some interest within school environments in Wales, in particular, because for us it's very much a 10-15 year plan. We have low numbers of kids playing right now and there are great projects underway to try and change that and obviously we just need time. But results like tonight with some of our girls from different areas of Wales stepping on the pitch with some of the best players in the world – because that's what some of the England girls are right now, they deserve the status of being second in the world – but for us to come out here and get a point is massive. It's great.
On having got the draw but it could have been a win [referring to the first half chance cleared off the 'line']:
Don't tell me that was a goal?! [Responses around the press room suggest that it was.] Do you know that's twice… and I hate moaning, I'm very changed from when I was a player, with officials and that. But look, at the end of the day, decisions are made in a split second, so it is what it is. But in Russia away we should have had a penalty in the last…[stops herself] Look it is what it is, this campaign for us is going in a certain way. We have luck when we need it at times, unfortunately, it would have been great to sit here with three points but one point is still great, it's what we came here for.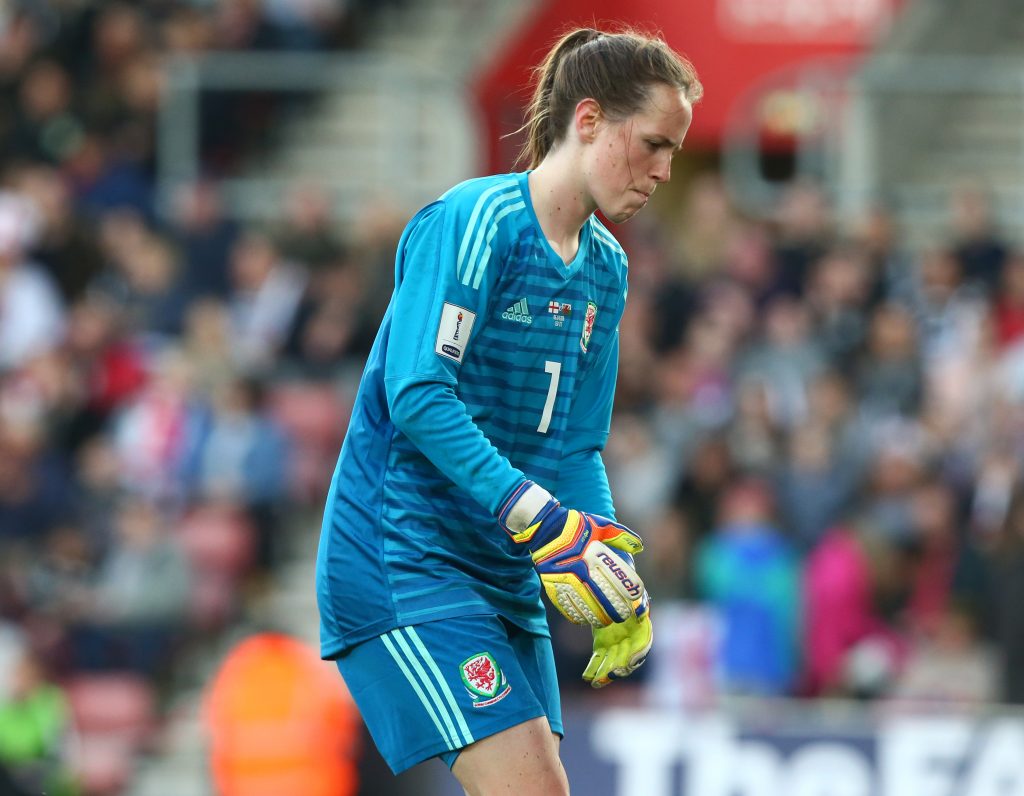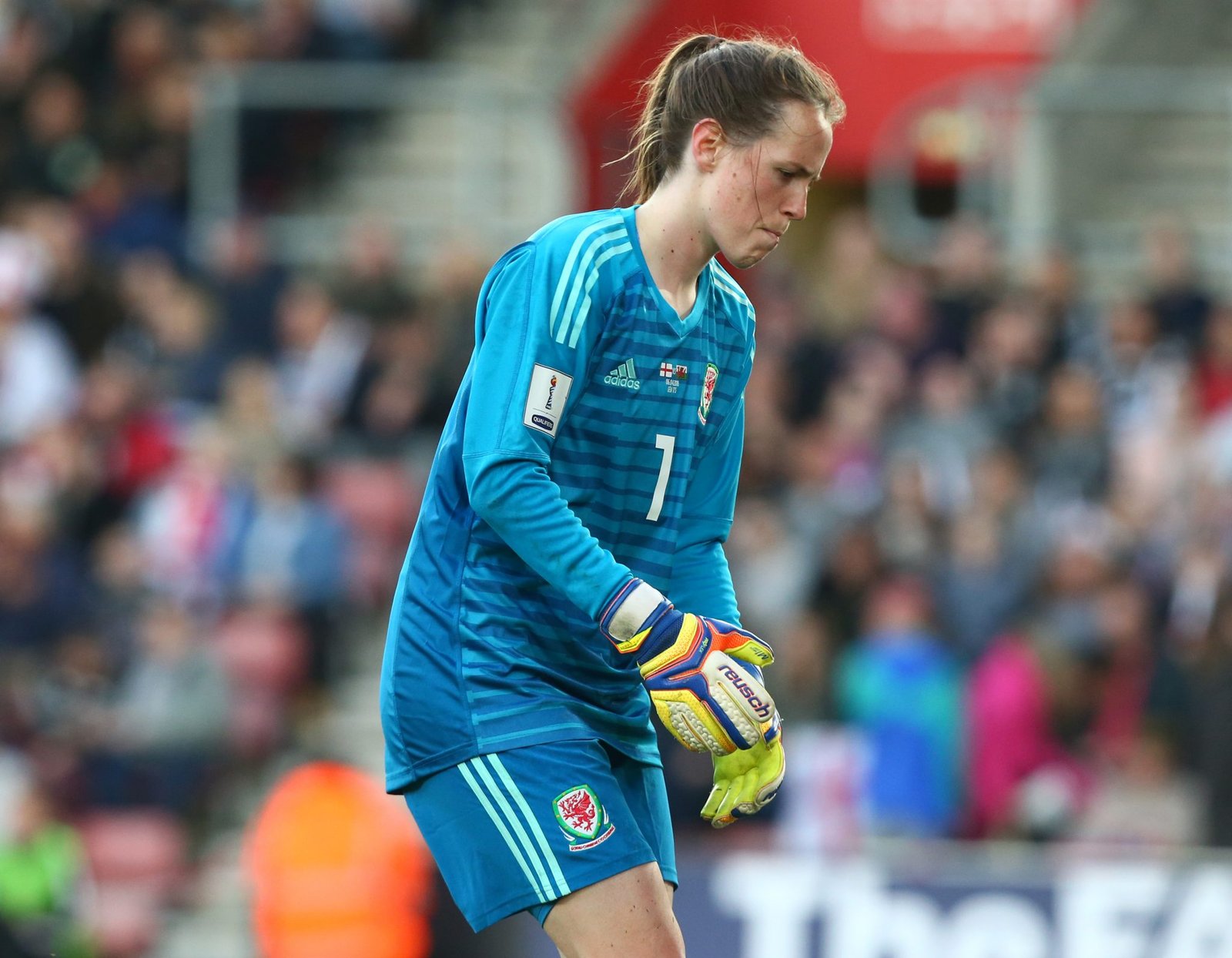 On Laura O'Sullivan's performance:
I love her. The girl – she's one of my kids but she's 27 years of age – only started playing not that many years ago, three or four years ago. A big part of her development has been down to our goalkeeping coach John Horton. And he puts a lot of time and effort into their development and she's definitely one that has benefitted from it. I do hope that this leads onto other things for her because we need more players playing at the top level. She's definitely one that could be doing that.
On how serious their chances are of qualifying for the world cup:
World Cup qualification is a toughy. Realistically, we get second place right now and we still might not even get to a play-off. It is what it is but for us it's not our focus. Our focus is: let's be better each game than we have been in the past. The play-off, can we get there, that's a challenge for us. The thing about that is I think I'm asking for too much there. Our players are realistic with that. The players who played tonight will more than likely go and get points against every other team they play, and even more than one point but for us it's about staying in the game as long as we can, being competitive and trying to pick up points along the way.
On how her players coped with playing in front of the big (and partisan) crowd:
I think they enjoyed it! Which is a new one for me because there were many on the team tonight, including our goalkeeper, who had never ever been in that environment and actually they showed that it's an environment that they want more of.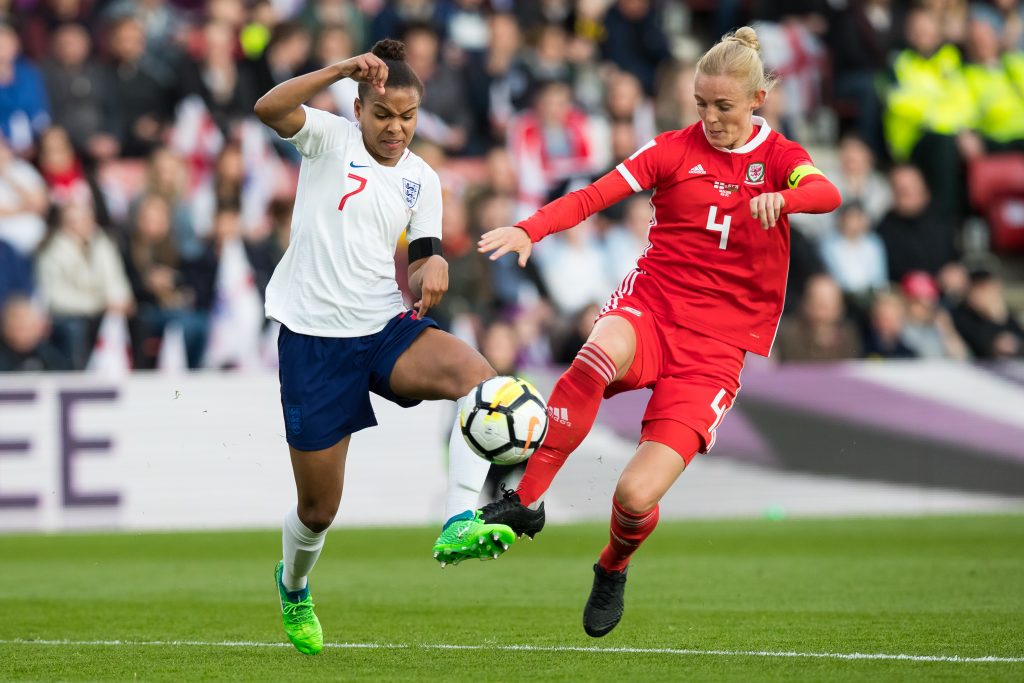 We also grabbed a still buzzing Wales & Liverpool skipper Sophie Ingle for a quick chat… 
On whether she maybe started to worry in the last 20 mins that they might not hold on:
Obviously it was tough. They had a lot of the ball and they had chances form the get go basically but we had to just stay disciplined and strong at the back and we've done well to keep them out.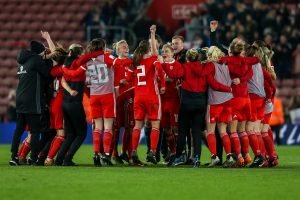 On the celebrations after the final whistle:
It probably looked like we had won the game but to us that is a win. We are 30-odd in ranking in the world and we've got to take credit ourselves that we've put on a good shift and kept them out.
On whether she felt the belief grow through the game or was it there from the start, that they could get a result like this:
I think we've been believing from the start of the campaign to be honest. We've just got to believe in ourselves that we can keep top teams out. They're [England] a great side and like I said, they had a lot of chances and if it wasn't for our keeper at times, she kept them out, then it could have been a different result.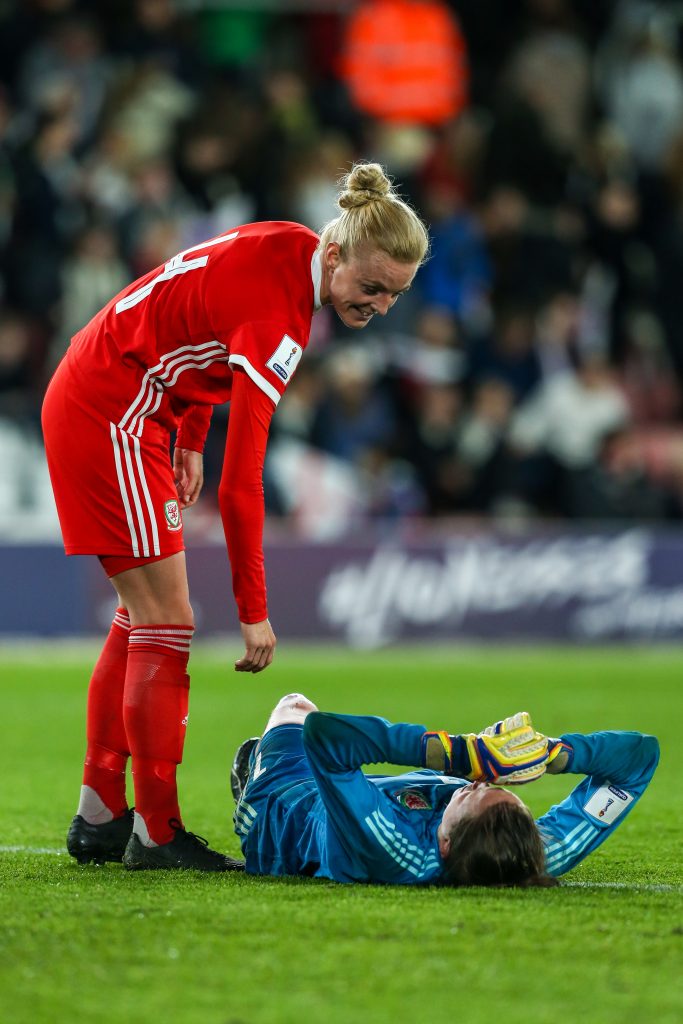 On whether the team began to tire a little towards the end, given that not all of the eleven are full-time pros like England:
No, I don't think so. I think everyone worked hard and it's about experiencing these situations – like our keeper, she doesn't play WSL or for a top team but from tonight she should be.
On any particular moments that stick in her head from the game:
I dunno, there's quite a lot to be honest. Obviously we were on the back foot a lot and there was a lot of good challenges and saves.
The fact they've been building a strong defence, posting some good results and not conceding, over several months and being the central defender at the heart of that:
Yeah we've got to pride ourselves in that and be hard to break down because we're not going to get results against top nations otherwise and I think everyone's taken that  on board. If we're strong at the back and in midfield and don't allow the likes of Fran Kirby to get on the ball and shoot then we've done our jobs.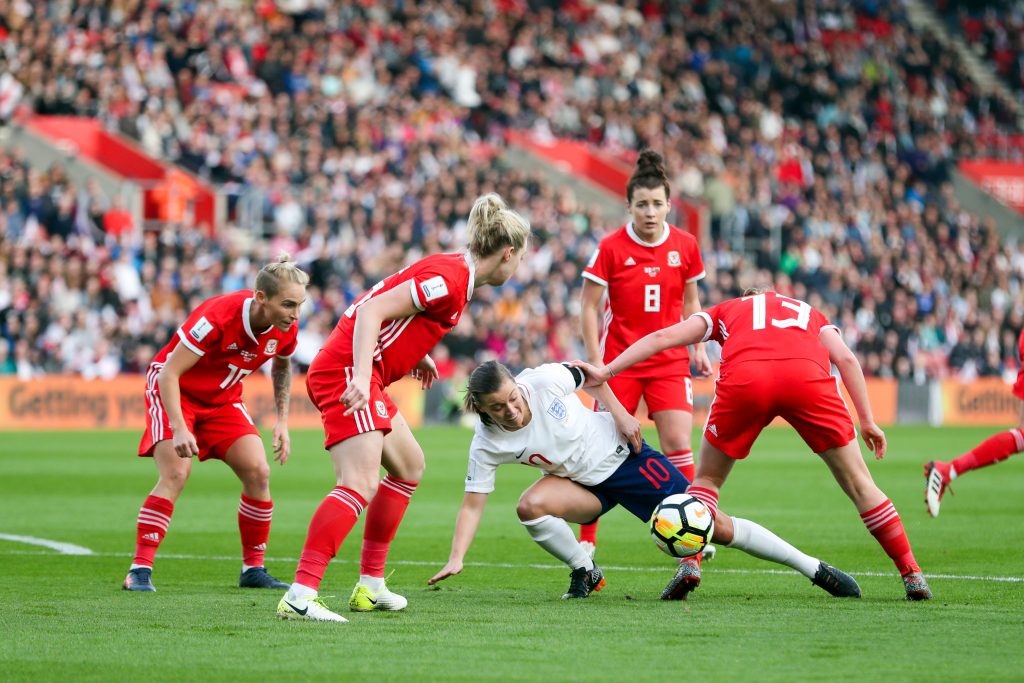 On whether she gave the team a big motivational speech before the game:
[Laughs modestly]. I dunno what I said. I'm not sure. [We're not sure we believe her!] I think I started with 'take the crowd out of it, focus, try and be a bit relaxed, which is hard when all you can hear is 'England' but a lot of our girls haven't played in that situation before so I had to try and calm them down and reassure them that we could go and get a result.
On still being top of the group and whether it's a shame they haven't got another fixture sooner:
Yeah it is a bit of a shame because we're on a bit of a run at the minute. We had a good Cyprus Cup. But we've got two home games in June which will be massive for us. I've said in other interviews, this is not the end. We can't think we've achieved anything because those two games are probably more important than this game.
On the profile that has been given to the team in the build up to this game v England in Wales and how that might inspire others:
I think we had around 500 away fans tonight and we've never had that before. I don't even think we've had 100. Yes, it's obviously just over the bridge and it's quite close for us but to get 500 on a Friday night, hopefully we've inspired one girl or two girls to want to continue to play football and enjoy it or go out and start to play the game.
We think they might just have done that!