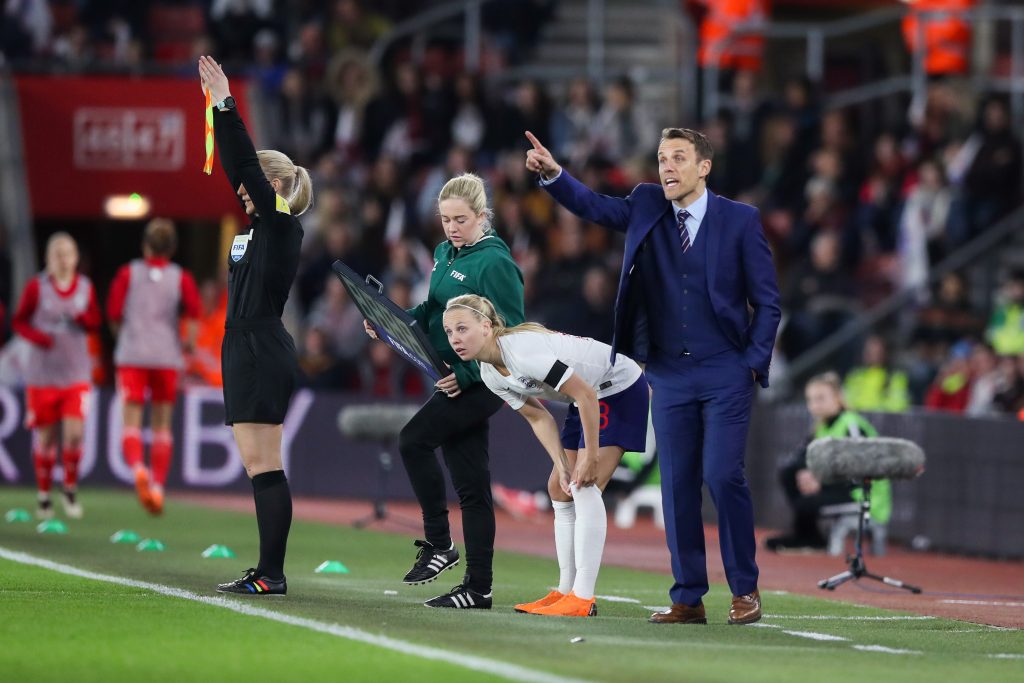 Arsenal forward Beth Mead made her senior debut for the Lionesses on Friday night at Southampton, going on in the 80th minute, as the final substitute as Phil Neville's side tried to find a way to break through the Welsh defensive wall. She gave a typically lively contribution, probing down the left side of attack, injecting pace, directness and energy (as earlier sub Mel Lawley had done before her). It's arguably a first England cap that has been a long time coming for the 22 year old. Mead grew up in the small town of Hinderwell (nr Whitby) on the North Yorskhire coast, so training and playing has involved a huge amount of travelling over the years and the Middlesbrough Centre of Excellence graduate and former California Girls and Sunderland striker (the 2015 WSL1 Player's Player of the Year & 2016 PFA Young Player of the Year) has featured (and scored) at every level for the national youth teams.
We stopped her in the mixed zone to congratulate her, though understandably she wasn't feeling in particularly celebratory mood, given the level of frustration within the squad at being held by Wales. (Don't worry, she managed to crack a smile towards the end.)  This is what she had to say…
On this being a landmark in her career:
Yeah, I know. I've waited a long time for it. And I'm glad I've got it and I was very, very, happy to be given the chance by Phil but it's a little disappointing. It was one of those games. Frustrating. We wanted the three points, you know?
On whether she was pleased with her contribution when she got on:
Some things I could have done better. I know that myself. I gave a pea-roller basically, to the keeper. Phil had said try and get at them, get 1v1s, try and get the ball in early and that's what I tried to do and unfortunately it just wasn't good enough.
On hearing that Phil Neville said she has a big future with the team and how it is a big 'fillip' for her, having 'Phillip' in charge now:
Yeah it is. He basically spoke to me straight away when he came into the role. He told me he liked me as a player and I needed to work hard and I think it's nice and good motivation to hear that from a manager, considering I hadn't heard anything from anyone for two years in the senior game. So it's a good start and like I've said, I'm just happy to be in the squad at the moment and to get on was unbelievable for me and my debut will be a moment I cherish, obviously.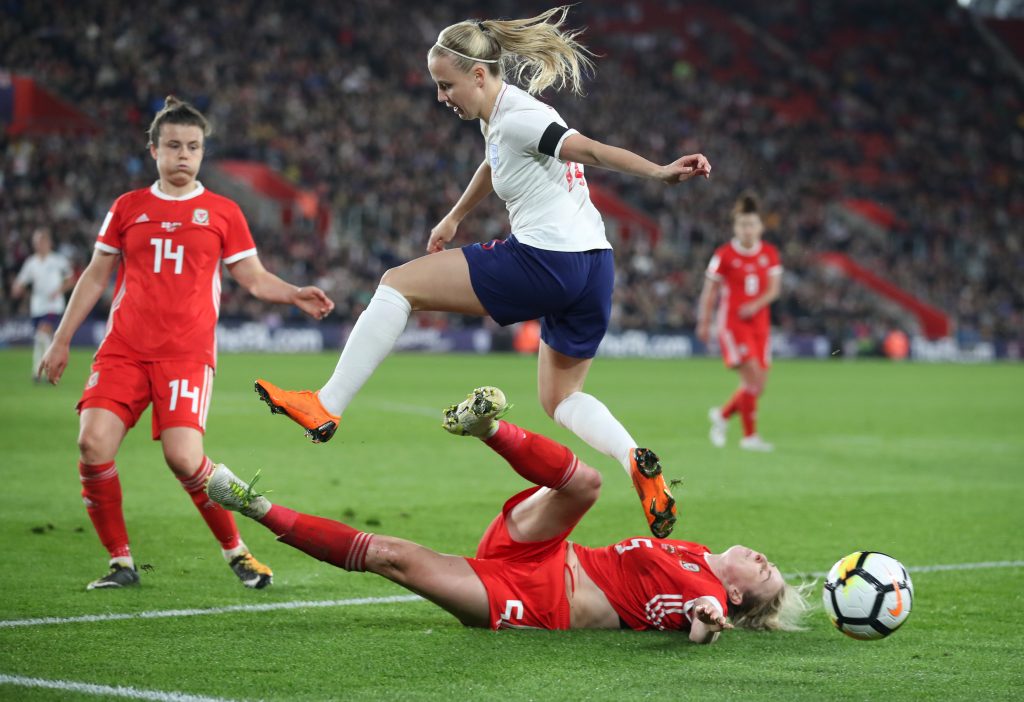 On coming into the week with a bit of a knock and whether she maybe would have got more time against Wales without that:
Yeah I took a bit of a knock in the Chelsea game [last Sunday] and I trained separately for the first few days just to try and look after myself. So it's a little frustrating because I wanted to come in fully fit and ready to train and prove to Phil that I could be able to start but it wasn't meant to be this time and hopefully I can maybe push on for Bosnia.
On her excellent form for Arsenal, and if there's a reason for the step up in levels of performance:
Do you know what, I moved into a different position at Arsenal and I've actually started to enjoy it now and have embraced being in a different position. It's been a little bit weird for me, having played as a number nine for a lot of years but I've started to enjoy it, I've mixed up my game and I've worked on different things that I know I need to get better in that position. I think that's helped me and against Chelsea I think that was one of my first games that I really enjoyed being on the wing. So I've just got to bring that to the international level now.
On this occasion being pleasing for the many people who have supported and followed her career for many years, particularly at home and across the North East:
Yeah it's a good feeling. There've been a lot of people who have followed me and they are still following me now, I've had a lot of messages and so a big, 'Thank you,' to all of them. They've been a motivation for me in itself and obviously my family and everyone else involved, they have pushed me on from a young age and coming from where I came from, a lot of people had to give up a lot for me, so I think it's quite nice for them to see where I am now.
On whether her family were at St. Mary's to see her debut:
My mum has actually gone on holiday to get a bit of sun! So she's watched me in a cocktail bar, so I'm pretty sure she'll be enjoying herself! But I know they'll all have been watching.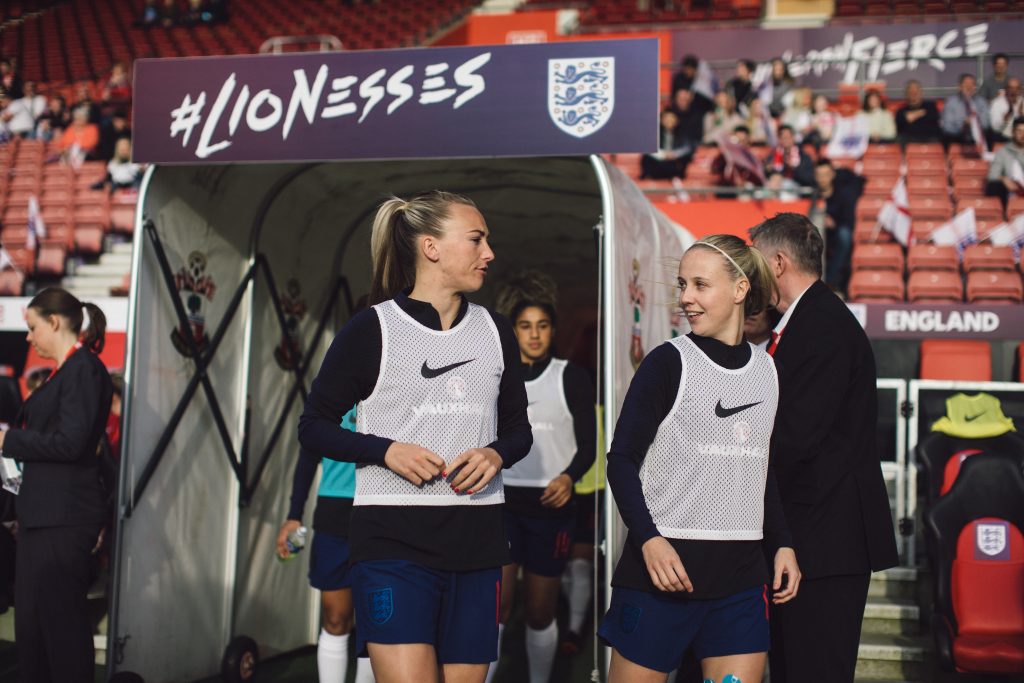 SEE A GALLERY OF IMAGES FROM THE GAME HERE