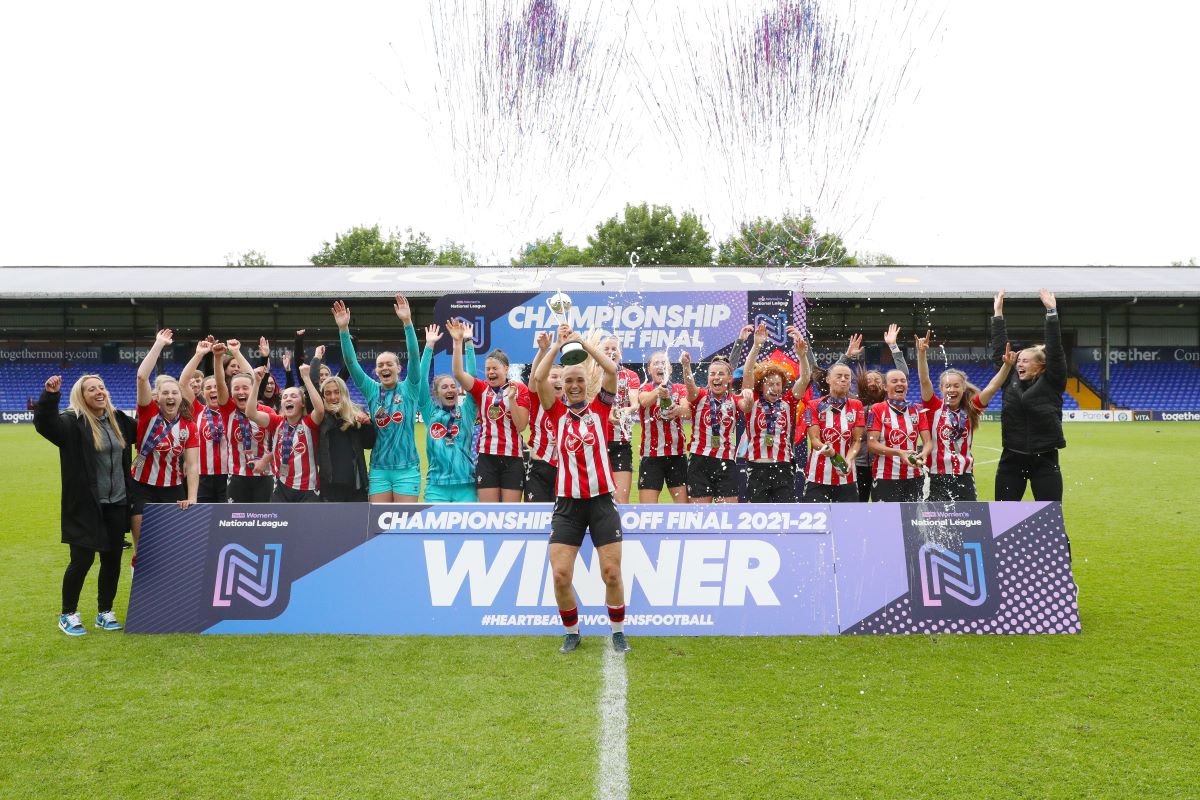 Southampton manager Marianne Spacey-Cale led the celebrations after her team had battled their way to victory against gutsy 10-player Wolves to gain promotion to the FA Women's Championship.
Southampton 1-0 Wolves
FA Women's National League Play-Off
Edgeley Park, Stockport
21 May 2022
By Tony Leighton
Saints had the better of the first half and led through Sophia Pharoah's 22nd-minute strike.
But the game's key moment was Wolves defender Kelly Darby's controversial sending off on the stroke of half-time.
Darby, already booked for a 34th-minute infringement, trod on Alisha Ware as she tried to clear the fallen winger and was shown a second yellow card then red by referee Lauren Impey.
Despite being a player down Wolves pushed for an equaliser throughout the second half and Spacey-Cale admitted: "They gave us a really tough game and credit to them, they were absolutely outstanding.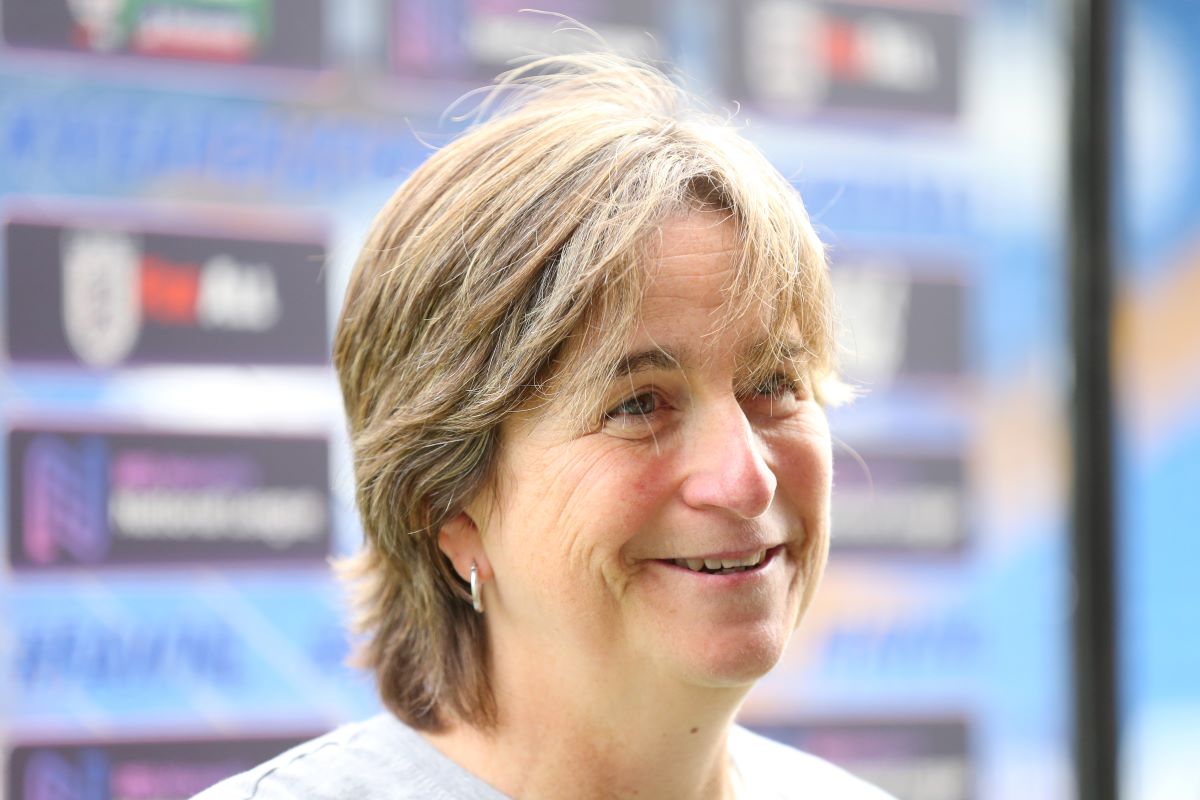 "It's important we didn't stop believing though, and I think that over the course of the season we've fully deserved to go up to the next level.
"I'm so excited for the club, the players and the supporters. We'll enjoy tonight then re-group tomorrow, and we've already got our plans in place for next season.
Southampton's delight was Wolves' heartbreak, summed up by coach Karl Milgate who is in charge of the team during the work-enforced absence of manager Dan McNamara, who is on an overseas tour of duty with the RAF.
Milgate said: "Sport sometimes hurts you and we couldn't get it over the line. But after changing shape for the second half it was a brilliant effort. If it had been 11 v 11 I think we would have got something from the game
"The second yellow card coming at the moment it did was a bit dubious, but I have to say Lauren Impey is an outstanding referee and she'll go far in the game."
Will it be difficult for the Wolves players to pick themselves up after coming so close to the dream of reaching the Championship? "They won't struggle to get picked up because they're at Wolverhampton Wanderers," insisted Milgate. "Macca (McNamara) will do that, no issue at all."
Directing touchline operations from a video link to his RAF outpost, McNamara oversaw his team a game where both sides looked to attack from the kick-off.
Goals might have come at either end before what proved the match-winning goal. Saints striker Lucia Kendall had a clever chip brilliantly saved by goalkeeper Shan Turner, then Wolves winger Beth Merrick and striker Maz Gauntlett had goalbound shots blocked within second of each other.
Striker Pharoah put Spacey-Cale's team ahead with her 17 th goal of the season, collecting a Georgia Freeland cross to waltz round Turner and slide the ball home.
The lead should have been doubled immediately after Darby's first booking for a foul on winger Leeta Rutherford.
Striker Lucia Kendall's resultant 20-yard free-kick was turned on to the post by Turner, but from the rebound winger Freeland volleying over the empty net from six yards.
Saints deserved their half-time lead and almost increased it three minutes after the break, when Kendall's 20-yard lob drifted just wide of the far post.
But they were then given a stern test as Wolves went all out for an equaliser. Striker Amber Hughes had a 15-yard drive saved just inside the far post by goalkeeper Kayla Rendell, winger Beth Merrick sent a 20-yard effort narrowly
wide and then, three minutes into stoppage time, midfielder Tammi George volleyed agonisingly over the top from eight yards.
A relieved Spacey-Cale added: "We didn't give the performance we wanted, but we've achieved what we wanted and we're in the next flight.
'It's important that we're there now, because the (women's) game is growing so rapidly that you want to be there now and not get left behind."
Teams
Southampton (4-3-2-1): Rendell; Mott, Parnell, Rafferty, Collett (Rood 76);
Rutherford, Griffiths, Freeland (Morris 62); Kendall, Ware; Pharoah.
Substitutes: Pusey, Luce, Watling.
Wolves (3-4-1-2): Turner; Darby, E. Cross, Morphet; J. Cross, Price, Cooper,
Merrick; George; Hughes, Gauntlett (Miller 69).
Substitutes; Dicken, Miller, Walker, Elsmore, Burridge.
Referee Ms Lauren Impey