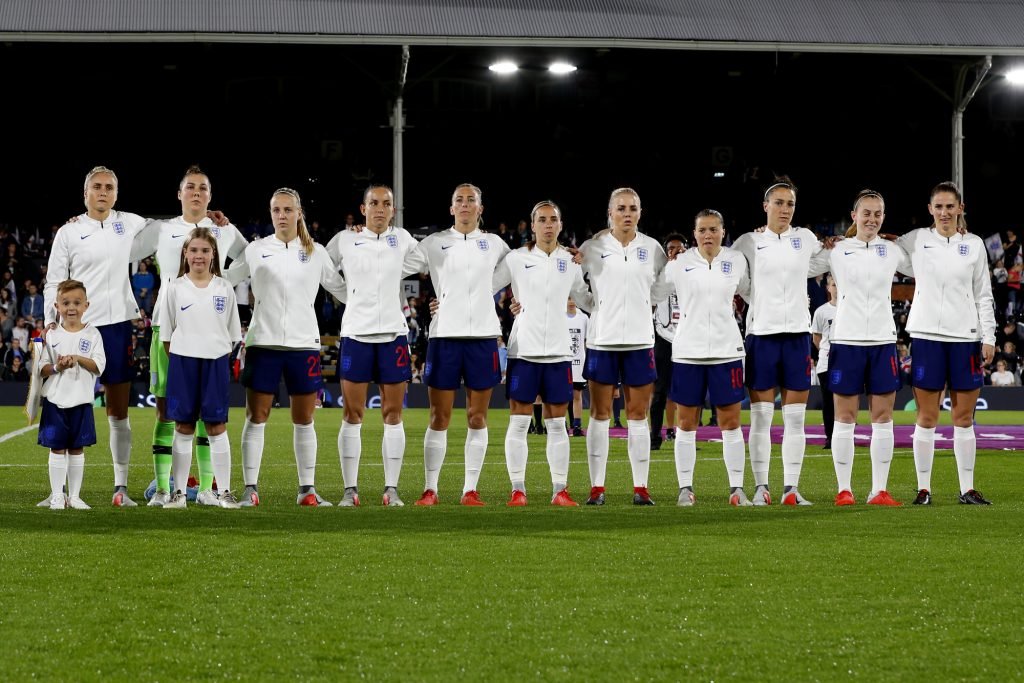 England raced out of the blocks again, although Australia were much more spirited opposition from the off than Brazil had been for large sections of the game on Saturday. Fran Kirby put the #Lionesses ahead with a fine turn and finish after Beth Mead pounced on a poor clearance by MacKenzie Arnold but then a combination of good goalkeeping, wayward shooting and dubious decision-making (from the officials) meant they did not extend their lead whilst in command of the game. With such a slender lead the Matildas always threatened to pull a sucker punch on the break and were a greater attacking force in a more even second half. They finally, rather inevitably, levelled to make it 1-1 with just minutes to go when an unmarked Clare Polkinghorne headed in from a corner.
It wasn't a game for the purists – though England were scintillating in possession in patches – but it was full of high energy and pace. The question marks after the match were over the referee's failure to give England at least two penalties and for incorrectly disallowing an offside goal in the first half but they also must hover over the fact that the Lionesses again could not finish off a team (one missing some first choice stars) despite creating the chances to do so. There's no need for alarm, there is plenty of time before June next year, but everyone is aware that a continuation of this habit will lead to tense moments in any crucial knockout ties.  
Enough of our rambling recap, more importantly what were the thoughts of Head Coach Phil Neville after the game?
On the result:
It was tough to take but actually, at 70 mins, I knew it was going to be 1-1. I just knew it. Sometimes you get what you deserve, Mary Earps made some fantastic saves in the second half and it looked like we'd lost a little bit of confidence in going to score that second or third goal. And those two penalties… I can't understand why they haven't been given, to be honest with you. If there were ever two clearer penalties in football? And the [disallowed] goal in the first half was a brilliant goal from Lucy Staniforth and Kirby so it was a 4-0 game and we've come away with a 1-1. I felt at 70 mins if they got a corner we'd probably concede because I don't think we got what we deserved. Maybe that little bit of ruthlessness which we haven't had in the last two games, maybe that [equalising] goal will might do us good.
On the concern over officials, especially come next summer:
The standard of refereeing worries me. We're putting the players under immense pressure and challenging them to be better professionals, better quality, to play the type of football – an every top country in the world is on the same pathway not just England – and then I see a performance like that tonight.
On the team playing some good, enjoyable football to watch:
We can play better. I want us to be better. It's funny because I can go into the coaching room after the game and people come in and say positive things and I'm getting messages coming through too, saying 'unbelievable football' and I'm ready to smash the TV up in there because I know we can play better! I'm happy I have that type of reaction though and also happy that people are seeing us play some great football.
We're going to persevere with that because that is what will get us to where we want to go. These last two games have been frustrating for the players who have worked so hard and haven't got their just rewards by beating Brazil three or four nil and Australia three or four nil. That's not being disrespectful to both countries who have really good teams and will do well in the world cup, that's just on the balance of what I saw in both games. I should be driving home tonight, having won the game 4-1. So I'm happy deep down but it's not the type of message I've told the players because ultimately the best teams are ruthless and they would win those games three or four nil.
I went to see the referee at the end. The second refereeing decision was a strange one because I'm 40 yards away and the referee is 20 yards away and she's looked over at her linesman to ask the linesman to help her out when everyone in Fulham and everyone watching on TV can see it was a penalty. It's a mystery.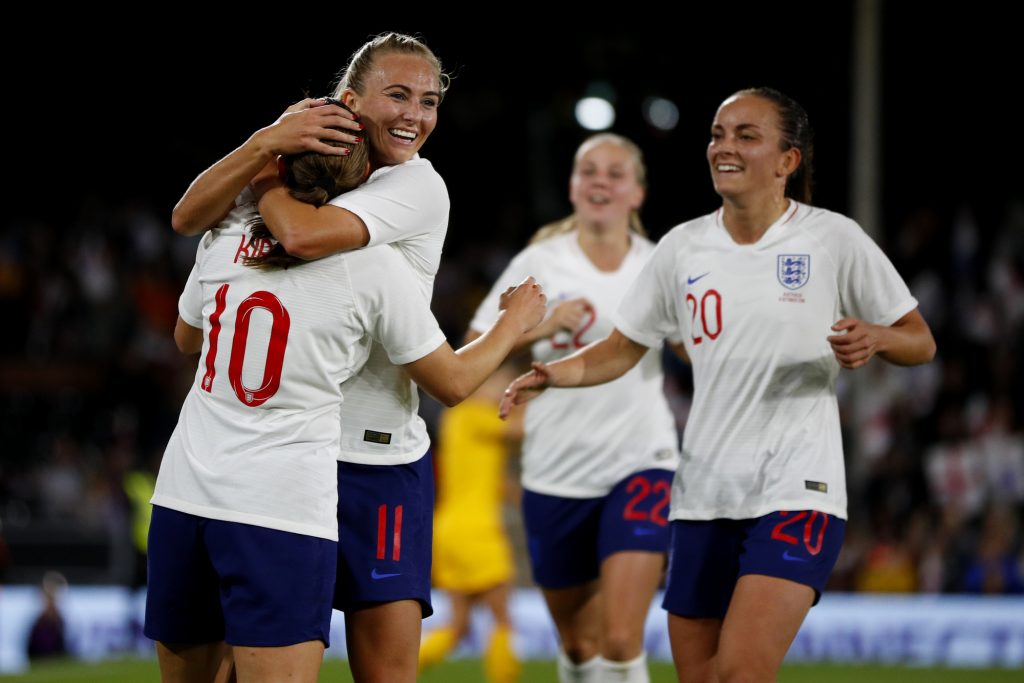 On some of his players' performances and decisions:
Lucy Bronze knows what I think of her. They should give the Ballon d'or to that girl now. She's the best player in the world and she showed that tonight. She was four players. I'm proud of the way we're playing and the bravery of the team. They all want the ball, they're all taking the ball, Kiera Walsh showed tonight what a player she can be. Lucy Staniforth has come in and is putting massive pressure on the players who play in her position.
I was pleased with Beth Mead because she's a goal threat. She could be a 9, and 11 or a 7. She's going to get plenty of opportunities, lots of these players will get opportunities in the next few games. She now has to go through that phase where she's no longer a young player anymore, she has to make an impact and produce like Nikita Parris and Toni Duggan, who because of their consistency are my number one and two wingers at this moment in time. So Beth and Mel Lawley have to push them to get up their levels of consistency. Beth has speed, is a goal threat, is aggressive in her pressing and she knows what I think of her and that she'll play a big part.

Fran Kirby was great. She's intelligent and she's a match-winner because she scores goals and she's just gathering momentum. I played her as a '9' because I thought they would space in behind and because we were playing technical football it wasn't a game we were going to play long balls. They have two stall centre backs so I wanted her to almost wriggle around them. We'll use her in the best possible place and I think she's enjoying her football. I took her off to give Fara Williams an opportunity in the '10'. You've got to look at the bigger picture. She's trained hard, played two games and has got a big game on Sunday, I've got to make sure I look after her.
I thought Mary Earps was the 'Man' of the Match. She made some great saves. It was a pressure game tonight for Mary because people probably say she's not been playing for Wolfsburg that much but she's training twice a day, with the second best team in Europe, she's sharper and we've seen a massive improvement in her. We're going to be rotating the keepers and giving them opportunities. I see each keeper has different qualities, so in some games I'll play Carly, or KB etc.  And we have young keepers coming through too. It's no different to me rotating the centre backs.  
On where he feels the team are in terms of trying to be the best in the world:
In terms of the style of football, we're definitely playing the style of football that we want to play. Ultimately I want us to be tested more by the opposition. Until we maybe go to the She Believes Cup or play opposition that are in better shape than Brazil and Australia – the Matildas have players going for operations and out of season or just finished seasons, so they're not in the best possible place – and play that type of football against USA or Japan or Australia (when they're in their season) we won't know. We've made two top ten teams look pretty ordinary but I also think there are bigger tests to come.