We grabbed a word with a flurry of France beaters in the mixed zone after the game on Sunday. Here's some snippets of what they had to say…
England's proud skipper, Steph Houghton
SK: Another immense performance from the defense. Have you taught Millie everything she knows?
SH: Ha ha. Nah, she'd beat me up if I said that. I think that it really does start from the front. I think Jodie will get a lot of credit for her goal but she really sets our press off, her and Fran and ultimately I just knew we were never going to concede a goal tonight. You just have that feeling and you know that people are just throwing their bodies at the ball, they're heading everything, they're kicking everything and I'm just delighted that we are in the semis.
SK: Did this win mean a little bit more because of all that has come before it?
SH: People ask if I get nervous before games and I probably was bit nervous before this, compared to the games so far and I think that's just because of how long we have been wanting to this and wanting to win. You could see from the celebrations what it really means to the whole squad, not just the 11 but the subs and also the staff. We've been working so hard behind the scenes and it really is paying off.
SK: What was it like to have that support out there?
SH: The fans have been unbelievable from the moment the we played against Scotland until now, in the rain against Spain. And just amazing to see all of my family there, they're all flown over and how much it means to every single fan that's come over and all those back at home.
SK: Do you encourage more fans to come out for Thursday?
SH: Of course, the more support the better – I think we're going to be a little outnumbered come the semi-final on Thursday, so more the merrier! Even when the anthem's being sung it's a really special moment for us all. Hopefully we can get some more support come Thursday!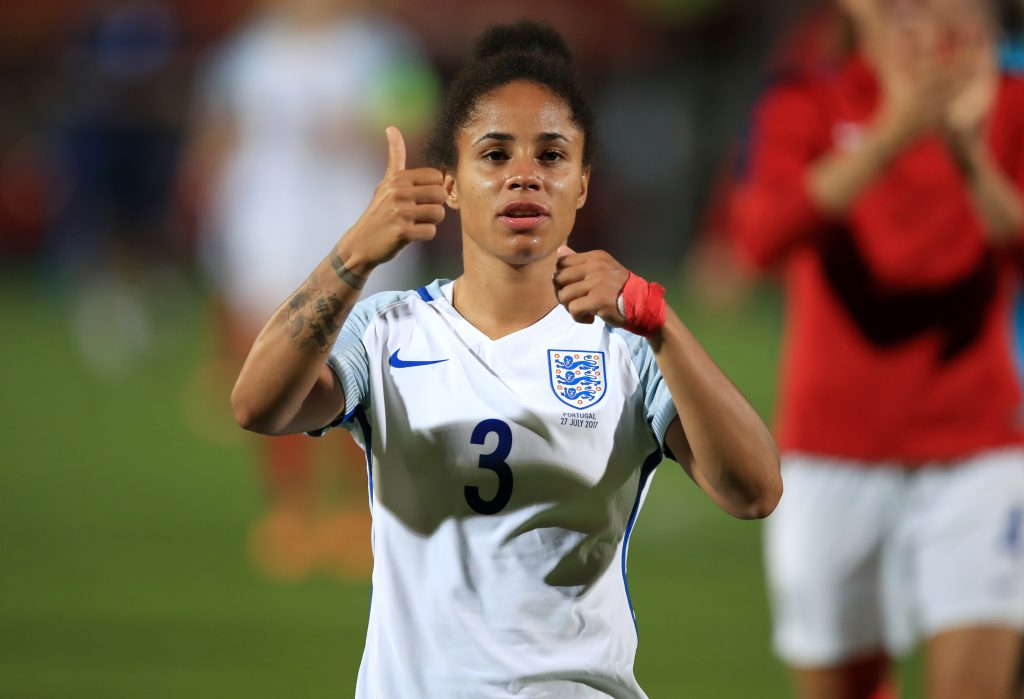 England defender, Demi Stokes
SK: Did you enjoy that then?
DS: Amazing. I loved every minute of it. It was a tough game, a hard shift but this is what you sign up for. It's why you want to be at the top, to play in games like this.
SK: Toughest game of the year so far, maybe?
DS: France have some great players, we played Lyon, so came up against a few of them but def a tough game and it was important to stay mentally tuned in and keep going. And obviously not getting carried away with it. We went 1-0 up and you see the 90 minutes come up on the board and then you see the six minutes and so it's just a constant battle of staying mentally tuned and staying switched on.
SK: What was it like having that stand full of England fans?
DS: Yeah the fans were brilliant. I definitely think they were an extra player for us today. It was amazing to have friends and family out there and to share the moment with them.
SK: How did it feel to get the win?
DS: At the final whistle, I couldn't breathe! I was running and thinking, who shall I celebrate with, who do I run to? We'll have our moment tonight but it's important not to get too high with it and our next game is our focus.
SK: France bring on Elodie Thomis, are you worrying they will get a late one or two again (like in She Believes Cup in March)?
DS: No, obviously you're recognising what they have and it's something we spoke about before the game. I think we dealt well with it but we've played France four times recently? We're playing these big teams often so games like this are not alien, it doesn't feel different.
SK: People had questioned the changes for the Portugal match and were concerned it may affect the important 'momentum' of the team, does this prove it was the right decision?
DS: I think it's hard and people on the outside looking in don't realise that tournament football is intense. You're away before the tournament even starts but that's why you bring 23 players. You don't bring 23 players just to play 11 or 12. You bring everyone to play everyone and everyone plays a role, everyone plays a part and they know that coming into it. So people looking in will think, 'Why did England change it?' But mentally, physically, tournament football is tough, so its important to get that balance right and everyone's done their job.
SK: Now you're the 'biggest' team left in tournie, how does that feel?
DS: Yeah we are and obviously that's what we set out to do, we've come here to win it and we're going to go and do that.
#WEURO2017