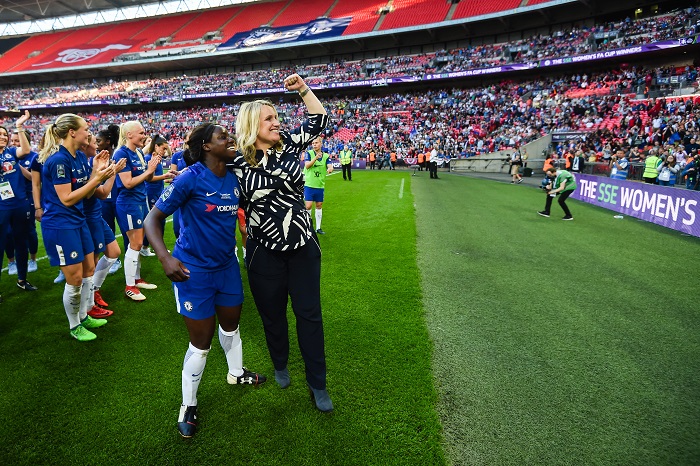 Emma Hayes' Chelsea had too much for Arsenal as blue indeed was the colour in the SSE Women's FA Cup final at Wembley, with a 3-1 victory. 33 weeks pregnant with twins, Hayes was flanked in the press conference by her assistant Paul Green, but she had much to say on a landmark day for Chelsea and the women's game itself – even setting The FA a hefty challenge in one response…
Emma, how are you feeling after that?
Well I think this is more enjoyable than the first time around, because, and I speak for the man next to me, that was such a dominant performance from us today. We controlled it from the first whistle, we created chances, we were fluid and we looked like a team that had been building for a period of time. The goals came at a perfect time, but also the quality of the goals I think showed the difference between the two sides. That's what happens when you've got good experience and leaders on the big occasions; they show up with the performance they put in today. To be honest with you, the last thing I needed was something too nervy, and that was the most relaxed I'd felt in a final in my entire career.
With Ramona Bachmann and Fran Kirby's finishing, how decisive was that quality?
One of our staff came up to us prior to the game and said in the warm-up that every single shot they'd taken they scored, and I'm a believer in good practice. If you're going into a game with that good habit then it's going to transfer into something. Ramona Bachmann's had an outstanding season; hasn't necessarily had the goals in the league, but big-game players offer solutions like that. I'm pleased for Fran; Fran ran her socks off today and she was menacing defensively from the front. I said to them both at half-time I wished they'd engage a bit more one-v-one; get them inside the box instead of always little short combinations. They heard something, I said to them, which is rare! With a record crowd, three goals of that quality, I'm very pleased that people watching the game today would have seen a high standard of football.
Did it feel like a complete performance?
I was disappointed after we went 2-0 up that we sat off a little bit. You have to give credit for the quality of Arsenal but I'm not happy with how we approached the game from the restart. I think we put ourselves in an unnecessary position, but the third goal was critical.
A tenth FA Cup for Katie Chapman. How good was she today?
I thought Katie was the best player on the park today. For someone chasing a tenth winner's medal, I thought she led by example, was dominant, and I thought outrun their midfield at times, her and Ji (So-yun). I thought they had a lot of time on the ball but what Katie has in abundance is composure under pressure. You talk about technical and tactical things but it's about managing the biggest games on the biggest occasions and Katie's done that year in, year out, throughout her career. You build a team like Paul and I have, knowing that for many of those years Katie may have been the one most dominant player in this side, so it's refreshing for us to see so many leaders throughout the lines now and not a reliance on Katie. As a result of that, Katie can just get on and express herself. She seems to like the FA Cup; she's won it ten times. I said in the press conference the other day, she's a greedy little cow for that!
And her longevity?
Everybody tells me who's had children – so I'm looking forward to this – that it increases your red blood cells, so you can run longer. Katie is insistent that due to the birth of her three children she runs more and more. She's got to go and have another couple of kids before her career ends! She's in impeccable physical shape; probably our most dominant athlete. Like I said, you can be that but not anything else, so it's the quality she has as a leader, as a person, as a footballer that sets her apart. She loves this football club and I think for her to lead that team today, the first words she said at the final whistle were 'it's so easy playing with this team,' and I think that's what's become different in Katie's time with us. We've now turned into a team that's got it all over the pitch.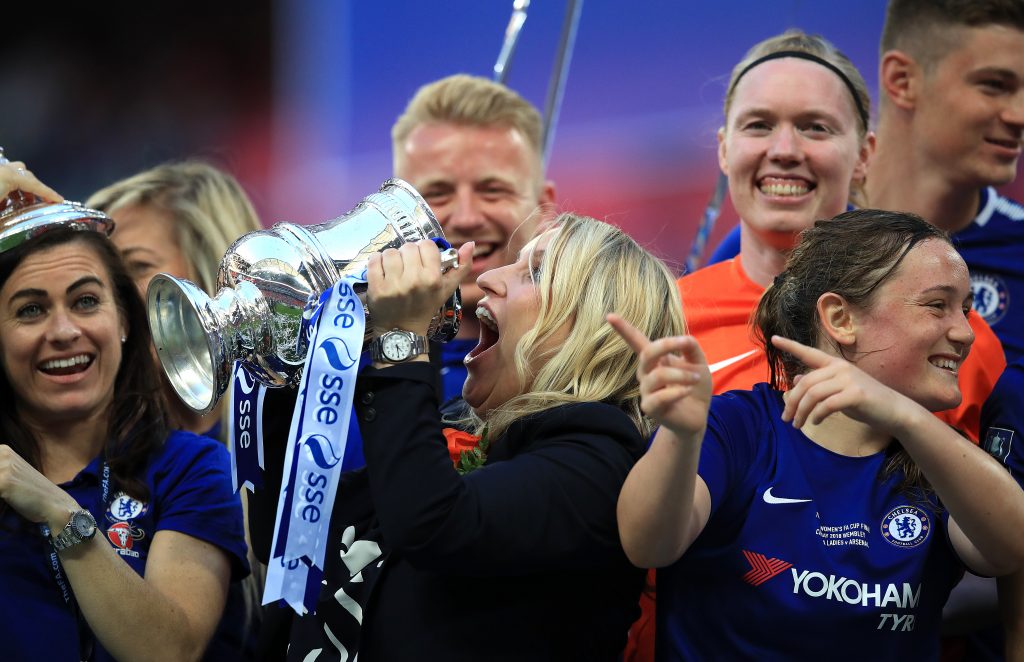 How will you celebrate tonight?
We've got a game Wednesday, and I've got to get to Wednesday! For me, it'll be horizontal.
What about the crowd today, a record crowd (45,423), how good was that to have for this?
I think I said in 2016, 'let's turn 30,000 into 50,000' and I said to Paul prior to the game, I'm as proud of that as I am lifting trophies. We've both worked in the women's game for a long time, we believe the audience is there with the right marketing and messaging. It's mental walking – I didn't walk up the stairs, I walked down the stairs – but listening to the fans calling out their heroes' names in a very familiar way. It's reached a point now where it's not token gestures, it's scores of people; young girls, boys, men, women, coming to watch these games not just for the day out but because there's a quality on show. I always say to people, you've got to pay for it. People ask for free tickets – no, these are professionals now, they work hard at their craft and we need to turn this into a paying sport. We've got 45,000+ today, and it shows we are making the right strides in the game, so the challenge now for The FA with their marketing budget is turn 45,000 into 60,000, come next year. No pressure!