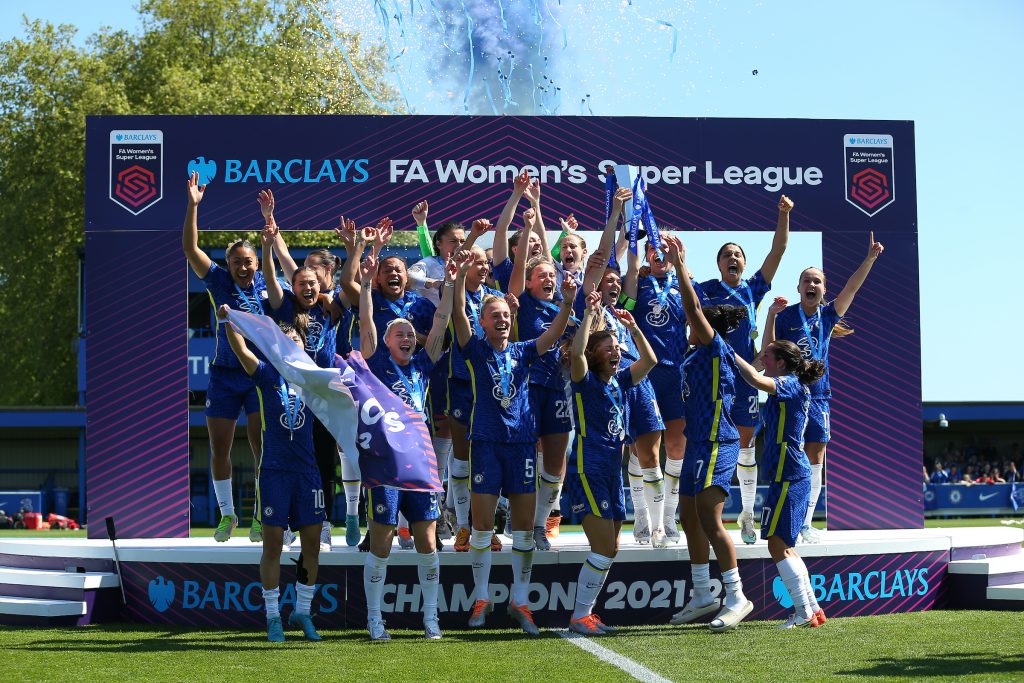 If, like some of the She Kicks crew, you had eyeballs on as many as WSL games as you could today, you were treated to two hours of wonderful drama, passion and skill. It was a top draw conclusion to a brilliant season. All credit to Arsenal for pushing right through to the end in the title race and the two Manchester sides for their engrossing battle for the third UWCL place. United certainly added to the excitement by taking the game to Chelsea at Kingsmeadow today and were worthy of their two first half goals. But biggest congratulations goes to Chelsea for their stunning turnaround to win 4-2, claiming their third title in a row, their fifth overall – making them by far the most successful side in the WSL era.
Here's a quick summary of winning boss EMMA HAYES' words to Sky Sports and in the post-match press conference at the conclusion of a thrilling WSL season: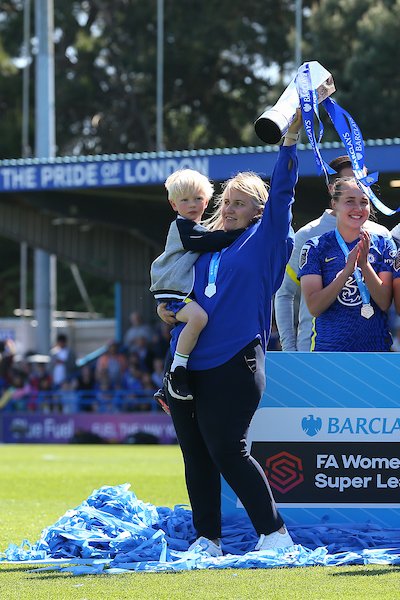 On her feelings on winning the league:
Relief. I say this every time, when people think it's the opposite, and I'm just relieved it's over, hallelujah.
The second half epitomised what we're about, certainly not the first half. We had to dig deep but we did it all year.
On how difficult it has been this season and where it ranks alongside the others:
This is by far and away the best one. I think the fact that we were 2-1 the first half and win out 4-2, that epitomised the first half/second half season showing from us. I think we're champions because of the second half of the season. I think we know how to get over the line but I do think we've been tense the last couple of weeks, even with all that experience. But we can get it done and you can't legislate for that.
On what she said at half-time because it was like a different side:
I changed the shape and we went one-v-one everywhere and made it a bit more difficult for them [Manchester United] to be comfortable and use the pitch. And secondly, I felt by bringing in Beth [England] – because they're full-backs were getting tight with our wide players, so no problem we'll go in the spaces behind – I thought Beth and Sam ran those channels really well. Ji So-yun, she's had a calf injury – she's put her body on the line for the team – and she was the difference-maker but the player of the match, hands down, was Erin Cuthbert. Erin was the player that drove it for us.She's front-footed and I think we were too back-footed in the first half. I could see we were reluctant, we were hesitant. They play with double and triple widths but we had double and triple widths but we weren't coping with it. We had three v three in the midfield but we were overrun, credit to them, but I just felt it was about getting up tight and I said to the girls, in the circle, process, what is the next step? Sam get the first press, Sam get the right shot and we go from there and all of a sudden they make the impact like they have done all year.
On the one player that has stood out for her this season:
Millie Bright. I think Millie has been unbelievable. Sam Kerr wins you games but Millie has been available for every game and her leadership when Magda was absent was exceptional. Millie has an unbelievable ability to deal with adversity. So if there's anxiety around things she's not doing so well she fixes it, she trains it, she works at it. She's not just a leader within the group, but she's someone who can always keep finding another level in herself, she's amazing.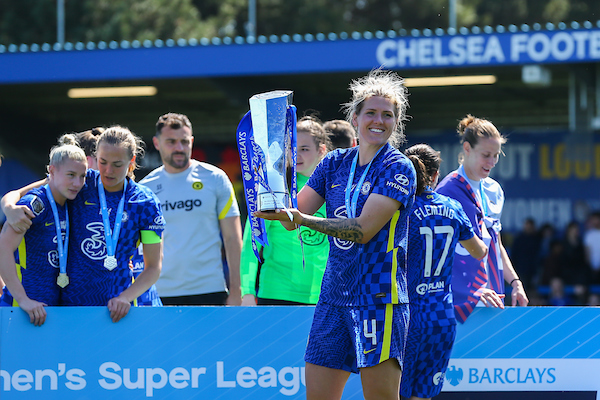 On Sam Kerr's goals:
The second one was world class, it was outrageous, audacious. She's the best for a reason and she stepped up once again for this football club. I said, "Come to Chelsea and you'll win trophies," I can sit here confidently and say we both made the right decision. We're both made for Chelsea and we both love days like today.
On how she keeps such a strong squad of players happy:
You have to accept it, you have got to buy into the culture and the ethos that teams win you championships. We've got more players that are more played in and as a result of that we're able to keep confidence higher. I believe in the rotations.
SAM KERR on winning the game:
It was just about us playing how we play and when we do that, no-one can stop us.
On her wonder-strikes:
I'm not known for my worldie goals but the thing that I'm known for is getting it done when it matters. The most important thing for me is scoring goals and making sure the team is at the top of the table when the season ends.
Captain MAGDA ERIKSSON on why this league win is so special:
A squad winning always means more. Every player has played their part.
And Emma's player of the match, ERIN CUTHBERT on what winning the title means to her:
It means everything to everyone. We've been through a lot this year: injuries, COVID, but we've never made excuses, we've always just got on with it, done our business and I think a lot of the year we've been kind of out of the limelight, if I'm honest. I think a lot of people have written us off during the season but we never write ourselves off. In training we give everything and we always know that there's enough quality in this dressing room to always claw back from games.
On the team looking nervous in the first half:
I didnae feel it but we certainly looked it. We certainly looked like we weren't playing our normal game. We weren't keeping the ball, we just kept playing long and it looked like a game that was ours to lose. And in the second half that game showed it was ours to win and we came out here and we gave it everything. We used the crowd, we needed them today… amazing crowd, honestly.
Barclays FA WSL: Chelsea Women come from behind to win title