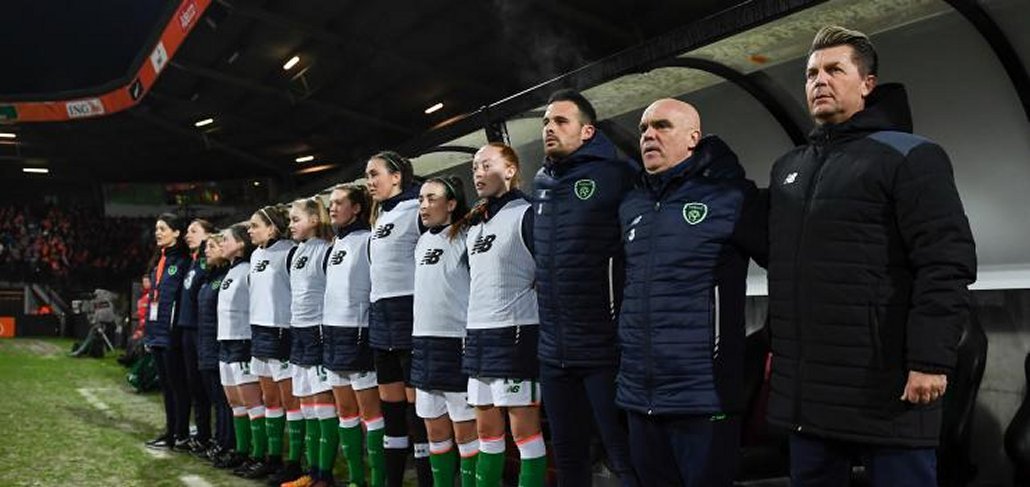 Dolores Silva's second-half penalty separated the two sides as the hosts claimed victory ahead of the second friendly on Sunday 21st January, reports fai.ie.
Colin Bell handed Galway defender Aislinn Meaney her senior international debut and also awarded Peamount United forward Heather Payne with her first start after an impressive 2017 in the FAI Continental Tyres WNL.
It was Payne who Ireland's only chance of the opening 45 minutes. Captain Katie McCabe found the industrious Amber Barrett on the right and after creating space, her low cross to the edge of the six-yard area was put narrowly over the bar by Payne.
The hosts created very little in a quiet first-half but went ahead just before the hour mark, after Andreia Norton was brought down in the area by Tyler Toland. Captain Dolores Silva stepped up and found the right-hand corner, despite the best efforts of Marie Hourihan.
Colin Bell brought on Leanne Kiernan, Ruesha Littelejohn and Claire O'Riordan but struggled to create any goal-scoring chances against a resolute Portuguese defence. Tatiana Pinto fired narrowly over the bar in the final minutes of the game as the hosts claim victory in the first of two international friendlies this week.
Republic of Ireland Head Coach Colin Bell said: "We're disappointed. I thought we were a bit flat tonight and didn't perform to the levels I know we can perform to.
"It was a silly goal to give away as all we had to do was clear the ball but instead, we let them come back inside with it and we give away a penalty. If that doesn't happen, there is no way we're conceding a goal from open play so that's really disappointing.
"We've got a lot of work to do in the rest of the week before Sunday's second match. I want to see the levels improve and we'll have to look at the starting line-up for that game.
"Of course, we're already missing five key players due to injuries, who would be in our first-team, so we've got a number of young players in the squad. We'll have to check the fitness of the players and have a look in training before making a decision."
Portugal: Patrícia Morais, Ana Borges, Raquel Infante, Carole, Mónica Mendes, Dolores Silva (C), Tatiana Pinto, Andreia Norton (Fátima Pinto, 77), Vanessa Marques (Ana Capeta, 77), Diana Silva, Carolina Mendes (Jéssica Silva,  46)
Unused subs: Inês Pereira, Sílvia Rebelo, Diana Gomes, Ana Viegas, Mélissa Antunes, Francisca Cardoso.
Republic of Ireland: Marie Hourihan, Harriet Scott, Louise Quinn, Niham Fahey, Diane Caldwell, Denise O'Sullivan, Katie McCabe (C), Tyler Toland (Claire O'Riordan, 88), Heather Payne, Amber Barrett (Ruesha Littlejohn, 83), Aislinn Meaney (Leanne Kiernan, 70).
Unused subs: Amanda Budden, Amanda McQuillan, Roma McLaughlin, Eabha O'Mahony, Isibeal Atkinson, Amy Boyle-Carr, Zara Foley.