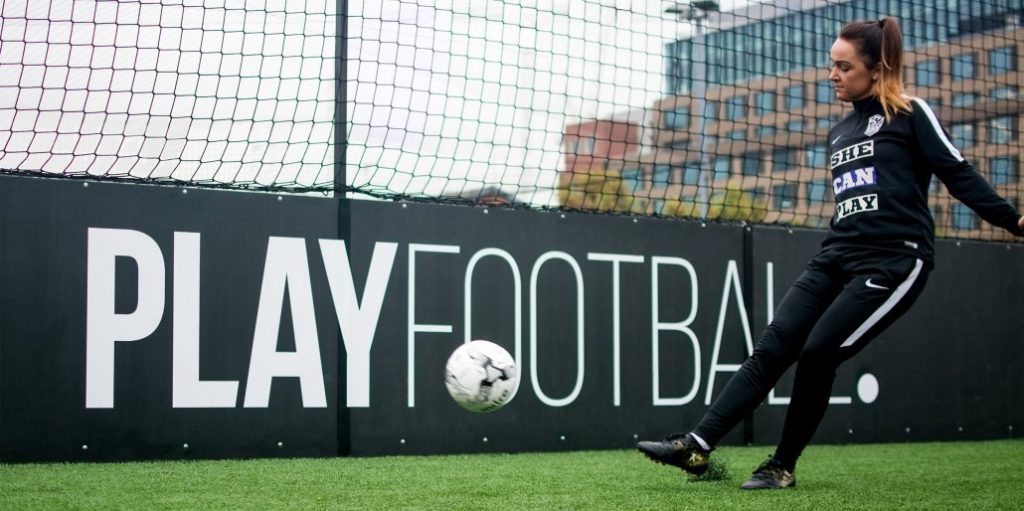 PlayFootball, the network of nationwide football centres, has teamed up with 'She Can Play', the female-first coaching brand established by former pro player Kat Clifton, to launch a new programme of regular coaching sessions that will offer high-quality football training for girls across the UK.
Aiming to encourage more girls into the game, the 'She Can Play' coaching sessions have been specifically tailored for girls between 5-16 years old of all abilities and will be delivered in a fun and friendly environment led by FA qualified coaches, many of whom have represented teams in the Women's Premier League and Super League.
Launched to coincide with FA Girls Football Week this week (6th -12th November), girls and their parents are encouraged to register their interest via www.playfootball.net/shecanplay. The coaching programmes will start in early 2018 and be run through sixteen PlayFootball centres around the UK in Birmingham, Blackpool, Bury, Colchester, Gillingham, London, Liverpool, Luton, Nottingham, Portsmouth, Preston, Romford, Southend, Swansea, Swindon and York.
To mark the launch, PlayFootball and She Can Play are running a week of competitions on social media with themed prizes such as girls team football kits and personalised coaching sessions up for grabs. Follow @SheCanPlayUK and @PlayFootball
"She Can Play has had a meteoric rise since the success of our team reaching the final of the FA People's Cup in 2016. Since then we have become official partners of Sport England's 'This Girl Can' campaign and delivered multiple sessions for young girls wanting to get into football. The partnership with PlayFootball represents the next stage of this journey, enabling us to develop our coaching offering and take it nationwide."
Kat Clifton – Founder, She Can Play
"The momentum behind girls' football at the moment is inspiring, and the Lionesses success in the Netherlands this year has been a big part of this. We're keen to ensure participation in this area of the sport continues to build. Bringing more high quality She Can Play coaching sessions to PlayFootball venues all over the UK will give more opportunities for girls to develop their skills, grow in confidence and join in on the fun. We're delighted to announce our partnership with Kat, and see girls' football continue to go from strength to strength."
Richard Whitty – Head of Marketing, PlayFootball