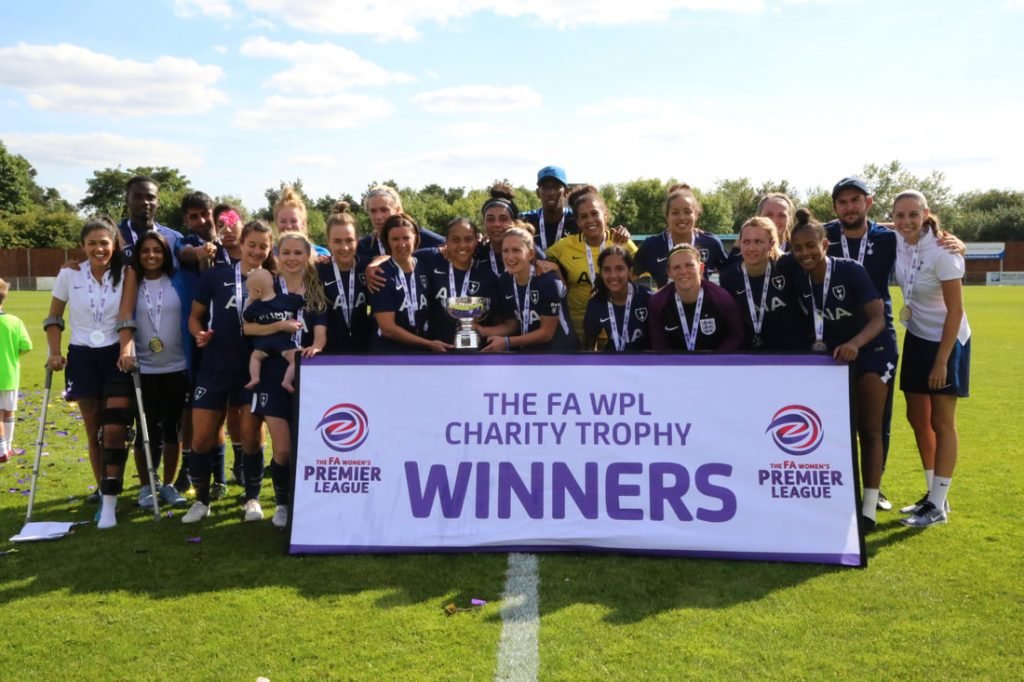 Tottenham Hotspur ran out 3-1 winners over the Ex-England Allstars in the FAWPL Charity Match at Bishop's Stortford FC, as Lauren Pickett came off the bench to net a debut hat-trick. However, the makeshift side of ex-internationals (some of whom may be *ahem* in their 50s) made Spurs work harder than they had perhaps expected to, in the hot afternoon sun. 
The game remained goalless in the first 45 but that did not mean there was not plenty of goalmouth action, with Pauline Cope-Boanas demonstrating the commanding presence, positioning, bravery and handling that saw her have such an accomplished career for Millwall, Arsenal, Croydon, Charlton and of course England. She made some fine stops (drew a few laughs and raucous cheers from her own family cheer squad) and collected the Player of the Match champers, despite only being on the field for 25 mins. Well in Copey!
If the crowd thought the keeping masterclass (and fun of goal mouth incidents, woodwork interventions and somewhat erratic finishing) was over, they were then treated to a number of excellent saves by Rachel Brown-Finnis. Former Liverpool and Everton stalwart Brown-Finnis proved the agility and reactions were still intact with a truly incredible, fingertip diving save, that pushed the ball wide of her right post, at full stretch.
The England team held their shape remarkably well, many having not played in the same team before and it was evident the technical skill and footballing nouse above the neck remained largely intact, even if the legs and lungs weren't quite what they used to be (hope that's not too harsh)! There were even some crunching tackles. Step forward Rachel Stowell (nee McArthur) and towards the end, a typically 'Leanne Champy', Leanne Champ challenge. It helped that the Allstars were permitted to make rolling subs, so it was a busy technical area and dugout for their manager Vic Akers (and they only briefly had 12 on the field in the second half). And Spurs had a good work out – even manager Karen Hills, who was a team mate of many of the England players on the opposition, had a run out in the second half for Tottenham – treated the game with respect and a great attitude and were deserved winners in the end.
All in all, a cracking day at a lovely football club (thanks to all at Bishop's Stortford FC & the excellent organisation of the FAWPL committee) and for a great cause – the Bobby Moore Fund will receive vital contributions towards the fight against cancer. We hope the 522 strong crowd enjoyed it as much as the players, officials and we did too.*
How the match panned out:
There was almost a goal in the opening minutes, as Lindsay Johnson was in danger of turning the ball into the back of her own net after a cross from Bianca Baptiste into the box.
Sarah Wiltshire set up May Vio for Spurs but she hit the crossbar and Ronell Humes failed to convert the follow up.
Humes had to leave the field with an injury but not before she provided Baptiste with a close-range opportunity, which saw Pauline Cope-Boanas react quickly to prevent a goal.
Karen Walker almost headed home from a long free kick for the England All Stars at the other end of the pitch but Toni Anne Wayne made a good save.
Two corner's by Baptiste threatened to break the deadlock just before the break but Pickett's flick went wide and Lucia Leon headed inches over.
But the first goal did arrive 2 minutes after the restart, debutant Pickett dribbling around the keeper (Toni Anne Wayne, who swapped from between the Spurs' sticks to take over for the England All-Stars) to finish.
Baptiste blasted just over the crossbar before Pickett got her second of the game with a composed strike from close range on 58 minutes.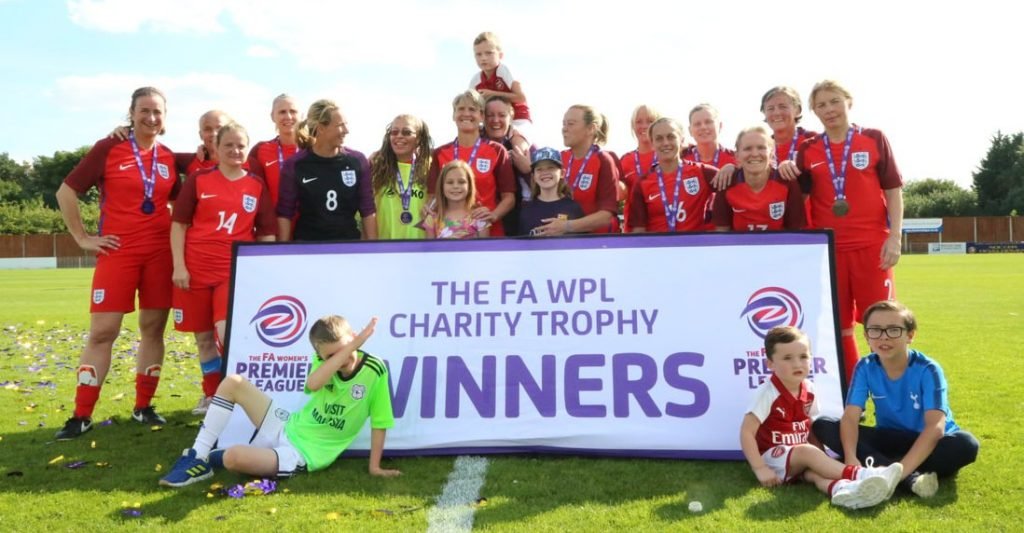 Ex-England Allstars
The former Lionesses were back in the game on 70 minutes though, as ex Arsenal & Watford striker Ellen Maggs converted a penalty after being 'fouled'. There may have been claims that it was a 'soft' decision but top referee Lucy Oliver (having taken over from husband and Premier League ref Michael Oliver at half time, to raise the level of officiating) does NOT make mistakes like that.
Kelly Smith came on for Allstars in the latter stages (much to the excitement of some of the Arsenal Ladies youngsters in the crowd) but it was Pickett who scored in style with 5 minutes left to seal her treble.
Marieanne Spacey rolled back the years with a 25-yard set-piece but was just wide of the Spurs goal.
Debut super-sub, hat-trick hero: Lauren Pickett
Ex-England Allstars: Pauline Cope-Boanas, Kirsty Pealling, Clare Taylor, Lindsay Johnson, Marieanne Spacey. Rachel Stowell, Karen Walker, Jodie Handley, Michelle Hickmott, Joanne Broadhurst, Sian Williams.
Subs: Rachel Brown-Finnis, Sammy Britton, Kelly Smith, Danni Murphy, Ellen Maggs, Leanne Champ.
Tottenham Hotspur: Toni Anne Wayne, Lucia Leon, Leah Rawle, Josie Green, Renne Hector, Sarah Wiltshire, Bianca Baptiste, Wendy Martin, Jenna Schillaci, Maya Vio, Renell Humes.
Subs: Lauren Pickett, Kelley Blanchflower, Chloe Morgan, Ryah Vyse.
Attendance: 522
Photos: clivejonespr.com 
* And Baroness Sue Campbell brought SK Ed Jen O'Neill some sandwiches and grapes from the VIP Room on a little silver platter), so it was THE BEST FOOTBALL GAME EVER.