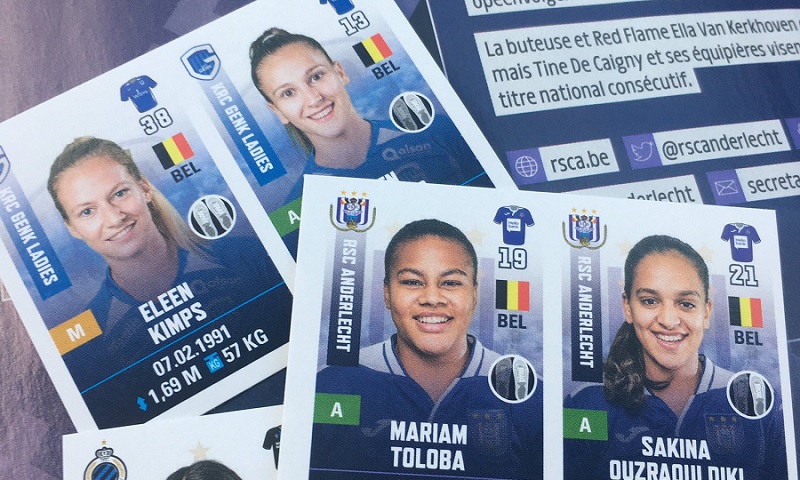 by Greg Lansdowne
In the week that Panini UK launched its first-ever men's Premier League sticker album, the debate as to when the Women's Super League will be honoured in the same way reopened.
Having produced albums for every Women's World Cup since 2011, along with Euro 2017, Panini reinforced its growing commitment to the women's game in November by featuring a woman on the cover of a domestic football album for the first time.
Panini Belgium's 'Pro League 2019-20' used an image of Anderlecht and Belgium defender Tine De Caigny on the front, to represent the women's 'Super League' alongside a host of players from the men's 'Pro League'.
One small step but, after nearly 50 years of Panini Belgium domestic football publications, it is a giant leap for the women's game.
Furthermore, there are more stickers given over to the Super League than ever before – having only been featured at all on sporadic occasions from the 2007-08 album onwards.
Standard Liège captain Maurane Marinucci has been part of team group stickers in the past but can finally lay claim to one of her own (albeit as a 'half and half' alongside a team-mate).
With Italian heritage, Marinucci was brought up on the Modena-founded Panini brand and has even kept the first album she collected.
"My father, who is Italian, taught me from a very young age to follow football and, of course, the Italian national team," explains Marinucci. "My first Panini album was that of the 1998 (men's) World Cup. I was five and I remember that I did not want him to stick the stickers in for me. I found the album recently and all the images are crooked!"
Now that, 21 years later, she has gone from collector to being collected, the experienced defender considers her full Panini debut as a rite of passage.
"It's a child's dream," Marinucci continues. "When you're little and you go to check the stickers at the bookstore around the corner and you open the packets, you imagine yourself on one of those stickers one day. It is also proof that women's football is developing. There is now more media coverage and advertising around women's football. I hope it will encourage a lot of girls to start or continue football and work hard to one day have her own Panini sticker."
Marinucci hopes this is just the beginning for Panini's involvement in domestic women's football – the next priority being not having to share her sticker in the next album.
"It's a good start but I find it unfortunate to have only half-stickers in my picture," she adds, with a smile. "We must not lose sight of the fact that we are still very far from equality in the areas of status and wages. In Belgium we must all work to be able to live. We would like to make football a priority but for the moment it is impossible."
Along with Marinucci, Silke Vanwynsberghe of KAA Gent Ladies was among the other players to be presented with large-form versions of their stickers at the official album launch on November 22.
The 22-year-old was also a Panini collector as a child – in an era when women's sport collectables were barely a consideration.
"My grandfather always bought the stickers and the book for me and my brother," says Vanwynsberghe. "I didn't really think about the fact that there were only men's teams in the book back then. To be honest, I didn't know any women's player or teams when I was little."
The striker believes the presence of women's football in sticker form is a positive step in the Super League receiving the greater exposure it merits.
"It's another step forward – a little more attention for women's football. And it gives the people who collect the stickers the chance to get to know us a little bit. It's a sign that they can't 'overlook' us anymore and that we're doing well. It's very nice and is actually an honour to have my own Panini sticker."
Oud-Heverlee Leuven goalkeeper Louise Van Den Bergh is also excited by the prospect of being sought after by collectors, but hopes she doesn't become a recurring presence in piles of 'doubles' up and down the country .
"I think it's funny there will be people looking for my picture in the packs and exchanging me for other players like (Vincent) Kompany, (Nacer) Chadli or (Simon) Mignolet," says Van Den Bergh. "It will be interesting to see if I will become a rare sticker or a sticker everyone will sigh about when they take me out of a package for the 10th time!"
Van Den Bergh cites the growing equality in Belgium for sports like cycling, basketball and hockey (the last of which featured women on the cover when Panini Belgium produced albums in 2014 and 2015) and hopes this latest move is a sign of better things to come in football too.
"Of course, for woman's football every form of positive attention drives us forward. There are already a few famous players like Tessa Wullaert (Manchester City) and Janice Cayman (Olympique Lyonnais) who play in big European clubs. This might be the start for the players of the Belgian League to step forward."
Wullaert may have left Belgian domestic football behind long ago but her compatriots have beaten her to the landmark of appearing on a Panini sticker (in club colours as she did feature in the Euro 2017 album).
It remains to be seen how much longer her wait continues.
Greg Lansdowne is the author of 'Stuck On You – The Rise & Fall…& Rise of Panini Stickers' (https://www.amazon.co.uk/Stuck-You-Fall-Panini-Stickers/dp/1785310062/ref=sr_1_1?qid=1575991384&refinements=p_27%3AGreg+Lansdowne&s=books&sr=1-1