What we were watching: 🥊
WEST HAM UNITED 1-1 ASTON VILLA (FAWSL, 11th Sept, 11.30pm KO, Dagenham)

WSL match week #2 and I have once again managed to have a mishap getting to a match, so instead of watching from a press box, I'm sat at home in front of multiple laptops having Olympic flashbacks. But enough about me, onto the football…
West Ham, oh West Ham, West Ham coming into this Claret and Blue derby without a win at home since February 2020 and just the one league win under new(ish) manager Olli Harder. West Ham without a league goal in 598 minutes, 599 minutes, 600 hundred minutes, six hundred and o… oh, never mind, ten hours gone and finally the Irons had found the nearest duck pond and broken every bird in sight.
After ten hours of toiling, all it took was some miss-control from Anita Asante and light hounding from Lisa Evans for the Scot to nick the loose ball away and flash it across goal for Adriana Leon to roll home. The early goal and proverbial smashing of a stubborn duck enough to give the hosts a palpable boost of confidence and for a good spell, it was all the Hammers as Villa struggled across the pitch. 
From failing to win any first or second balls and having a shape that was flimsier than a wet tissue, the visitors found their mojo and began to command the match, keeping West Ham as far from Hannah Hampton's goal as possible. Doing more to own the midfield battle, it was suddenly Macca Arnold and her defence who were under all the pressure but, thanks to some less than stella finishing as well as smart defending from the hosts, the Villainesses couldn't make their advantage count. 
As the second half wore on, the match threatened to do what my pan of pasta did when I left the kitchen yesterday and boil over, making one hell of a mess that required some Mr. Muscle… er, I mean, tension began to run high and one or two handbags made their way onto the pitch.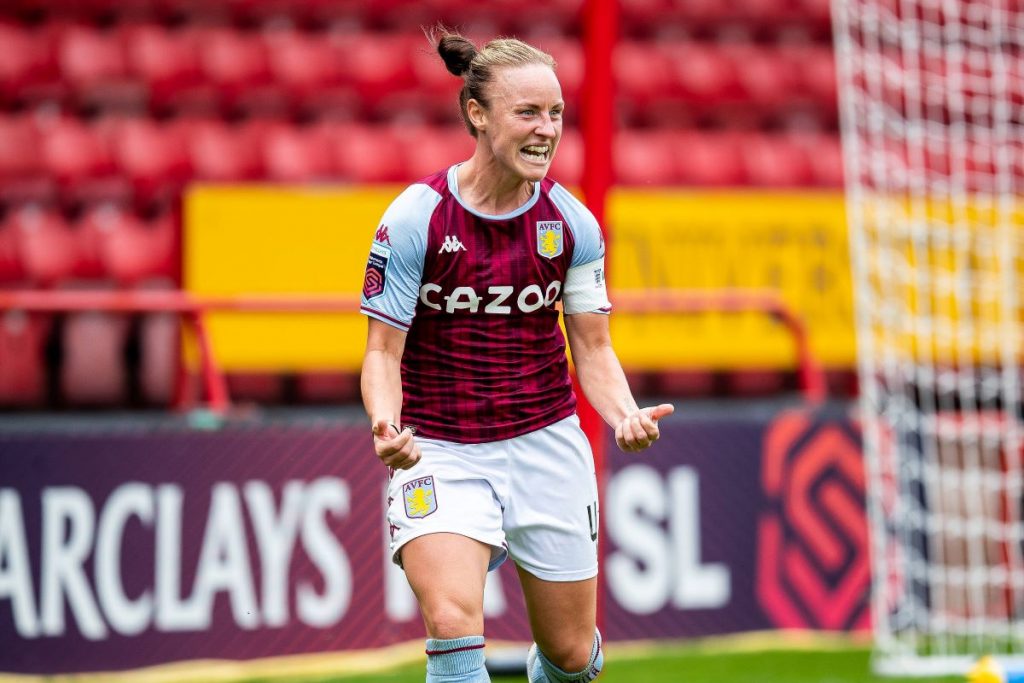 The finishing might not have been of the highest quality but both 'keepers were reliable when called upon, keeping the clash finely poised. Into the dying moments, even with West Ham camping in their defensive third, reducing the space for Villa to attack, the visitors found a smash and grab equaliser. The lifeblood of the team throughout, it was Remi Allen who came up trumps in front of goal again, nodding home from close range deep in stoppage time to snatch a point and deny West Ham their first win in Dagenham.
Overall, the match felt very first or second of a season with new signings not quite on the same page yet, but for both teams – not forgetting how many big players were out for the Irons – plenty of room to grow and develop throughout the campaign.
You have been reading #OFFOURBOX from She Kicks – the magazine for women's football – & friends. 
We take our football seriously but not ourselves. Still, it's worth noting that we may jest but we never intend to offend and the opinions expressed above are the views of the writer (probably though not necessarily) and not She Kicks Ltd.
#OFFOURBOX 2 (Arsenal 3-2 Chelsea #FAWSL): The London & title rivals firmly hoist the curtain on the 2021-22 WSL season.