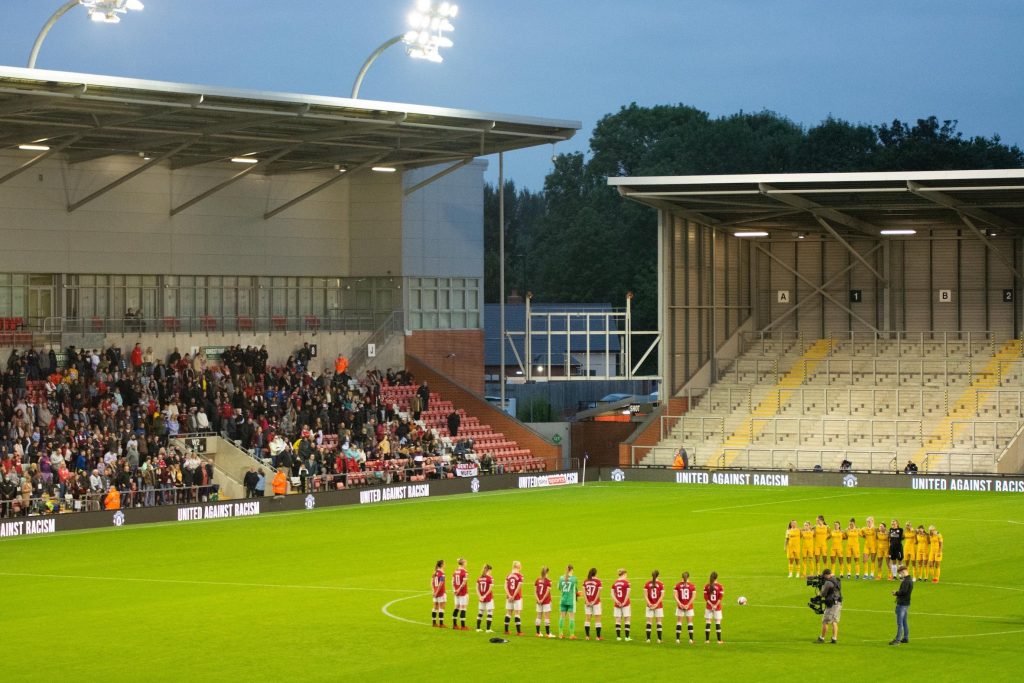 What we were watching:
MANCHESTER UNITED 2 – 0 READING (FA Women's Super League, 3rd September 2021, Leigh Sports Village)
Football is to be experienced in person. It happens in real life, it's not a TV programme, but for the times when you can't be there, it's a pretty decent programme now!
Tuning in for the first game of the new WSL season on Friday night, Manchester United at home to Reading, took me back to the last time I watched a women's game on Sky Sports. That was the 2012 FA Cup final, when Birmingham City v Chelsea was cut short and moved to the red button, with a penalty shootout looming, but the men's League One play-off final next on the same channel.
It was deserved all along but it can't be underestimated just how great having dedicated build-up and analysis is, as has also been the case elsewhere before this Sky deal. To know when the game finishes that the broadcast will actually continue in some detail, without just abruptly ending, it makes all the difference. If you remember all those times wanting to watch a women's game from a league somewhere and knowing there was no way to do it (without risking the health of your laptop at least), the range of games you can get proper access to now is almost hard to believe. It's not all affordable for everyone, but it's worlds apart from a time that feels like only yesterday.
Emile Heskey as one of the studio pundits for United v Reading also took me back, not just to swapping his Leicester City Premier League sticker with my mate Tom Stainer at Buxton Junior School, but to the time I was stuck behind him (personalised number plates and all that) in slow-moving traffic in Didsbury one morning. We were at the front of the queue, so you could say that he had his back to the traffic, looking to ultimately bring others into play, classic centre-forward style. You didn't think this was a real match report, did you? Having become immersed in Leicester City Women in his ambassadorial role, it was good to see a pundit from the men's game with an actual connection to women's football, and wanting to do it justice when talking about it.
🚨 ANALYSIS 🚨

🗣 "I think she will play as a false nine"

Karen Carney and Casey Stoney discuss Man Utd tactics as they open their #WSL campaign against Reading 💥

📱 Live blog 👉 https://t.co/CAIErJJATN
📺 Watch live on Sky Sports Main Event and Sky Sports Premier League pic.twitter.com/J9QN6rs8za

— SkySportsWSL (@SkySportsWSL) September 3, 2021
Anyway…there was a game apparently! Most of the first half was like She Kicks trying to arrange interviews these days – no breakthrough, before a touch of success after 39 minutes (or 39 emails)! Ella Toone's threaded pass was spot-on for Kirsty Hanson to run on and bury with the outside of her foot. We'll see if the plan is for new United boss Marc Skinner to continue with an attacking three of Toone, Kirsty Hanson and Leah Galton for the most part, or if Alessia Russo and/or Martha Thomas will ultimately take up a main role.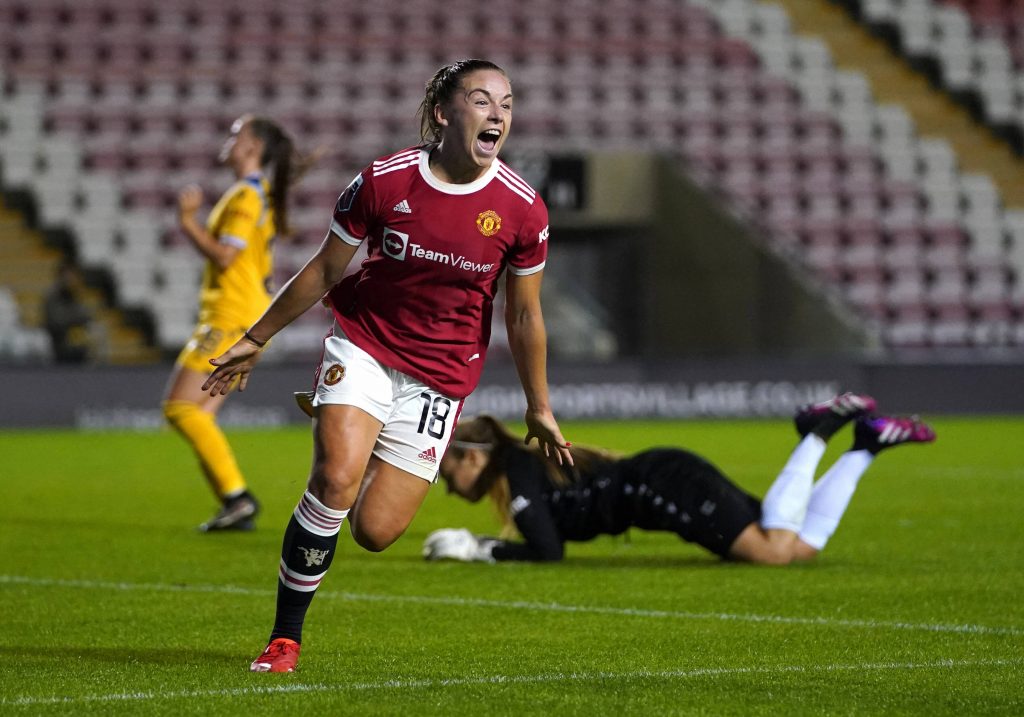 Speaking of recent West Ham forward Thomas, we may not have had 'heavy metal football', a la Jürgen Klopp, but we did have some hastily-removed metal, which is supposedly almost as good. That was the shot of Thomas on the sideline waiting to come on, but needing to quickly remove a number of rings from her hand, and turning to the expert method of dropping them into the hand of a selfless member of the coaching staff via her mouth.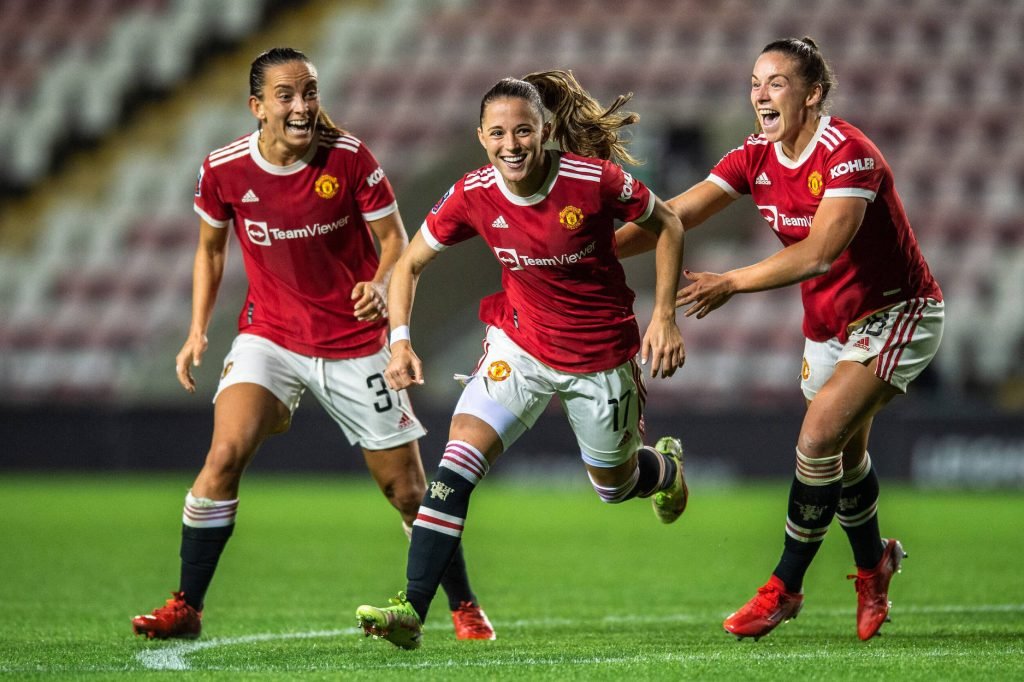 Ella Toone also played the final pass for Ona Batlle to make it 2-0 early in the second half, though we can probably give all the credit on this occasion to the Catalan full-back for a magnificent effort into the top corner from the edge of the box. We had some VBR on show, with midfielder Vilde Bøe Risa among the United debutantes, but the evil twin, VAR, has not yet made its move to the WSL. In any case, it was goal-line technology that would have come in handy, as Reading's Brooke Chaplen unleashed an effort that bounced down off the underside of the crossbar. It eventually reached a point in the replays shown where it looked to have crossed the line, although impossible for anyone to have truly known in real time. It's one on the list early doors for Reading for decisions that 'even themselves out over the course of a season'. As we know, that definitely happens and there's no way any team ends a season still waiting for the luck to turn their way…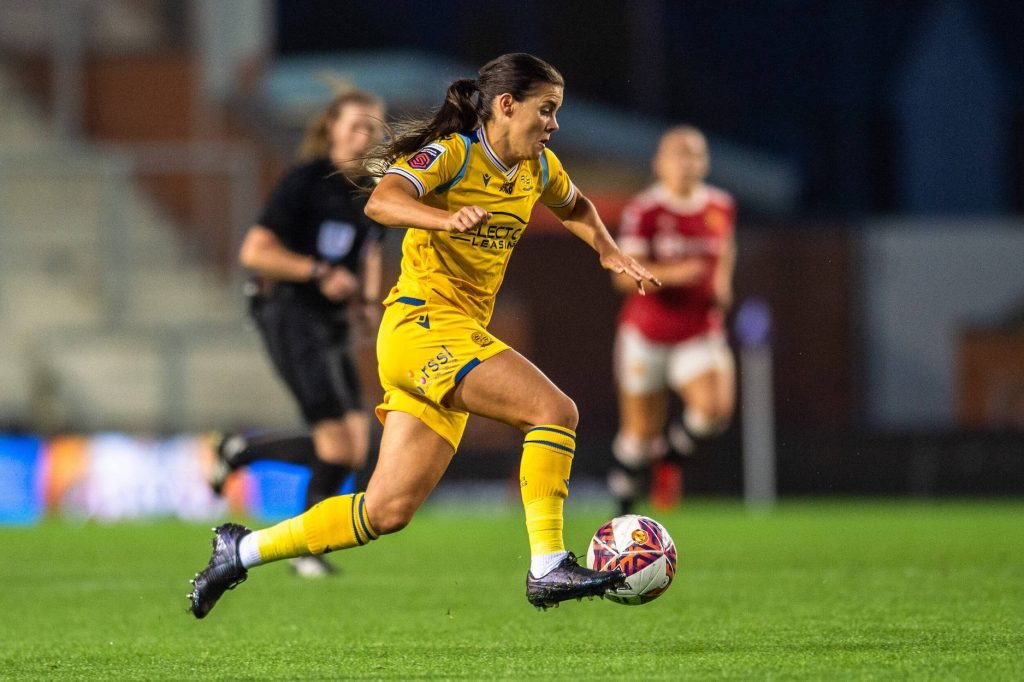 It's always the temptation to start drawing conclusions about teams, managers and players after the first lot of fixtures. My Jerry Springer 'final thought', though, is for the game itself, at the start of its latest 'new era'. In profile terms at least, WoSo's like a kid you had a small part in raising – now it's grown up, it's taller, it's stronger, and somehow earning more money than you! The connection I personally feel isn't quite the same now, but in a roundabout way, this was always where you wanted to see it get to. The fact there's even been a Fran Kirby billboard in my home town recently, away from the bright lights of big cities, is just one more 'looks like we made it' signpost. The progress and changes, admirable and otherwise, won't stop now, but in many ways, it feels like the women's game has already won.
You have been reading #OFFOURBOX from She Kicks – the magazine for women's football – & friends. 
We take our football seriously but not ourselves. Still, it's worth noting that we may jest but we never intend to offend and the opinions expressed above are the views of the writer (probably though not necessarily) and not She Kicks Ltd.


#OFFOURBOX 1 (Man Utd 2-0 Reading in #FAWSL): Football is NOT a TV programme but if you can't be there it's a brilliant watch now