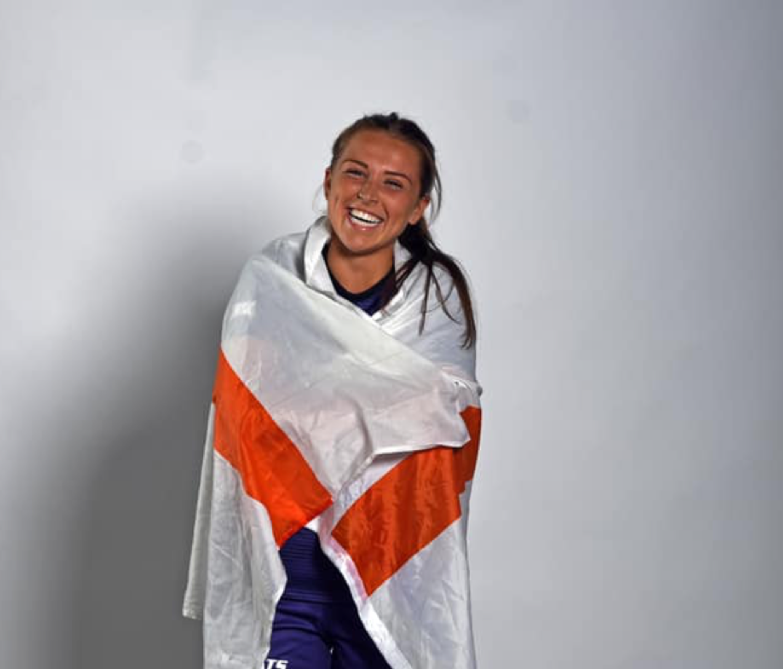 Lucy Wright spoke with Chloe Fisher, a former Everton and Manchester United player, who is soon to swap universities halfway through a US soccer scholarship.
'We are not in Kansas anymore!' is of course, a famous line from the highly successful 1939 film The Wizard of Oz.
However, many people since its release believe that it stands for something greater, a sense of unfamiliarity into the unknown.
It means that you are no longer in your typical comfortable surroundings, you are in a situation which is completely outside your comfort zone.
Arguably, this is what 19-year old Chloe Fisher from Warrington will face when she returns back to the states after COVID-19, after deciding to switch between Kansas State University to Rider University to continue her American soccer dream.
Of course, she really won't be in Kansas anymore.
Looking back to when Chloe first headed to the States in 2018, I am sure that she never imagined she would be changing universities half way through her US journey.
However, Chloe seems as if she is an individual who strives above and beyond to make the most of her football career and her transition to a different university reiterates this desire to better herself and her technical knowledge of the game.
The former Manchester United and Everton player, has spent the last two years of her life at Kansas State University doing what she loves most in life; playing football.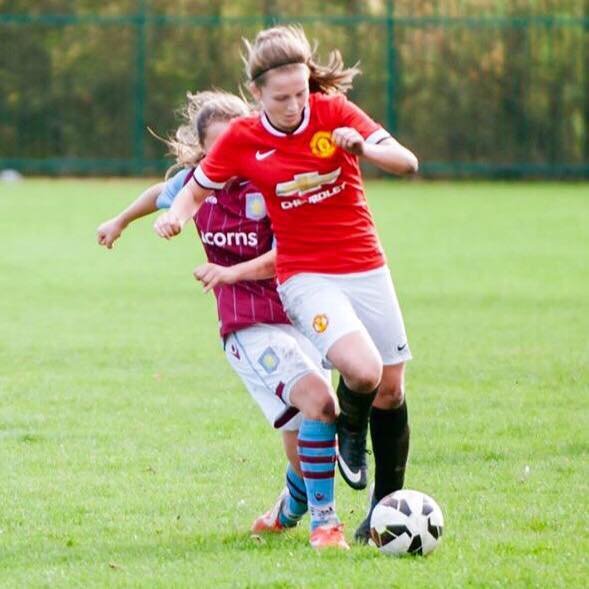 Chloe said: "I was so ready for the new challenge and to make a move in which my family would be proud.
"I was eager and motivated to get started and follow my dreams."
However, years leading up to her departure, when Chloe first decided she wanted to play competitive football at the age of nine, quite often her male classmates did not take her and her technical ability seriously enough.
Chloe said: "I have always been a sporty child, one that never stopped.
"I would always be playing football with the boys at lunch time in primary school all the way up until I was eleven, but I was still always picked last.
"I always remember the time when we were playing football outside and I had the ball at my feet, ran up to this boy and I then just had this sudden urge to embarrass him and so, I rainbow flicked the ball over his head.
"It was from this point onward that the boys knew I was serious about my football and I was never the last person to be picked on the team again."
Chloe has always been surrounded by those that adore football for as long as she can remember with both her mother (Joanne) and father (David) being her biggest supporters.
Her father helped a great deal growing up and would often take her to the park with a ball and show her the simplest of techniques to help transform her from what was an average player to an even better one.
Chloe's family are also keen supporters of Manchester United, followed through generations of the Fisher family.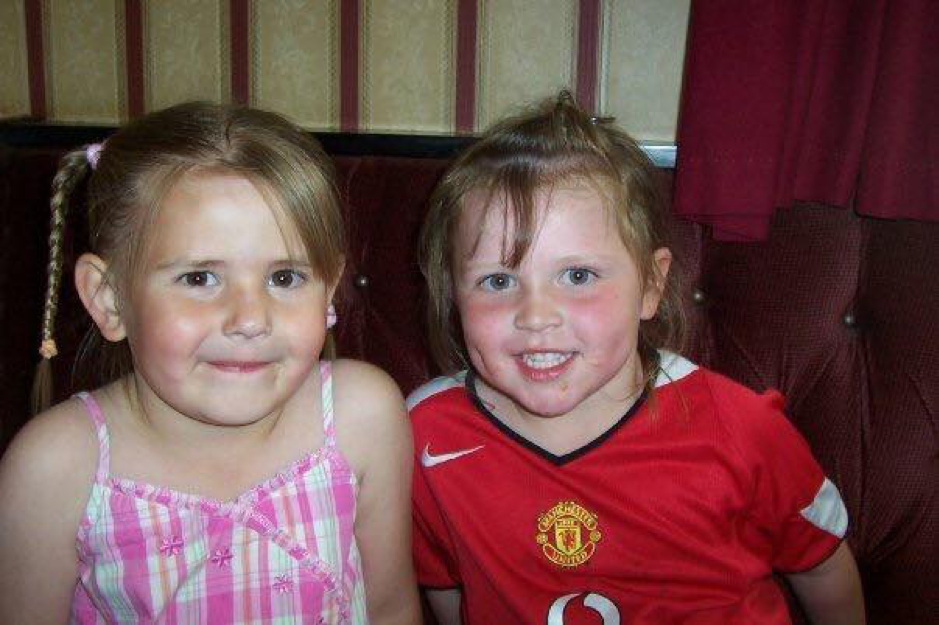 Chloe said: "My family are huge supporters of Manchester United.
"Seeing my family's love for the club, also made me fall in love with it. I think I was born to be a red.
"We even called some of our family dogs Rio (for Rio Ferdinand) and Fergie (for Alex Ferguson)."
So, when Chloe first wanted to delve into the girls football academy system within the UK, Manchester United was always going to be at the top of her list.
However, Chloe had to work incredibly hard to get into the Manchester United academy and despite being initially turned away, she knew she had to do everything in her power to fight for her place the following year.
Chloe said: "Emerging into the summer of 2013, I knew that a lot of girls were starting to play for Manchester United, and as a fan, I wanted to also.
"So that year, I trialled for various clubs such as Manchester United, Manchester City, Liverpool and Everton.
"Yet, at the end of the trials, I was told no by all of them.
"This made me work even harder, above and beyond everyone so that next year I was picked. I even started interval training with my dad to help get into shape.
"So, the following year, I decided to trial again for Manchester United, Liverpool, Everton and also Stoke.
"It had been the toughest year mentally, having to motivate myself every day and stay disciplined in the hope that at the end, I got the reward I so desperately wanted.
"The first trial I went to was at Stoke with my dad on Father's Day and I was automatically offered my first ever contract.
"Myself and my dad got in the car afterwards and he just looked at me with a tear in his eye and said: 'I am so proud of you" and we just cried together.
"I then went and finished my trials at Manchester United and was also accepted and offered a contract there too.
"That is one of the happiest memories of my life.
"At that point I knew which club I was going to choose. I had been dreaming of playing for Manchester United for years.
After spending several seasons at Manchester United, Chloe had to regretfully leave the club in search of another due to the fact that they had not yet developed a women's first team.
In 2016, Chloe managed to secure a place within a development team at Everton, whereby she was playing alongside individuals who were much older than herself in an under-23 league.
Chloe believes that she had some fantastic memories at both Everton and Manchester United, and arguably these experiences have helped guide her to become the talented footballer she is today.
She said: "My time at Manchester United was amazing and unrelatable to anything else I had experienced before. I learnt so much about myself and recognised aspects of my game which I hadn't noticed before."
Chloe always remembers the time she was given the opportunity to play for Everton Ladies first team and in a friendly against Durham. She came onto the pitch, scored and also assisted in another goal.
When searching for opportunities, Chloe noticed that one of the famous Big5 Universities in America – Kansas State University – had launched a new program and were looking for a natural centre forward.
The perfect opportunity to develop and become an impactful player within the team.
Chloe said: "In the US, they have the money invested for the women's program and have a bigger stance on women's success than men's as a whole.
"In England, if you're on the bench you just watch, whereas in America you are all standing up encouraging one another throughout the whole game. It is so wild.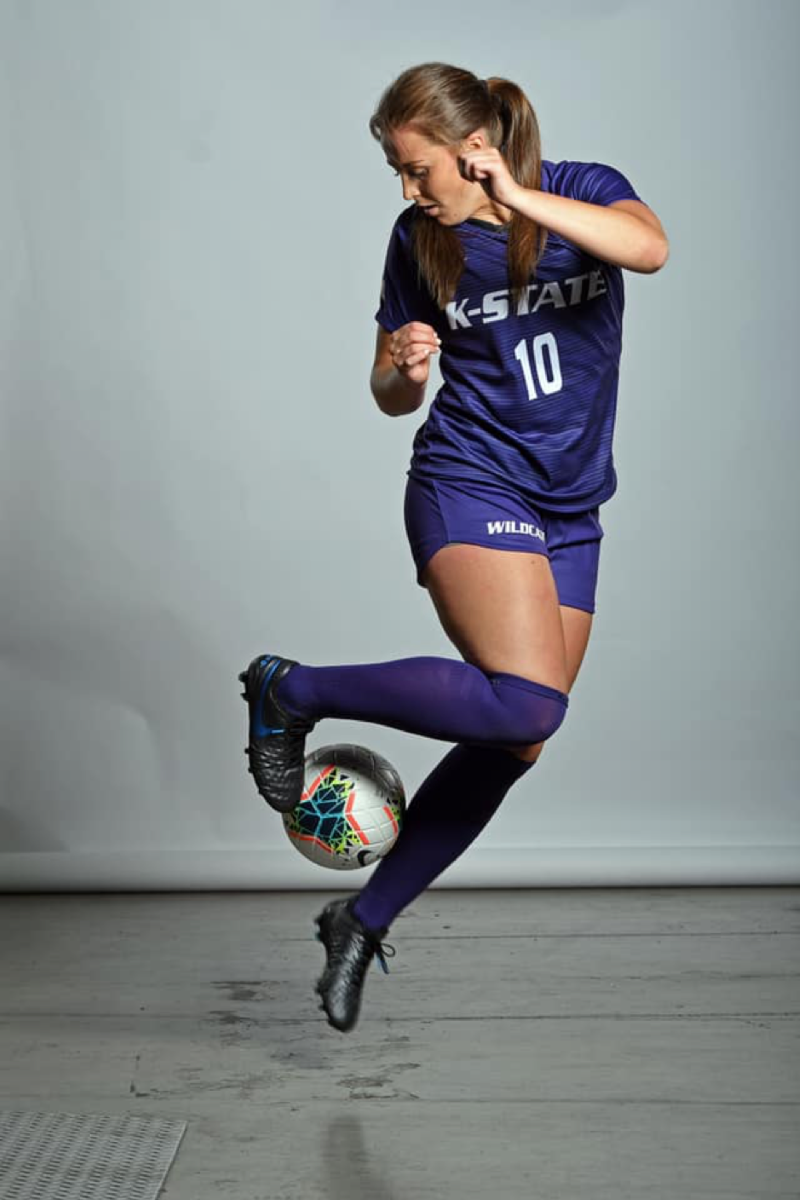 Besides the obvious lifestyle changes, Chloe has also recognised the difference in football styles in the US compared to the UK and understands that there is a much larger emphasis on fitness.
Chloe said: "The US is so much more different in terms of how they play. In England there is more emphasis on playing through your thirds and creating triangles whereas in the states it is much more direct.
"The fitness demands are extremely high with conditioning being a large part.
"We had to pass a test last summer which was called the 120 test which proved to be the hardest thing I have ever done in my life.
"We had to run 10 lengths of an American football field in 18 seconds [each time], with 35 seconds to get back before repeating again.
"In order to play in the soccer season, you had to pass it.
Despite attending Kansas State University for two years, Chloe has made the brave decision to switch universities and complete her studies in Business Management at Rider University in New Jersey.
Whilst Kansas is located in central America and renowned for its vast landscapes, New Jersey is located closer to the hustle of New York and will therefore be a completely new experience for Chloe.
Chloe said: "Although Kansas State is excellent academically, I felt that for my own self-improvement, a change needed to happen for me to continue enjoying football like I always have.
"I have a friend at Rider University already and I also have family who will be close to me in Canada.
"There are also two British coaches there too, which I think will also benefit me.
"I am very excited, but also nervous. I do like a change and of course, I am pretty used to it.
"It is going to be very fun and I am going to take this new opportunity with everything I have.
Alongside Chloe's natural determination to improve, I am sure she will achieve great things during her time at Rider University, as she does at every football club.
To be a successful footballer, you not only need to be physically strong, but also mentally.
You also need to have the correct mindset right from the beginning, to help overcome the challenges you are destined to face along the way.
There is no doubt that Chloe has this and I am sure that New Jersey will provide her with another fantastic football opportunity at which she will thrive.