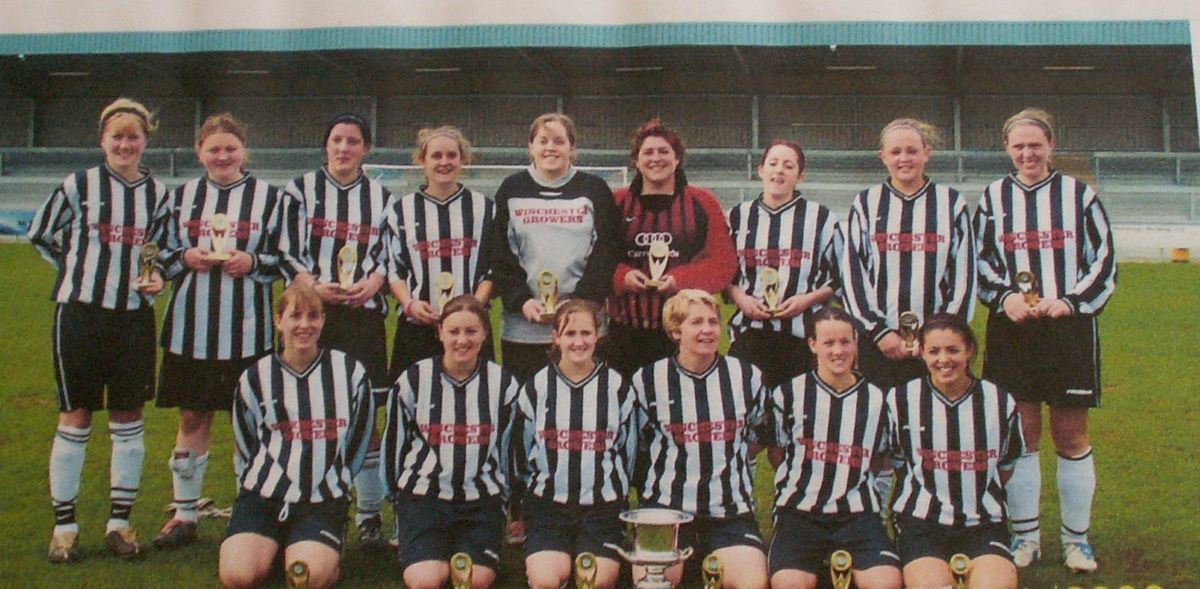 My journey has been one firstly as a fan, never as a player of any note, before the women's game brought out an enthusiasm for media, writes She Kicks' News Editor, Wilf Frith.
I was a hopeless football fanatic by the age of eight, playing all the games of the 1970 World Cup between the gate and the garage door of our Thornton Cleveleys home, in the days before my first Subbuteo set. Maybe Dad saw this and felt sorry for me but I was taken to my first ever real matches as Blackpool made a brief incursion into the old First Division.
We also saw a London derby as the Gunners edged Dad's team West Ham 1-0 at Highbury with an Alan Ball first-minute penalty but I really got hooked watching St Albans City in the Isthmian League and I could even walk through the ground on the way to school. On one return journey home I witnessed the Scotland squad training for a match at the Twin Towers, with the local paper cruelly snapping Alan Rough with a stack of balls in the back of his net.
Later I would work in a shop a couple of blocks from Highbury and live the length of a school pitch behind the Spurs ground, this during their 1984 UEFA Cup success with the crowd noise often surreally caught on the wind to mute the TV commentary at home.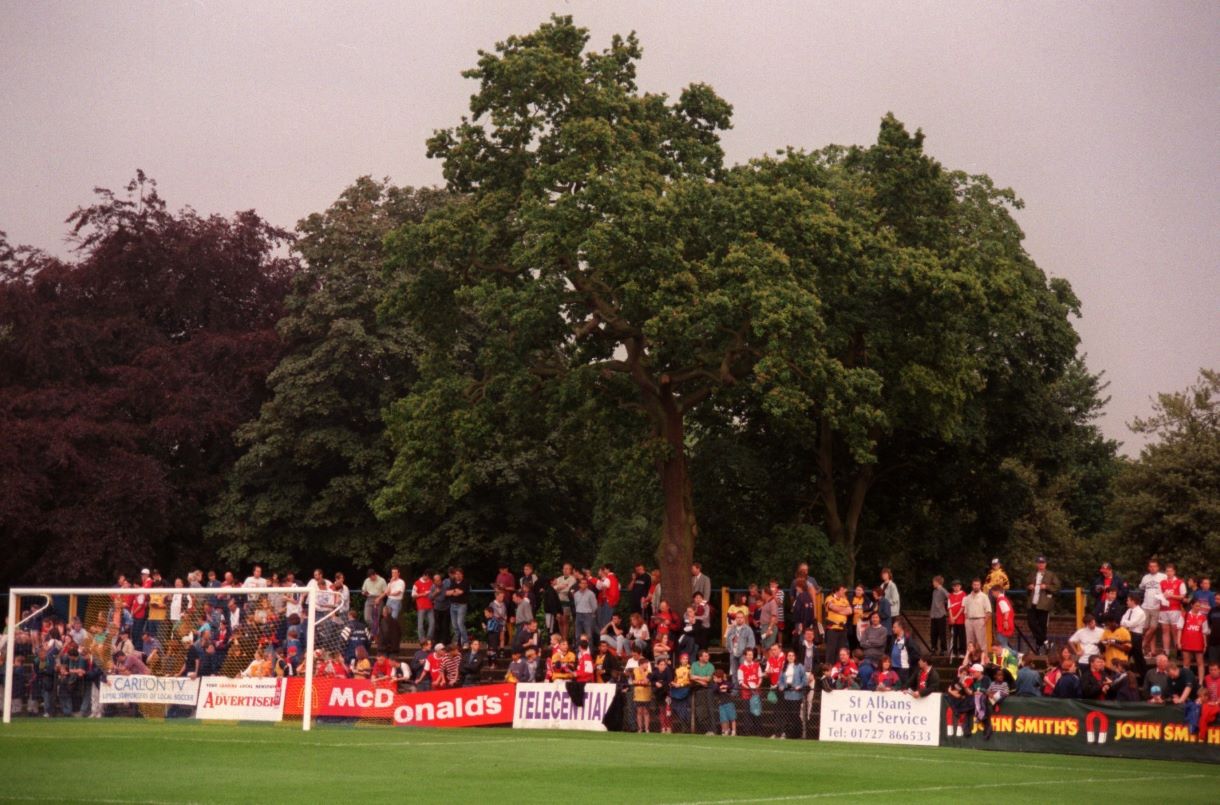 Football as religion
My younger brother followed the Saints until it came to his O levels but football always came first for me, quite religiously so. David later had his own religious direction but with football still in his veins, he couldn't help himself in getting Martin O'Neill's autograph after presiding over the funeral of Derek Dougan.
I watched football at all levels, from games at Wembley down to the Athenian League and also youth matches but hadn't had the opportunity to watch women's football. That particular journey began belatedly when I heard that England were to play a friendly at the old Millwall ground.
With fixture information otherwise hard to come by, I discovered the 'Women's Soccer News & Views' publication which was based in the south east, subscribing to this to help me follow and support the game. But it wasn't long before this home-made magazine came to an end, pushing me to consider starting my own. After initially dismissing the idea, I decided a few months later to go for it even with no knowledge or experience. Having housemates who would help collate and staple 500 copies each month was very helpful though!
Sunday Kicks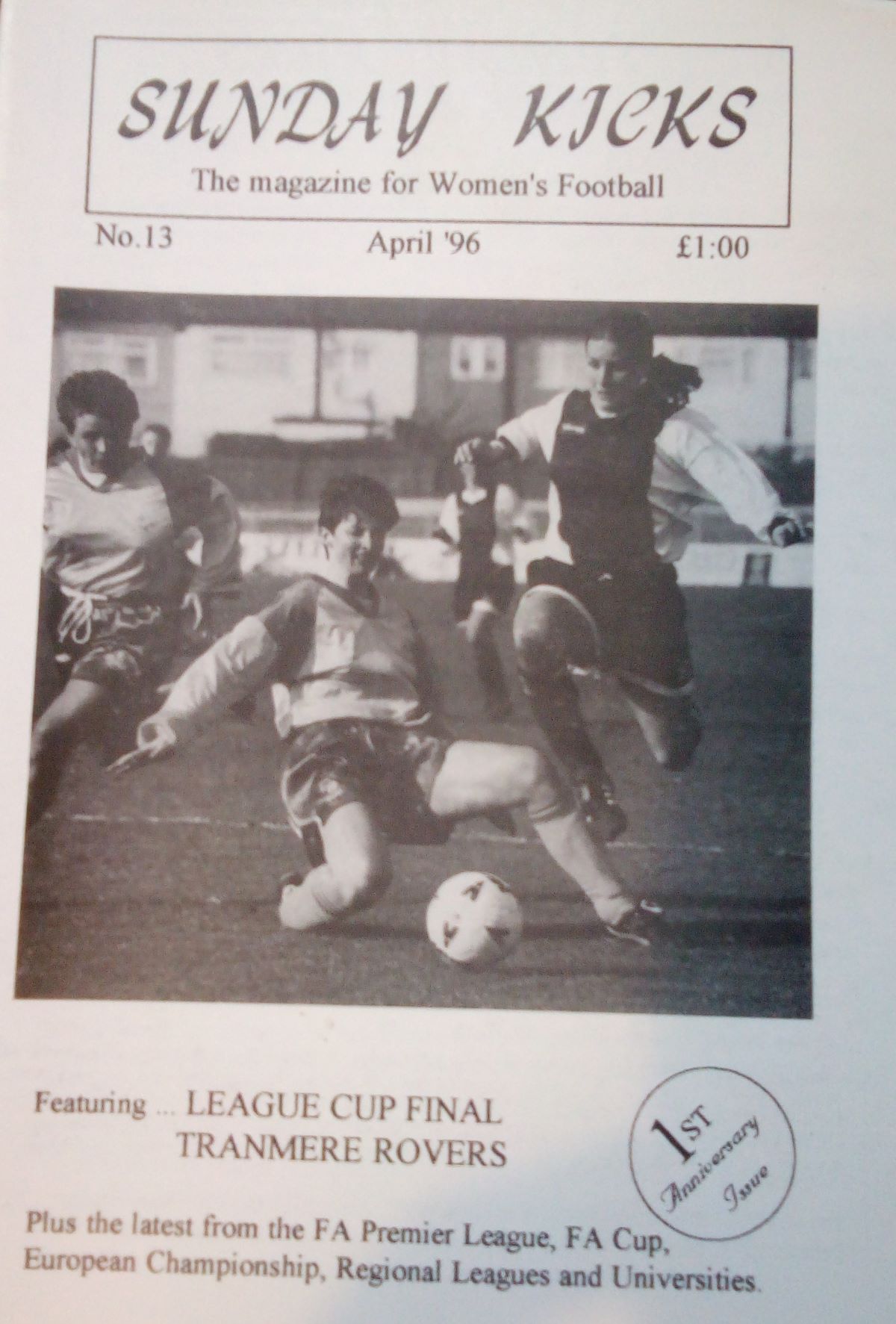 So, with 'Sunday Kicks' now born and running from 1996 to 1998, many a Sunday morning would be occupied on bus, tube and train, crossing London often for some tucked-away venue or two.
Gleaning club information from the leagues provided me with their current season directories and the Greater London League one was a massive help, with maps of grounds and even typical kick-off times by club.
My women's football fever was such that I would some days take in a Chelsea morning start at Fulham FC's Motspur Park training ground – even if I had to leave at half-time – rushing off to an afternoon game, hopefully selling a few more mags there too.
It was only a matter of pocket money in profits though but this helped me travel a little further afield, especially for some midweek matches or with the newly-formed FA Women's Premier League.
But normally it was a case of such attractions as Arsenal at Leyton FC, Croydon at the Arena, Friends of Fulham at Plough Lane, Leyton Orient at Wadham Lodge, Millwall Lionesses at Fisher Athletic, or a Mill Hill United side that included a 14-year-old Rachel Yankey, not to mention a few other future internationals. Unsurprisingly, much success was enjoyed by this club under Chairman John Bacon, before an amalgamation to form Wembley Mill Hill.
Meeting journalist Cathy Gibb, I got lifts to a few far-flung fixtures; at Anfield, cup finals or internationals at Preston, Rotherham and Tranmere. A trip to Sunderland's Roker Park saw us miss the first half due to running out of petrol but we did get to sit next to Garth Crooks in the press box!
Women's football connections
Unexpectedly, over time I found I had some links to the women's game through friends, one of whom was a sister of a former Scotland international by the name of Lambert, a couple of mates had hung around with Southampton Saints' Louise Lee in their teenage years, while another whom I moved to Cornwall with would form St Austell Ladies.
More directly, I worked with Glenn Weaver who would go on to become Chairman of Spurs Ladies and play a big part in their development before his untimely death five years ago. We did manage to bring our respective men's sides together for a friendly, as St Albans City Supporters took on Edmonton Rovers, who had famously been thrown out of their league for refusing to get kitted up, kick off and put the ball in the net of opponents who had not turned up, in order to claim the points!
Cornwall bound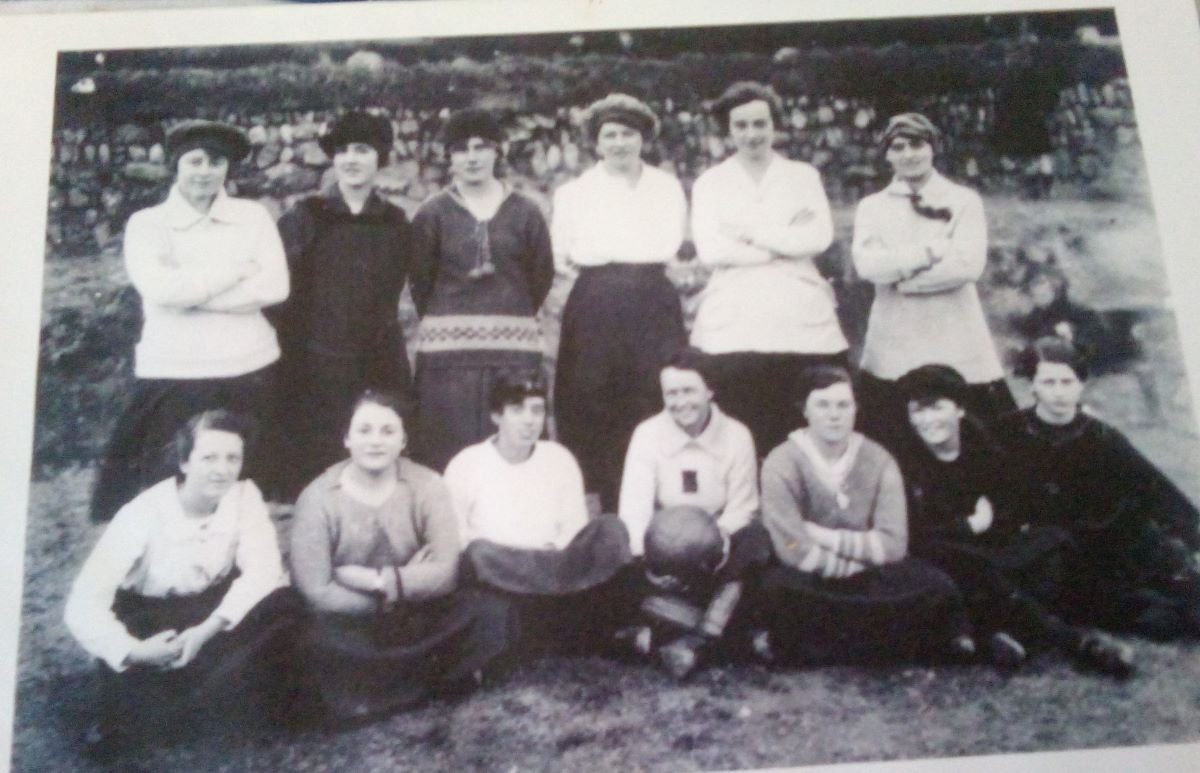 Times changed for myself and the women's game too, closing my own little publication to work for the newly-launched 'On the Ball'. Following my parents example and eventually leaving the capital for Cornwall meant some long journeys for major fixtures but it also came to provide exciting new opportunities.
Discovering that local referee David James was spearheading the formation of a Cornwall Women's League, I attended a meeting at Marazion FC and keenly offered my services as Press Officer, with the league expanding from an initial six teams to three divisions at it's height.
I also volunteered to do the media for Truro City Ladies, who played in the South West League against opponents as far away as Barry Town and Newport Strikers. Another stroke of luck was that my own move to Penzance was swiftly followed by the Truro team relocating there, becoming very much the club I supported. A hard-working committee led by Dawn Bateman – who must have kept playing until around her 50th year – meant that we enjoyed developments such as a very popular summer tournament and girls' section.
It was a thrill for me to make up the numbers for winter indoors 5-a-side training, even if mostly just in goal. One venture outfield only led to a walloping point-blank volley by Candice Britten against my ear, which I couldn't hear well with for sometime afterwards!
Having to grin and bare defeats by all-conquering bitter rivals Newquay (one of whose stars was current Sheffield United boss Carla Ward) was the norm, except for a stunning victory in the FA Cup as two 14-year-olds netted on their competitive debuts. It was a pleasure also to some years later entertain Fulham's pro side pre-season but their incredibly clinical finishing saw them win 14-1. The Magpies did get to be one of the first women's teams to play at the new Wembley Stadium though, after qualifying for the finals of a small-sided tournament.
While players such as Dani Barr (Plymouth Argyle), Katy Barker (Newquay), Carly Eagles (Millwall), Rose Knuckey (Cheltenham Town) and Holly Sandow (QPR) all went on to have spells in the Premier League and Amber Grose with Bristol Academy (the latter's testing experience of marking Fara Williams memorably described by her as 'Where the hell's she gone now?'), eventual league success came at a huge cost with the end of an era.
Having finished top of the table but five weeks before we could be crowned champions, ambitious summer plans for competing in the South West Combination crumbled with a heartbreaking mass exodus of players. However, the remainder regrouped and later fielded sides in the Cornwall Girls' League and County Women's League, still competing in the latter but now as Mousehole AFC Women.
Llantwit Major newly developed this season under 14 girls have been awarded the Team Achievement award excellent example of dedication to new teams coming into the league pic.twitter.com/w64AYmoRbK

— SWWGL (@swwgl) January 20, 2019
Another relocation of my own to South Wales allowed me to see Cardiff Met host a UEFA Women's Champions League group in the summer heat and witness some of the first ever fixtures for a fast-growing Llantwit Major Girls FC. The move also opened up the opportunity to play walking football with Cardiff City FC Foundation, a hugely enjoyable time capped by scoring a hat-trick in the stadium itself.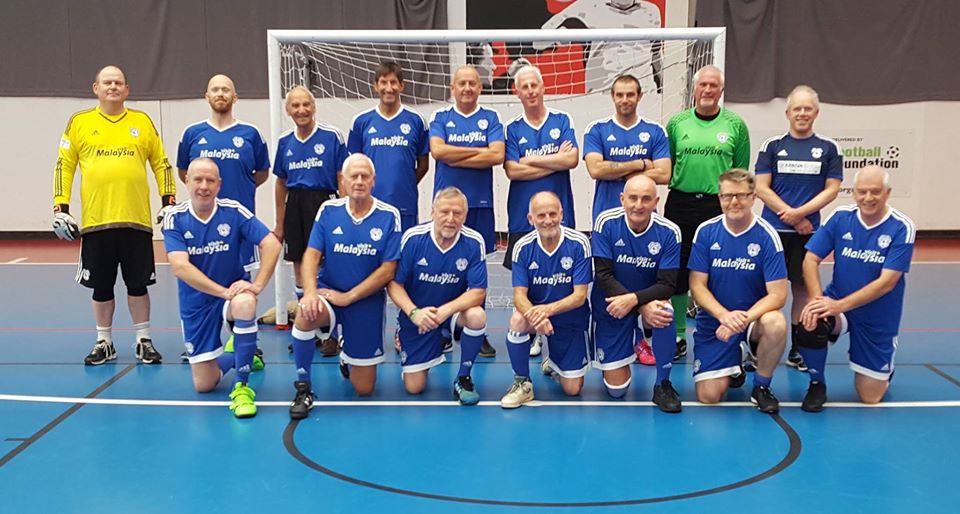 Having left the UK behind in a big move to Spain some months back, I now await my first women's game here, hampered currently by the lock-down of course.