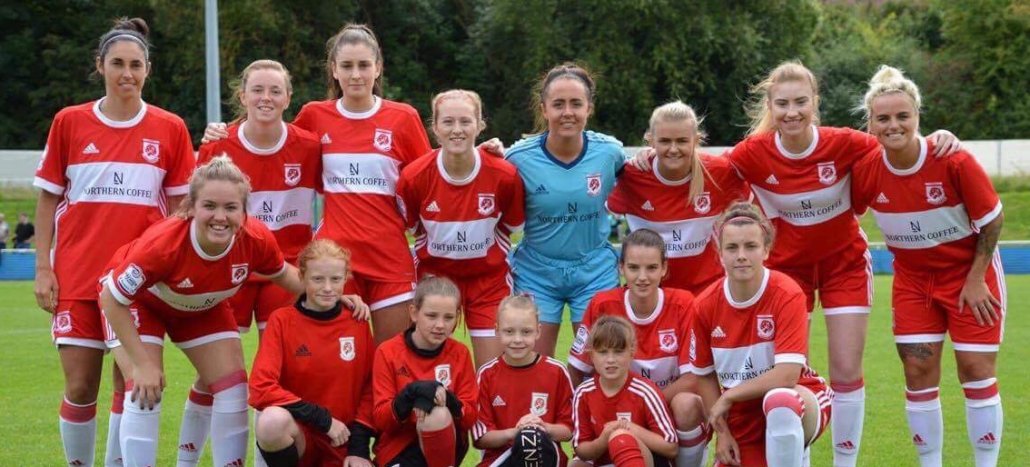 Middlesbrough are five points clear in the FAWPL Northern Division after getting the only goal at Huddersfield Town, while Southern leaders Charlton Athletic made it seven straight wins with a 3-1 scoreline at Cardiff City Ladies.
Sunday 1st October
FA WOMEN'S PREMIER LEAGUE
NORTHERN DIVISION
Blackburn Rovers 3-1 Guiseley Vixens
Bradford City 1-2 Derby County (Att: 67)
Huddersfield Town 0-1 Middlesbrough (Att: 146)
Leicester City WFC 0-0 Fylde (Att: 119)
Nottingham Forest 5-1 West Bromwich Albion (Att: 87)
Stoke City 1-1 Wolverhampton Wanderers (Att: 131)
SOUTHERN DIVISION
C & K Basildon 1-0 Queens Park Rangers (Att: 71)
Cardiff City LFC 1-3 Charlton Athletic (Att: 85)
Crystal Palace 2-0 Portsmouth (Att: 204)
Gillingham 0-9 Coventry United (Att: 50)
Lewes 3-0 West Ham United (Att: 105)
Swindon Town 4-7 Chichester City (Att: 39)
MIDLANDS DIVISION 1
Long Eaton United 3-0 Sporting Khalsa (Att: 54)
Radcliffe Olympic 2-0 Birmingham & West Midlands (Att: 18)
Rotherham United 1-7 Steel City Wanderers (Att: 60)
Sheffield United 4-0 Leicester City Ladies (Att: 47)
Solihull Moors 0-1 Loughborough Foxes (Att: 70)
The New Saints 7-1 Burton Albion (Att: 58)
NORTHERN DIVISION 1
Bolton Wanderers 5-2 Chorley (Att: 126)
Brighouse Town 5-1 Mossley Hill (Att: 42)
Chester le Street Town 2-5 Barnsley (Att: 30)
Hull City 3-0 Liverpool Marshalls Feds (Att: 80)
Leeds United 1-3 Morecambe (Att: 35)
Newcastle United 2-0 Crewe Alexandra (Att 53)
SOUTH EAST DIVISION 1
Cambridge United 12-2 Haringey Borough (Att: 48)
Enfield Town 1-1 Denham United (Att: 29)
Ipswich Town 1-0 Actonians (Att: 17)
Luton Town 1-2 Milton Keynes Dons (Att: 76)
Norwich City 2-5 Leyton Orient (Att: 48)
Stevenage 1-3 AFC Wimbledon (Att: 40)
SOUTH WEST DIVISION 1
Basingstoke Town 1-5 Plymouth Argyle (Att: 30)
Larkhall Athletic 5-4 Cheltenham Town (Att: 40)
Poole Town 2-3 Brislington (Att: 22)
Southampton Saints 1-3 Southampton WFC (Att: 65)
St Nicholas 0-9 Keynsham Town (Att: 35)
Boro turnover Terriers
Middlesbrough extended their Northern Division lead to 3 points with a 1-0 win at Huddersfield, scoring 12 minutes into the second half.
Blackburn went second when sending Guiseley to a 3-1 defeat, Rovers' fourth straight victory. Alex Taylor and Chelsey Jukes had the home side 2-0 up before an own-goal put the Vixens back in the match, only for Rovers to seal the points late on.
Nottingham Forest are up to third with a 5-1 thrashing of West Brom, who had been first to score through Leanne Mitchell on 2 minutes. Trina Greaves, and Hazanna Parnell had Forest up by the break, Nikki Emery, Parnell and Natasha Hudson scoring in the second half.
Derby's 2-1 victory at Bradford took them 3 points ahead of the Bantams. Kelly Kennaugh and Georgia Hewitt where on target for the Rams, Abi Lee then getting City back into the game.
Fylde remain unbeaten after holding Leicester City WFC to a goalless draw.
Wolves came away from Stoke with a point that lifted them off the bottom on goal-difference. Jade Cross went on a solo run to score 7 minutes in, the Potters pulling level on 47 minutes through Cassie Hyde.
Seven up for Addicks
Charlton's 3-1 result at Cardiff was one of the smaller margins of victory so far. But Charlotte Gurr got all their goals in a 20-minute spell, Chloe O'Connor getting one back on 47 minutes.
Second-place Lewes were 3-0 winners over West Ham, one each from Leeta Rutherford, Katie McIntyre and Rebecca Carter.
A 15th-minute Zoe Rushen goal separated C & K Basildon from QPR in favour of the Essex side.
Crystal Palace saw off Portsmouth 2-0 as Pompey passed up plenty of chances and were punished by the prolific Gemma Bryan, who got her second goal with 7 minutes remaining.
Chichester are fifth following a goal-fest at Swindon which they won 7-4, Charley Wilson-Blakely with three of them. City were 4-0 up and 5-2 in front before Town got a quick couple back. Alex Collighan and a second from Cherelle Khassal saw City home.
Coventry are still a couple of points short of Gillingham despite walloping them 9-0. Maz Gauntlett led the way with a hat-trick, the Gills' Jade Keogh was dismisses for a second yellow card on 3 minutes.
Foxes go four points clear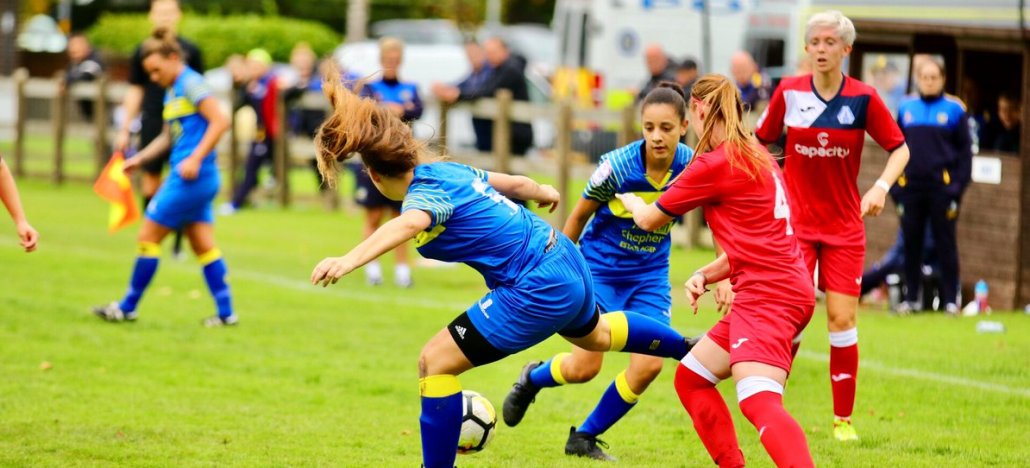 Loughborough Foxes were 1-0 winners in the top of the Midlands clash at Solihull, Charlotte Cooper winning and converting a 52nd-minute spot-kick. TNS are second on goal-difference with a fifth win in a row, having destroyed Burton's own 100% record with a 7-1 scoreline. Sophie Davies and Kimberley Bebbington both bagged a brace for the Saints. Sheffield United climbed to fourth with four unanswered goals past Leicester Ladies. Radcliffe Olympic won 2-0 over Birmingham & West Midlands, Rania Ramadan adding a late penalty to Alice Kempski's opener. Long Eaton also won by two goals against Sporting Khalsa, while Steel City sank Rotherham 7-1, Lauren brown contributing a couple.
Tigers take points in top two clash
Hull had a 3-0 success in the meeting of the leading pair in Northern Division 1, Liverpool Feds dropping their first points as a result. Sophie Stamp stuck away two goals, Hope Knight the other. Brighouse took advantage to go second by beating Mossley 5-1, two of their goals in the first half from Jodie Redgrave. Morecambe continued their unbeaten start in a 3-1 win at Leeds. Bolton are up to fifth with the 5-2 beating of Chorley, Safron Newhouse and Emma Pilling two goal apiece. Barnsley sixth after a similar outcome at Chester le Street 2-5, two from sub Demi Pringle. Newcastle shot up four places thanks to a 2-0 win over Crewe, Steph Ord scoring before a 77th-minute own-goal.
Cambridge net dozen
South East leaders Wimbledon won 3-1 at Stevenage, Leyton Orient's 5-2 score at Norwich has them second on goal-difference. Ipswich are narrowly ahead of MK Dons after a single-goal success over Actonians. The Dons defeated Luton 2-1 with 96th-minute free-kick. Cambridge crushed Haringey 12-2 to climb to fifth, trebles from Kelley Blanchflower, Amy Howlett and Amber Cantell. Enfield and Denham drew 1-1, Annie Hewitt putting United ahead. Danielle Smith levelling for Town after the visitors lost keeper Lizzie Russell to injury.
Southampton WFC win local derby
Southampton WFC came from behind to win 3-1 at Southampton Saints, their third straight win and the hosts first dropped points. Libby O'Dell's goal was outdone by a double from super-sub Kirsty Bell and one from Emma Pinner. Top side Plymouth overcame Basingstoke 5-1 with a Tash Knapman hat-trick for a sixth win on the spin, a record matched by Keynsham who netted nine at St Nicholas, five of those from Kerry Bartlett. Larkhall gained a first win by edging Cheltenham 5-4, Lizzie Barrett scoring twice for the home side. Brislington leapfrogged Poole into fifth when beating them 3-2 away, Jodie Arkell the star with all three goals.