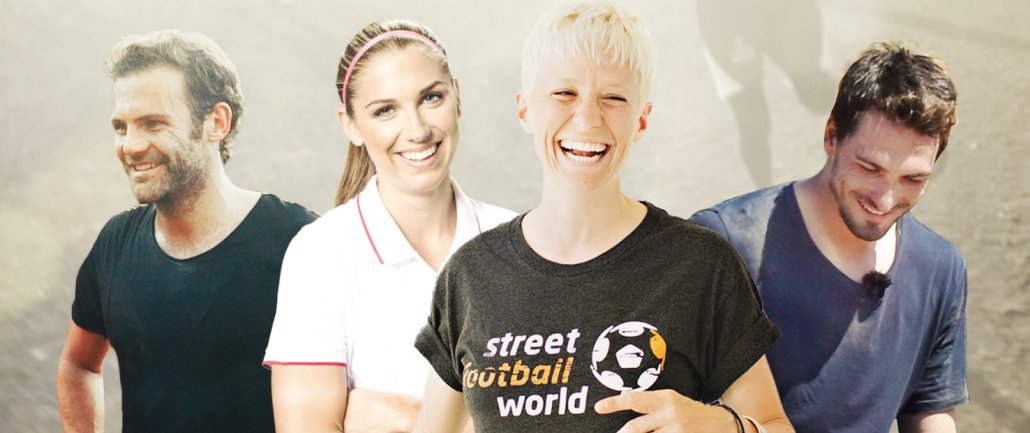 USA stars join Juan Mata and Mats Hummels in making the 1% pledge #CommonGoal
2017 World Cup winning teammates Megan Rapinoe and Alex Morgan have become the first female footballers to join Common Goal—a growing movement that has professional players pledging 1% of their wages to high-impact football charities. The USWNT stars join fellow World Cup winners Juan Mata and Mats Hummels, who each made the pledge last month.
"Common Goal is intended as an inclusive initiative, and myself and Alex felt it was important that women's football were represented from the outset," explained Rapinoe. "We're really looking forward to building the movement with Juan and Mats from here—sky's the limit at this stage."
Morgan said she was 'thrilled' to help kick-off Common Goal, and predicted that female players would increase their collective impact as the women's game gains further recognition around the globe. "As the global profile of women's football continues to grow, players like myself and Megan will have an increasing number of opportunities to use our status for good. I'm thrilled to join Common Goal at this early stage and hope we can inspire many others to become part of the movement."
Mata was quick to praise what he sees as a courageous commitment from the US players. "It takes courage to stand up and bring the movement to US soil for the first time," he said. "Fortunately, courage is something both Megan and Alex have in spades."
Hummels said he hoped that, as more players of Rapinoe and Morgan's standing make the pledge, Common Goal would help remind fans of the positive potential of the game. "In Europe, we've just experienced a record-breaking transfer window," he explained. "I think some fans are starting to feel alienated from the game in light of these kinds of developments. But as more players join Common Goal, we hope to show the world that football still has its heart in the right place.
Rapinoe and Morgan's donations will be pooled with those of Mata and Hummels. Their collective fund, which is steered by Berlin-based NGO streetfootballworld, will be used to support football charities that use the game to advance everything from gender equality in the USA to youth employment in Spain to peacebuilding in Colombia.
"Over the past six weeks, we've watched Common Goal evolve from an idea on paper to a budding movement that's already seen four World Cup winners—from across the US and Europe—come together behind a shared commitment to give back," said streetfootballworld CEO Jürgen Griesbeck. "But if we're really going to transform the football industry, we can't stop here. We need more of football's thought leaders to rally behind our vision of the game. The question is: who's next?"
Fans can support Common Goal at www.common-goal.org.
Learn more at www.streetfootballworld.org.