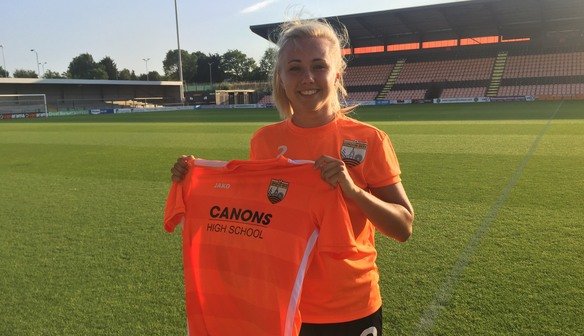 London Bees have announce the signing of defender Annabel Johnson, formerly of Durham Women.
The Bees say that Johnson, 24, joins the them with a wealth of WSL experience and has been an ever-present in the Durham defence for the past two seasons.
Johnson spoke to londonbeeswsl.com about her move:
"The Hive is a fantastic facility which has all the components a club needs to succeed in one venue. The equal treatment of London Bees and Barnet around the Hive is brilliant.
"Challenging for the title is my aspiration, there is currently a lot of uncertainty within in the Championship and London Bees can use their stability from last season to their advantage. Adding this with the promising work being carried out throughout pre-season gives us a great chance."
Head Coach Luke Swindlehurst added:
"Annabel is a fantastic signing for us and I'm delighted. I've known her for a while and she's really the kind of character and profile that we want to bring into the team. She's physically very fit and has really good energy levels with technical quality as well.
"She's at a good age so that she can keep developing as a player but also has accumulated a vast amount of match time at this level. Her experience and leadership qualities will be vital in the coming months."