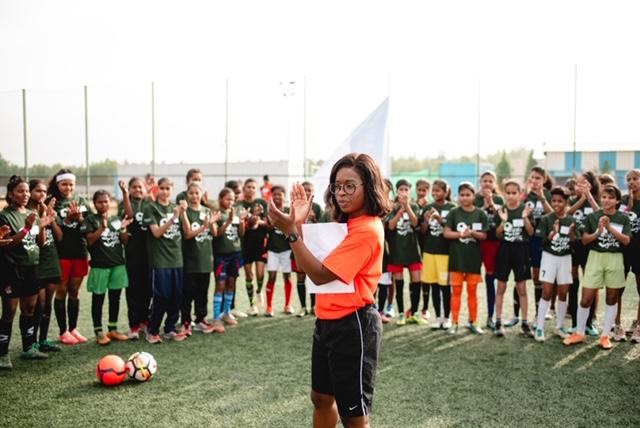 After deciding in 2016 to step away from a role at heavyweight financial firm Goldman Sachs, in order to pursue a career in the beautiful game, Lola Ogunbote has certainly packed plenty into the four years since!
Now armed with coaching experience from the UK, South Africa, Zimbabwe, Mozambique,
Australia and China, Lola is currently putting her knowledge to good use as Strategic and
Business Development Lead for the American non-profit Goals for Girls (@goalsforgirls), kindly taking time out to chat to She Kicks' Nick Aitken.
She Kicks: Thanks for speaking to us Lola, it's much appreciated. First of all, it's now three years since you arrived in China – could you tell us about what you've been doing? 
Lola Ogunbote: During my first year I was working as a coach, focusing on women's football development, for an organisation called China Club Football. This included providing fun and engaging football sessions, as part of an after-school programme for children of all ages and abilities.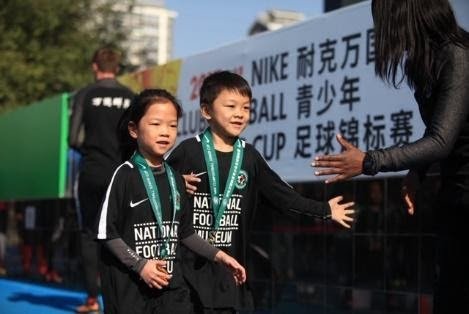 Having identified a gender gap in sport participation in this part of the world, I took the initiative and formed a women's football team and led coaching sessions each week. The group grew tremendously over time, with over 100 participants, regular training and even travelling across China competing in tournaments and events. I also helped establish an amateur league for women in our district in Beijing and this experience proved to me how vital investment, time and resources all are when it comes to growing the women's game.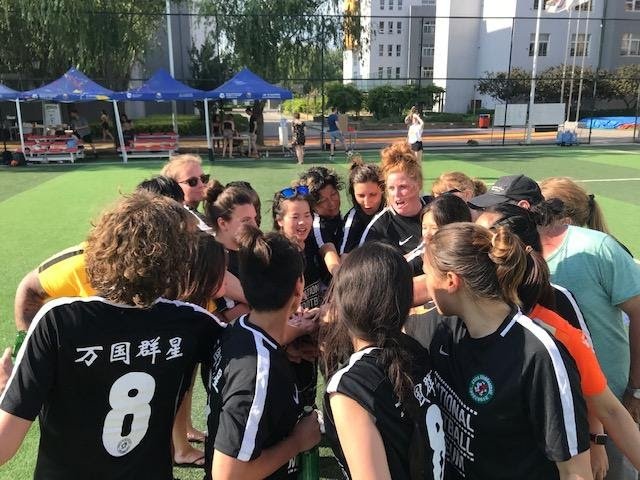 After an eventful year, I transitioned into a new role as Director of Football at a private secondary school, the Beijing Royal School, where I was responsible for creating a curriculum, leading training sessions, recruiting players and developing a player pathway for boys aged 13-18. The standard of football there was high, there was a serious level of commitment to the game and it was a welcome challenge for me.
On the back of a lot of hard work and training, I was able to help the team (who until then had never placed higher than 3 rd in regional competitions) win their league at the end of my first season. Whilst winning was a phenomenal feeling, I was more pleased with the players' development, mentality and willingness to learn. As a female coach, it was not easy convincing a bunch of boisterous adolescent boys that I could teach them something new about football, let alone win! However, our journey of trust is something that will remain with me for years to come.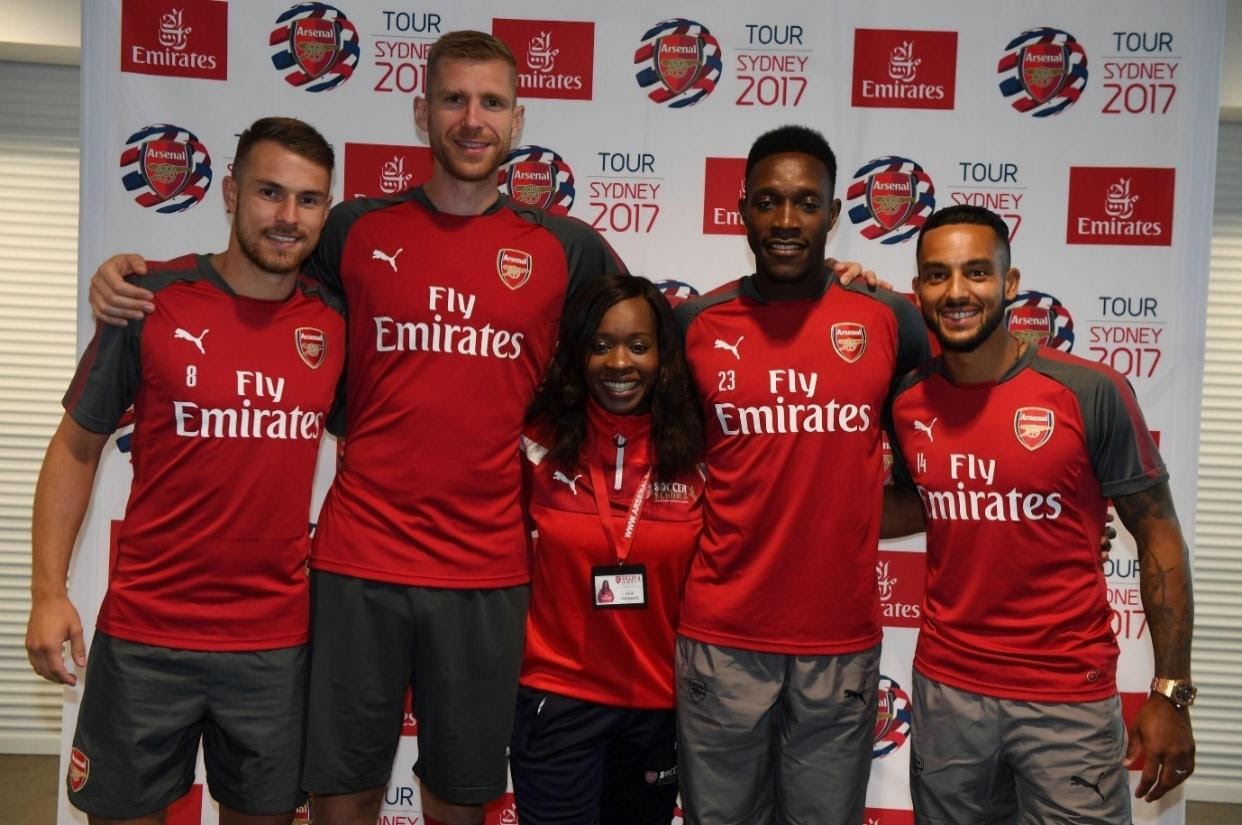 I was looking forward to continuing our success this year, however, the impact of the global pandemic forced me to vacate my position in China much earlier than expected. Fortunately, I was able to secure a new role at Goals for Girls, a US sport-for-development NGO that uses the power of football to teach leadership skills and gender empowerment.
We have programs running in India, South Africa and throughout the USA, and I'm responsible for overseeing the growth of our business relationships with external companies – ones that align with our mission. The job also involves generating funding to support our programming in all locations, with the view of expanding into new areas of the world. It always amazes me how much good the power of sport can do in transforming lives for the better.
SK: Your journey has already been very varied, taking in a number of different fields and locations. Can you tell us more about how you've arrived where you are?
LO: My journey into football was very unconventional! I trained as a lawyer in the UK and worked for various renowned financial corporations but, after over six years, I still felt unfulfilled. I think that was largely because I hadn't been able to pursue my dream of becoming a professional footballer, due to undergoing corrective spinal surgery at 16.
So, I took a huge risk and quit my job at Goldman Sachs, with no real plans other than trying to get involved in football. Coincidentally, at that time Arsenal FC were recruiting for aspiring coaches to participate in their GAP programme. Being a Gunner myself, I could not believe my eyes, so I quickly completed the application, was invited for an interview, and secured a place on the programme!
This was the beginning of one of the best decisions of my life, but one that involved huge sacrifices and change. I took up part-time, evening and weekend work to fit around my coaching schedule, I sold my car to support myself financially, for a while I even worked late nights in a superstore to ensure my days were kept free for learning.
The programme with Arsenal lasted a year and it was a full-on, with the first six months involving us being taught the fundamentals of coaching and completing the FA Level 1 course. After passing a series of evaluations, we were given the opportunity to coach on behalf of Arsenal for their community-partner organisations around the world. I spent three months in Mozambique and Zimbabwe coaching a semi-professional men's team, in South Africa working with community-football programmes for girls, and then three months in Australia coaching at grassroots-community level.
It was an intense whirlwind of learning, making mistakes and improving. The highlight was being nominated and winning "Coach Participant of the Year" for the programme and having my award presented to me in Sydney by the players themselves! It was a testament to my sacrifice, hard work and dedication, and it confirmed to me that leaving a lucrative career to work voluntarily for a year was worth more than money could buy.
Lola after being presented with her Arsenal FC 'Coach Participant of the Year' award by the club's players. (Photo ©Arsenal FC)
SK: From a coaching point of view, we'd be very interested to hear about the tactical and stylistics trends that have caught your eye over the last 2-3 years – both at local level and at global events like last year's FIFA Women's World Cup.
LO: Having coached football in nearly every continent, it has been amazing to see the similarities and differences in attitudes towards the women's game. In some regions it has really grown and you can see how investment at grassroots levels has helped funnel talent in the right direction. Having an infrastructure is SO important, to be able to monitor development and show the pathway for girls and women. In other regions it is just the beginning: the talent is raw, the guidance isn't quite there, there are fewer coaches and fewer facilities to nurture players…
In China in 2019 it was announced by the Chinese Football Association (CFA) that all men's top-flight teams must have an affiliated women's team by 2020. Clearly this has since been impacted by COVID-19, but the CFA's intention was to focus on enhancing the organisation and management of the women's game.
The last FIFA WWC was phenomenal! I remember watchi\ng the semi-final between the USA and England and thinking it would have been a worthy final. Athleticism, game strategy, transition between attack and defence were all on display and made for a truly exhilarating match. More recently, some of the world's best footballers have signed for English WSL clubs, indicating that as a nation we are moving in the right direction. It is an exciting time to be involved in the world of women's football for sure!
SK: It's over nine months now since COVID-19 hit and it looks like it will be some time before – away from the elite sphere – that activities like football matches, training sessions etc return to 'normal'. How have you adapted and can women's football continue to grow despite these new limitations?
LO: With many of us experiencing life in lockdown, sporting events have taken a major hit. Group restrictions impact training sessions, forcing coaches to adapt, plan differently and modify activities – while football fans in most countries are still waiting for the green light to attend games in person.
With travel bans and quarantine in force, it has been hard for the entire industry. At Goals for Girls, our programming focuses on cross-country collaboration to develop and grow as female leaders (on and off the pitch), so we have been forced to find new ways of taking our messages to our girls.
Whilst the pandemic hasn't stopped us completely, it has given us time to reflect on how we can still keep that team spirit, togetherness and unity alive across our projects in India, South Africa and throughout the USA. In July, we held our first online digital summit, connecting 200 girls from different locations, and we were able to hear talks from US national-team greats and amazing female leaders.
We challenged each girl to complete safe community projects that focused on real-life challenges, which vary according to location. For players there is an onus to do more at home, in a park or in smaller groups. Where possible and safe to do so, get a ball at your feet, stay active and practice, practice, practice!
For coaches, this is a great time to think about online courses, self-learning, improvement, and continuous professional development. There is so much information and so many tools online: it's key as a coach to take advantage and keep up with the latest trends. It has been a difficult time, but – hopefully – we will all come out of this with a renewed dedication to ourselves and the game we love.
Connect with Lola at @lolafemalefootballfun (LinkedIn) or @femalefootballfun
(Instagram).
Interview provided by @onubacomms, specialists in multilingual digital content
and promotion in women's football.
IN CONVERSATION: A catch up with Lucy Bronze as she returns to #Lionesses camp for Germany friendly