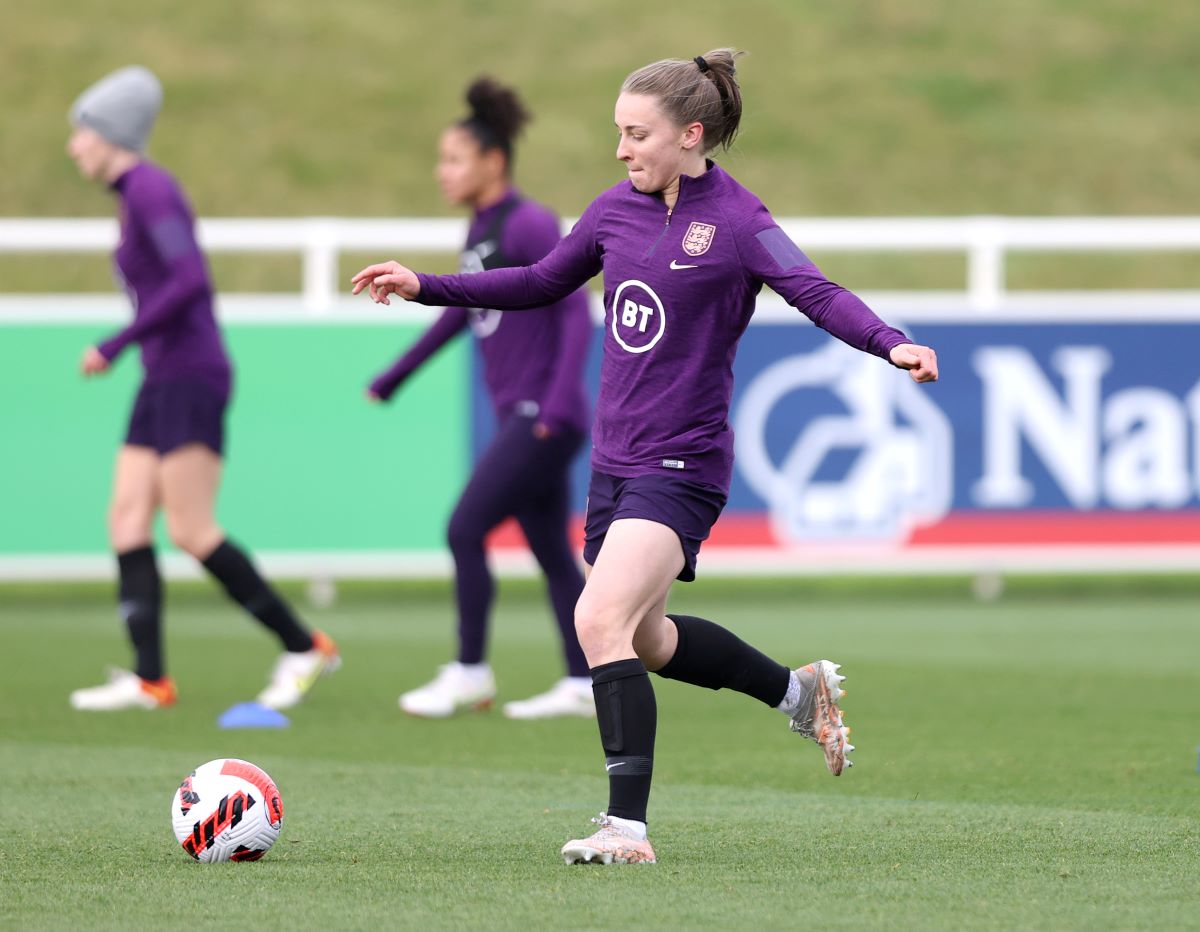 Three members of the England Women's team, Niamh Charles, Alessia Russo and Jill Scott share their first-hand insight of dementia. 
The video, released by Alzheimer's Society in collaboration with The FA, sees the three Lionesses sit down for an honest conversation about dementia during a break from training at St George's Park. The footage has been released to raise awareness of dementia and encourage those worried to seek early support from Alzheimer's Society.
Niamh, who also plays for Chelsea, and Alessia, who plays for Manchester United, found common ground by sharing stories of their grandfathers. Defender Niamh Charles, whose grandad sadly passed away from dementia when she was only eight years old said: "I know he lost his independence, but all the stories I hear say how he was the life and soul of the family."
After losing her grandad to Alzheimer's disease in 2017, forward Alessia Russo sympathised with her teammate and began to touch on the impact the condition had on the whole family network, saying: "I was old enough to understand what was going on, but once you understand it and realise then becomes quite daunting…his decline was quite rapid unfortunately and he completely lost his independence which was sad. He went into a care home and we went to see him once a week, but even in a week you could see how different things were."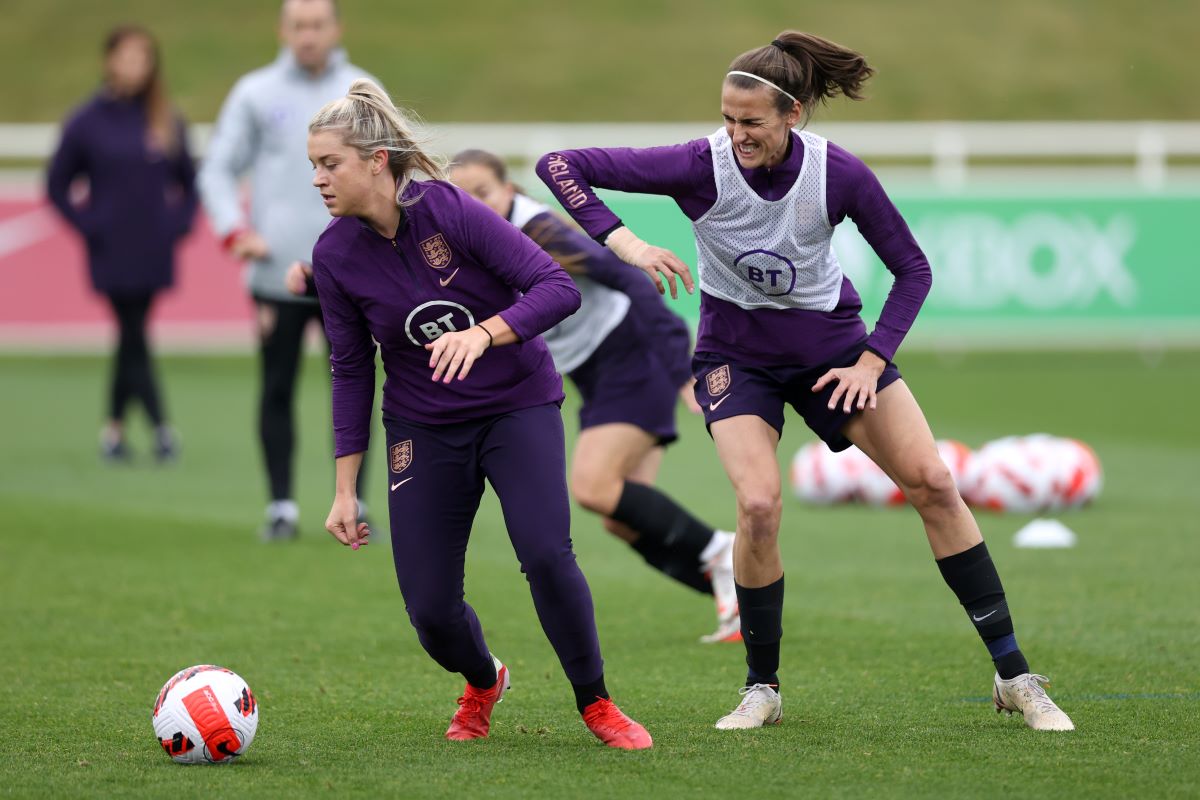 The trio went on to talk about how important The FA's partnership with Alzheimer's Society is, at a time when people with dementia have been worst hit by coronavirus. Thousands are struggling after declining rapidly due to crippling isolation and reduced essential care and support, at a time when the pandemic exposed the dire state of social care.
Midfielder Jill Scott,who plays for Manchester City, highlighted how dementia is "the hardest thing for families to go through, it's unimaginable, so it's really exciting that The FA is working with Alzheimer's Society – the fundraising at games will be massive."
Alessia Russo added: "This campaign will really help anyone and everyone living with dementia. With the three of us having a personal connection to dementia, like many others, it's really important to start the conversations."
In August this year The FA announced Alzheimer's Society as its official charity partner. The partnership will use the sport's unrivalled power and reach to increase support and generate significant funds and awareness of dementia, hoping to change how people experience dementia.
England teams are all lending their support to raise vital funds towards crucial support services, so the charity can reach more people. Alzheimer's Society's services have been used more than six million times since March 2020 and have never been more needed. The partnership will also ensure The FA and local football clubs can inform and refer employees, players, former players, and fans to the charity for dedicated dementia support.
Additionally, the partnership seeks to tackle the stigma surrounding the condition, so everyone can continue to enjoy attending football matches and playing football for longer. The FA will work with Alzheimer's Society to create a more dementia friendly industry, setting a benchmark for other sports to follow. The partnership will benefit from Alzheimer's Society's ground-breaking Dementia Friends programme, changing the way society thinks, acts, and talks about dementia – there are currently over 3.5 million members in the UK.
Alzheimer's Society will also act as an independent adviser to The FA on its own research and provide research expertise.
Kate Lee, Chief Executive of Alzheimer's Society said: "It's incredibly moving to see Niamh, Jill and Alessia starting these really important conversations about dementia. This devastating condition affects so many of us – 850,000 people living with dementia in the UK right now, enough to fill Wembley stadium ten times over. We are hugely grateful to the England Women's team for shining a spotlight on it when people have never needed us more, and for The FA's continued support in helping us raise crucial funds and awareness, so we can continue to support anyone affected by dementia."
The charity partnership will run alongside Alzheimer's Society's Sport United Against Dementia campaign, which involves governing bodies and leading figures across football, rugby and cricket, as well as major broadcasters. Sport United Against Dementia seeks to provide hope for future generations by funding critical research and transform the way sport supports past and present players and fans affected by dementia.
To find out more about Alzheimer's Society, visit alzheimers.org.uk.