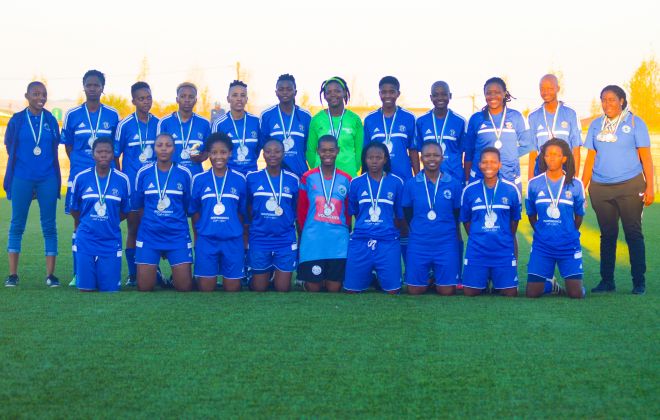 Kick4Life FC from Lesotho is the first top-flight football club in the world to announce equal budgets for its women's and men's football teams.
Kick4Life's men's team currently compete in Lesotho's Econet Premier League and the women's team in the Lesotho Super League, the top divisions of the southern African nation's Lesotho Football Association.
Steve Fleming, the British football enthusiast whose journey to co-founding the charity behind the club started with a sponsored 250-mile football dribble across Africa in 2005, said: "As a club dedicated to social change we can no longer justify being complicit in a global sports industry that puts opportunities for men ahead of women. And we believe that by changing things on the football pitch, we can more effectively pursue gender equality in all areas of life – at home, in school, in relationships and in the workplace."
Kick4Life's Women's team manager Puky Ramokoatsi said: "I feel very proud to be part of the first top-flight club to have gender equal investment. We will be an inspiration to the football community in Lesotho and globally. But it is also a natural move for us to make after several years of using football to challenge gender discrimination and empower women and girls."
Ramokoatsi added: "I know first-hand the positive role that football can play. When I first came to Kick4Life as a participant I was a victim of gender-based violence. Ten years later and I am helping to change the lives of others and leading a top-flight women's team."
Steve Fleming continued: "In common with clubs worldwide right now, we face financial pressures related to the pandemic and would always welcome additional progressive sponsors. But these pressures are no reason to hold back from our move. Quite the opposite, the same crisis has given rise to an epidemic of gender-based violence here and elsewhere. Puky's experience and that of many others shows the potential and responsibility of football to inspire positive change. And we can only do that properly if our club reflects our mission in all respects."
Kick4Life women's team were founding members of the Lesotho Super League and picked up the club's first major honour in 2018 winning the Women's Super League Cup.
Lewes were the first club to give equal budgets to its male and female teams, and Women's General Manager Maggie Murphy commented: "This is just the best news for that club and for women's football in Lesotho and beyond! We are very happy to congratulate them and welcome the news. I'm really glad they are doing it."
Paris Saint-Germain's goalkeeper, Arianna Criscione, said: "It's so exciting to see how far women have come in the game of football. And seeing a club like Kick4Life be one of the first to give equal pay to both their men and women's programs is refreshing. The club has already been an agent of change and example to many and this is just one more initiative that makes Kick4Life a step above the rest. I'm so happy to see this happening and I hope one day to go to Lesotho and see all of their amazing work in person."
Keeper Karima Benameur Taieb signs new contract with Man City Women