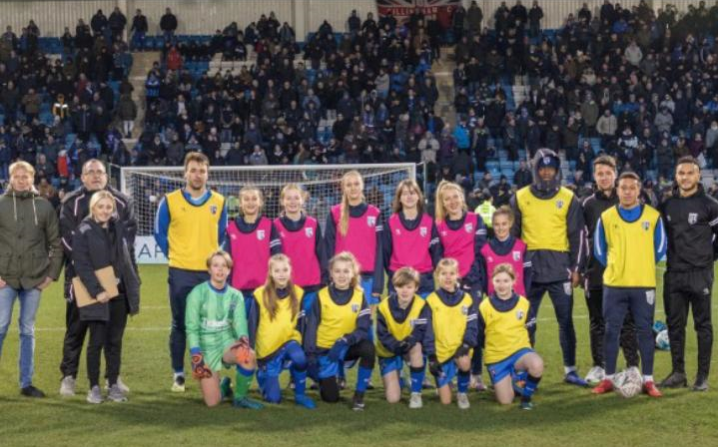 With fundraising underway to save the teams who played under Gillingham Girls RTC – closed due to the financial effects of the pandemic –  we spoke with 13-year-old player Jess Pegram.
SK: Can you tell us about how you began playing football and teams you've been on?
JP: When I was 7 years old my school PE teacher put me forward for trials with Gillingham FC Girls FA Centre of Excellence (now 'Regional Talent Centre or "RTC"). At the time I was also playing for a grassroots team – Smarden Juniors FC – with boys a year older than me. I have just completed my sixth season with Gillingham FC RTC, as have many of the U-14 squad. I am also pleased to be representing Kent at U-14 level with a number of my RTC team mates.
SK: What are the things you love about playing football and do you have any dislikes?
JP: I love football and being part of a team. The strength and conditioning (S&C) training is tough and has challenged me (especially the lunges, which are particularly gruelling) but I am extremely grateful for the time Harrison (my S&C trainer) has put in to make all of us at the RTC fitter and stronger.
At Gillingham RTC I loved the connection with Gillingham FC, the community spirit and the professionalism from the coaches. Playing for Gillingham has given me so many opportunities – playing at Chelsea and Brighton for example; also in the recent FA RTC tournament at Warwick where we competed with other RTC's including Stoke City, Birmingham City and Manchester City (who we battled to a 0-0 draw – a highlight for me as a defender!).
I love everything about football, it is my passion; even training in all weathers at Faversham where the wind blows off the North Sea in winter, making it really bleak!
SK: Do you have any favourite famous players and/or role models?
JP: Cori Daniels is one of my role models. She is the U-16s' Coach at Gillingham RTC and used to play for Arsenal, Charlton and Watford.
Steph Houghton is my favourite professional football player and I proudly followed her and the Lionesses through the World Cup in Nice. There has been such a positive response towards women's football and it inspired me to chase my dream. The challenge is to continue with this now that Gillingham RTC has closed.
I loved watching Alex Scott and Arsenal beat Chelsea to win the FA Cup in 2016 at Wembley, which I was fortunate enough to go and watch.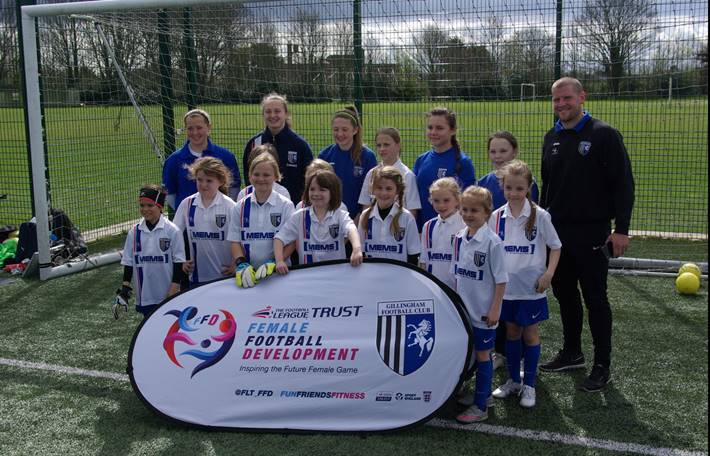 SK: How had last season been going for you and your team?
JP: Last season was a big step up from the U-12s and I have enjoyed all the challenges I have had to face. I was playing stronger and older girls. I remember my debut for the U-14s against Millwall, I was shielding the ball out for a goal kick and was pushed flat on my face – welcome to the U-14s!
We all bonded very quickly during pre-season which really helped set us up for the rest of the season. It has definitely been a challenging season but the team has come very far and you can see that in our training and games.
SK: How can our readers help your teams continue?
JP: With Gillingham FC closing its RTC, Kent has lost its only elite football training and development facility for girls. If we have to join an RTC outside of Kent we'll be travelling a lot more, which will be tough.
We are campaigning via social media #KentRTC2020 for an RTC or equivalent to be set up in Kent for the new season (hopefully by September 2020). We have received amazing messages of support from the wider football community. A parents group has been set up to work with the FA and other outside parties to hopefully find a solution.
We hope She Kicks can spread our message and that your readers can support us in our campaign; perhaps we may even find someone or an organisation who would be prepared to provide sponsorship.