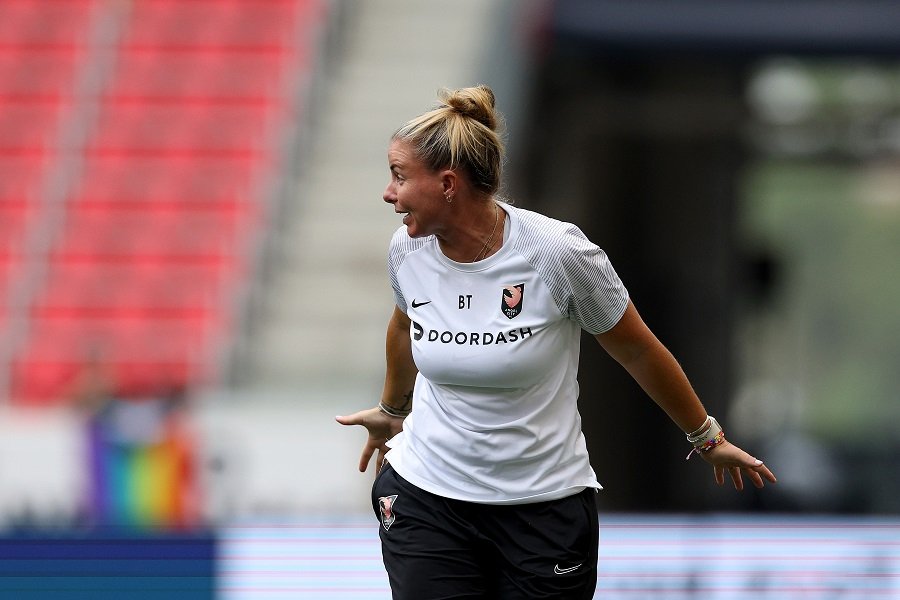 Angel City FC make their NWSL play-off debut tonight under the guidance of an English coach emerging as one of the league's resounding success stories of 2023.
Bristol's Becki Tweed has drawn widespread praise for guiding the Los Angeles-based side into the play-offs as interim head coach, culminating last Sunday in a sensational 5-1 home win over regular-season runners-up Portland Thorns. It sets up a quarter-final encounter tonight at Laura Harvey's OL Reign (kick-off 10pm ET), in what would also be the last game of Megan Rapinoe's career, should Angel City progress.
Tweed, who took over in mid-June with ACFC six games without a win and sitting 11th from 12 teams, spoke to She Kicks as part of her pre-match press conference, discussing the whirlwind of everything she is currently surrounded by.
"I think when you take a step back, especially at the Portland game, for ten seconds, I just had to look around and think 'where women's sports and where the game has got to is so incredible,'" she began. "To be a part of that is obviously an honour."
"I think what Angel City is doing for the world of women's sports is incredible. Again, just so honoured to be a part of it."
A former England youth international, Tweed played in the FA Women's Premier League (pre-WSL) for Bristol Academy and Millwall Lionesses but has been working in the United States for over a decade. She now finds herself leading the second-year team of a Hollywood club who have attracted global attention since their 2020 inception.
With actress Natalie Portman a co-founder, the stellar list of investors includes tennis icons Serena Williams and Billie Jean King, singer Christina Aguilera, actresses Jennifer Garner and Eva Longoria, and U.S. Women's National Team greats like Mia Hamm, Julie Foudy, Abby Wambach and Lauren Holiday. Previously based in New Jersey, Tweed's vast coaching experience has spanned youth and university level, as well as assisting internationally with the U.S. Under-20s.
Full Tweed Ahead! 🚂 For your consideration: @BeckiTweed for 2023 NWSL Coach of the Year Award!

NWSL end of year awards are voted on by Players, Coaches, GMs, Owners, Media and Fans! Fan voting will begin later in October. pic.twitter.com/i74ldIRT1Q

— Angel City FC (@weareangelcity) October 18, 2023
Having worked alongside fellow English coach Freya Coombe at Sky Blue FC (who became NJ/NY Gotham FC), they linked up again at Angel City, with Tweed stepping in as interim boss after Coombe's departure this summer. She has since proved a popular figure with players and supporters alike, with calls for her to be appointed on a full-time basis for next season.
Asked by She Kicks whether she has managed to take a step back lately to reflect on her journey from West Country to America's West Coast, she continued: "Me and Eleri (Earnshaw, assistant coach and former Wales international) actually talk quite often about where we've come from, and playing back in England 15 years ago and where the game was, and how we couldn't make money from it, and what we had to do to become coaches, almost."
"It kind of forced your hand into coaching, because if you love the game that much and you couldn't play it, there was only one pathway."
It will be 3am back home when her team kicks off shortly, in undeniably the biggest match of her time in the dugout at senior level. Two wins currently separate her team from a place in 11th November's Championship showdown in San Diego, and it is a story she hopes is only just unfolding.
"I think what this country and Angel City, and what I've been afforded to be able to do in the game, has been fantastic. Again, I'm so honoured to be a part of it and so blessed to see the growth.
"I can't wait to continue pushing it forward and watch how much it can keep growing, as we go on. It's been really exciting…and surreal!"