Of course, most of you lovelies already realise we aren't just a reliable (and hopefully balanced!) news sources for the women's game in the UK and further afield, we also publish a magazine… in fact, that's MAINLY what we do. But some people still think our website IS our 'magazine'?
She Kicks is the magazine for women's football (and we are in our 25th year of producing a women's football publication!!!), it is available to buy in both printed paper form (a full-colour A5 'bootbag' size) and also as a digital version to be read on our phone/tablet/computer. It's easily ordered from our website shop (contact us: info@shekicks.net for bulk copies of 5 or more, and we can offer special rates).
Spread the word people!
The latest issue is available now and it's a canny read, even if we do say so ourselves…
What is in it and where can you purchase it?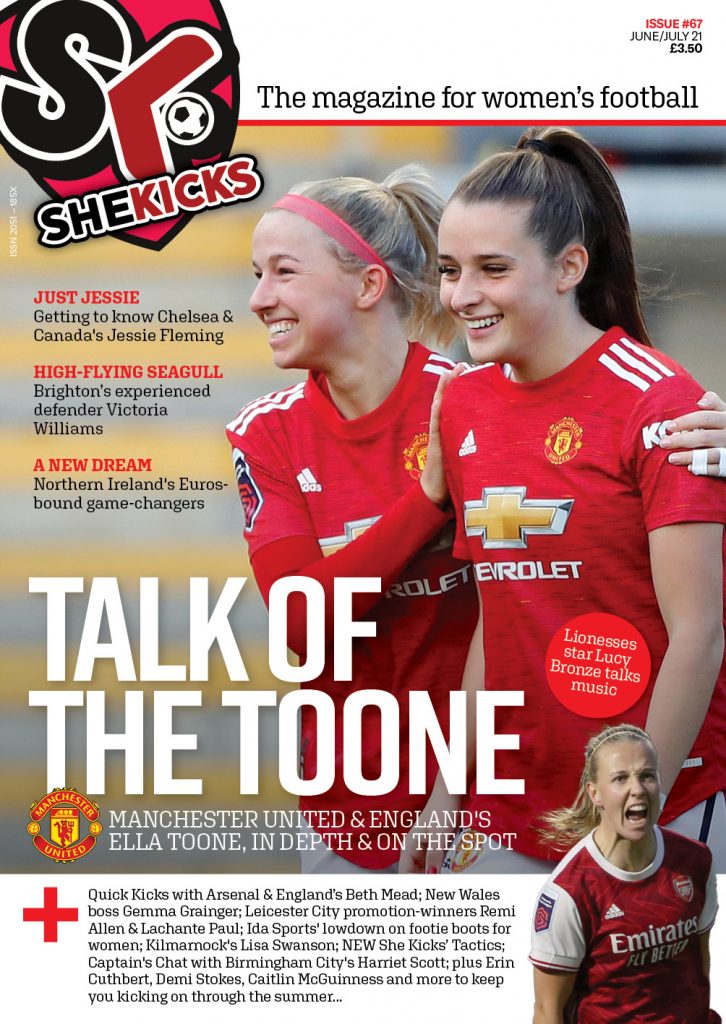 In your copy of She Kicks Women's Football Magazine, issue 67,  expect to read about ……..
JESSIE FLEMING : The young Canada and Chelsea midfield ace chats about herself, her career so far and the move to London and the WSL.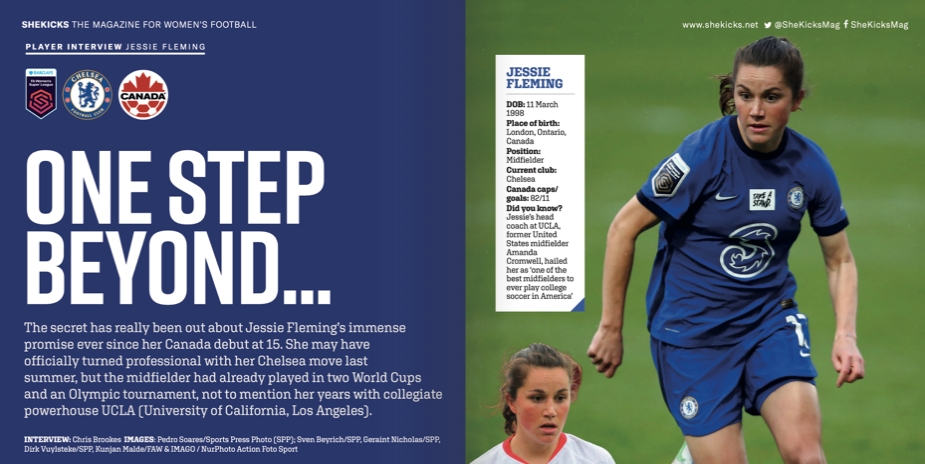 ELLA TOONE  : Her breakthrough season with Manchester United and England, and there's much more to come (plus a funny either/or section).
TORI WILLIAMS : Having played in the WSL and WSL2 since its inception, the easy-going Brighton defender enjoyed the club's highest-ever finish in the league and explains how understanding the details of the game matter.
BETH MEAD : Arsenal and Lionesses forward Meado fires back our 'Quick Kicks' top ten questions.
LEICESTER CITY : Remi Allen reflects on the Championship promotion-winning season and she and Lachante Paul take on our random questions too.
LUCY BRONZE KICKS A BEAT : The Best FIFA Women's Player shares some of her musical journey through football.
LISA SWANSON : The former Rangers, Åland United and Motherwell striker is heading back to Killie but wherever she plays, scoring goals, balancing the game she loves with work and raising money for 'Mind' are on her agenda.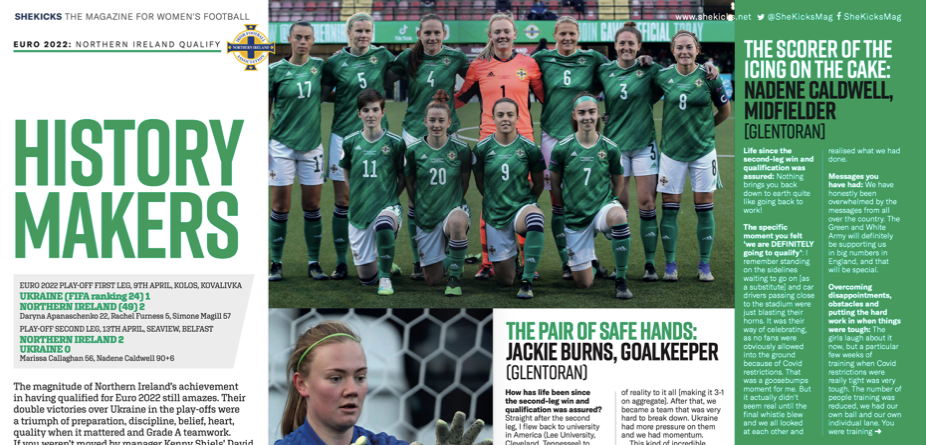 NORTHERN IRELAND : Five players who featured throughout the side's historic qualification campaign tell us what it took, what it means and what they would give, to be a part of Euro 2022.
COACH KICKS WITH GEMMA GRAINGER : Wales' new manager on where her love of the game comes from and how people are at the heart of her coaching style and ambitions.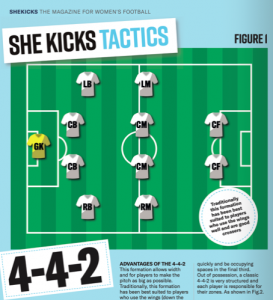 SHE GETS TACTICS : With help from two top A Licence Coaches, we explain some of the basics of formations and take a look at 4-4-2.
PLUS galleries, posters, player columns, news, Locker Room interviews and more.
Why not take out an Annual Subscription for only £25 (inc UK postage).  Click HERE for Annual Subscription details. Or visit the online shop for more options (and back issues.)
https://shekicks.net/shop/