Issue #46 is available to buy.
(BUT YOU CAN ALSO 'TRY BEFORE YOU BUY' by getting a taste of what is inside – scroll to the bottom of the page for the link).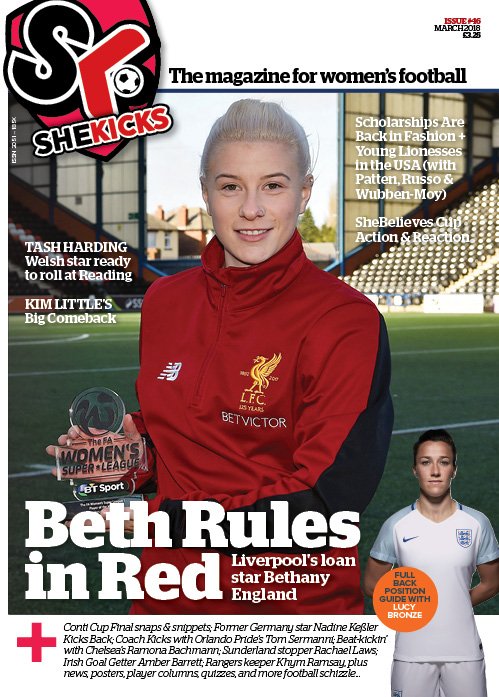 At 76 pages, Issue #46 features action from the She Believes Cup Tournament, as well as being packed with some pretty big names, and some interesting characters, from across the women's game.
Including:
Beth England (Liverpool)
Natasha Harding (Reading/Wales)
Kim Little (Arsenal/Scotland)
Lotte Wubben-Moy, Alessia Russo & Anna Patten (England U20s & UNC/FSU) on taking up scholarships in the U.S.
Tom Sermanni (Orlando Pride)
Nadine Kessler (former FIFA World Player of the Year/Germany)
Ramona Bachmann (Chelsea/Switzerland)
posters (featuring Arsenal, England & Wales)
and, (not to be missed): Position by Position info provided by Lucy Bronze about playing full back!
What are you waiting for? Get your copy ordered today.
You can order your copy (or take out an Annual Subscription) by clicking HERE or on the Issue #46 cover above.
Want a sneak preview of just some of the great stuff inside this issue?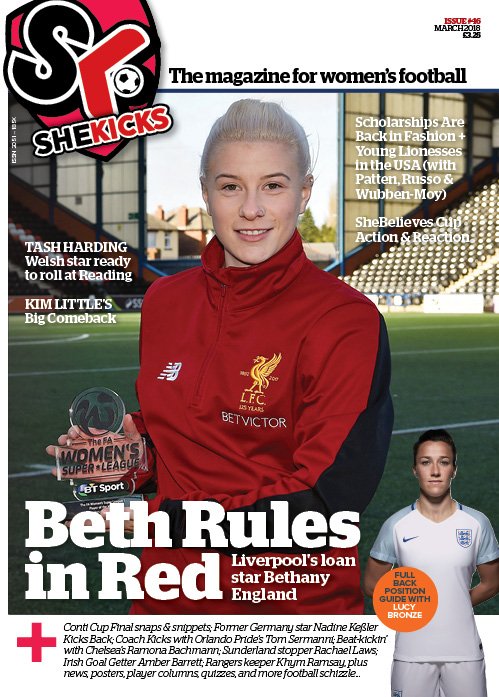 Click on the cover image to the left (<<<) and you can read our interview with Arsenal and Scotland Star, Kim Little; view our FA WSL Gallery and spend some time analysing the WSL Opta Stats….