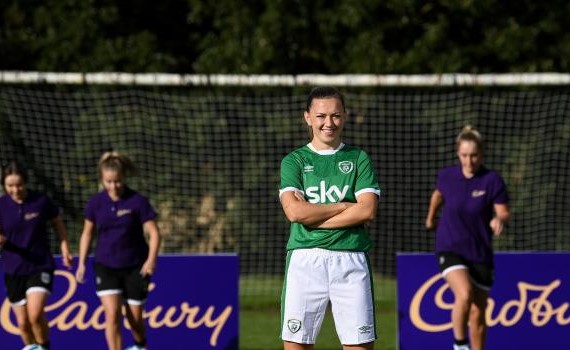 The FAI has announced that Cadbury is an Official Partner of the Republic of Ireland Women's National Team.
The partnership will see Cadbury take an active role in supporting the FAI's strategy to continue to raise awareness and grow the women's game in Ireland through acts of generosity, synonymous with the brand. Cadbury, whose Irish manufacturing operation is based in Coolock, will seek to support women's football at a grassroots level by enhancing club facilities while raising the profile of women's players in Ireland.
As part of the launch, the Ireland captain Katie McCabe visited her old club, Raheny United FC, who will be the first of many grassroots women's teams around the country to receive funding from Cadbury in a bid to boost participation among women. The funding will provide the team with new kit and assist the club and players in covering running costs and fees for a year, making it more affordable for females to get involved in the sport.
Managing Director of Mondelez Ireland, Eoin Kellett, told fai.ie: "At Cadbury, we are delighted to announce our partnership with the Republic of Ireland Women's National Team. We've seen the team go from strength to strength in recent years and are looking forward to supporting them as they aim to reach the World Cup in 2023 and beyond."
"We believe this partnership also bestows a responsibility upon us to help in growing the women's game – a challenge we look forward to supporting the FAI in taking on. According to Nielsen research, 73% of the general population agree that greater visibility of women's sports and athletes is crucial to grow women's sport. This is something we will look to support the FAI in addressing through the enhancement of football facilities for women and raising the profile of the exemplary role models playing the sport."
FAI CEO, Jonathan Hill, said: "We are delighted to be partnering with Cadbury at what is an exciting time for women's sport in Ireland. There have been significant strides taken, both on and off the pitch, in recent times and we are continuing to develop all areas of the game in order to improve structures, increase participation and enhance the profile of women's players in Ireland, which is in line with the 2022-2025 Draft FAI Strategy.
"Cadbury is a world-renowned brand who will bring a huge amount to this partnership to help us continue to move forward as we aim to affect women's football from all levels – Grassroots all the way up to the Republic of Ireland Women's National Team. It is exciting to launch this partnership ahead of our 2023 FIFA Women's World Cup qualifying campaign and we look forward to working closely with Cadbury."
Women's Regional Leagues Round-Up: Merseyrail take top spot from Tranmere