All of Mark Sampson's 24 (including Mary Earps) Lionesses that travelled to Netherlands were in tip-top condition and available for selection (except Mary Earps, obviously) until Casey Stoney felt a niggle in her hamstring just a few days before the Scotland opener. She is still nursing it back to full strength and so has stepped off a bit at training and missed out on the first two games. With vast experience and a keen footballing scholar's eye, she's watched on with interest, enjoyment and a few nerves. CHRIS BROOKES caught up with her in the mixed zone in Breda after the Spain game, to find out about her first week or so at her third EUROS…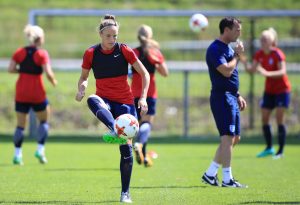 SK: So during the two games so far, what have you been like on that bench? Have you been quite composed?
CS: I didn't enjoy tonight! I enjoyed the Scotland game, because we scored early and took control of the game, 3-0 up at half-time, so I could relax a little bit. I'm not gonna lie, I bit all my nails off tonight, my heart rate was going ten to the dozen. It's not that I don't believe in the girls – I thought that we were always in control and I don't think KB had a save of note to make – but they had an awful lot of possession and it was a very dangerous pitch, in terms of risks, very wet and very slippy. Then when they gave the penalty and it wasn't a penalty, I was kind of on the edge of my seat at that point.
SK: Yeah, can you explain how that all seemed to play out?
CS: I spoke to Jade Moore after the game and I said 'what happened?' and I could see the lineswoman was signalling something to do with her left and Ellen's leg. Jade said to the referee, 'Can you explain to me? You can't give that for a penalty, it's hit her leg and hit her hand, there's no intention.' The referee actually said straight away, 'I've made a mistake.' I think you have to give the referee a lot of respect there. So we went from having a penalty against us to a few minutes later being 2-0 up, so it was a real switch of momentum in the game, but once we went 2-0 up I could relax a little bit.
SK: Your role at this tournament to date, it's difficult because you've been trying to get yourself back in top condition after the hamstring injury, but how much has been about a mentorship role and how much about focusing on yourself and putting yourself in contention to play?
CS: I think I have to think about myself in terms of getting back fit. I'll be honest, I've never worked so hard to be fit for a tournament; I'm the fittest I've ever been. I've worked so hard leading into it and so to pick up a knock when I did, during the group stage, is very frustrating for me. I've had to focus a bit on myself in that sense, but that doesn't ever stop me doing what I need to do around the group and contributing. I haven't attended training too much, because I've been doing my own rehab, so that side of it's taken me away from the team, but I always feel I can contribute around the dressing room, around the training ground, around the hotel and just making sure players feel comfortable in their roles and responsibilities. The less you do on the pitch, I think the more you can do when you're off it.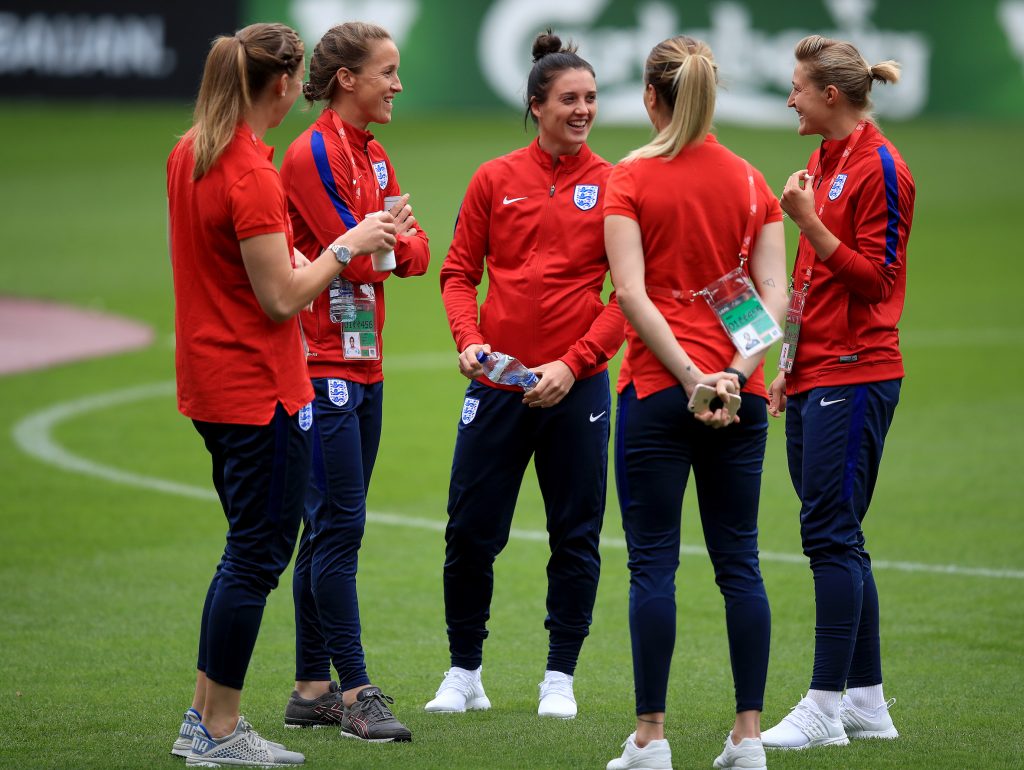 SK: Obviously the team and everything you want to achieve together is the primary focus, but because you've been at so many tournaments before, how much of this whole experience are you now able to cherish?
CS: Do you know what, one lesson I've learned, this is my eighth major tournament and I've said to the girls who are here for their first, sometimes you want to focus on the football, but you kind of have to stay in the moment and cherish the memories as well. I suppose that's regrets I've had from tournaments passed; I've maybe been completely focused on the football, whereas now I can step back a little bit and say, 'Right, this is a journey I'm on.' My family are here, which is brilliant, they're sharing it with me and the experiences in different cities and places we get to see. Tonight, a fantastic win under difficult conditions against I think a very, very good Spain team. You know, I look back at tournaments and I think, 'I wish I'd have made more of every single minute' and that's what I'm trying to do now, because you never know when it could be your last one.
SK: If social media is anything to go by, you have been having a nice time in Utrecht, for example. What else have you been doing away from just focusing on returning to fitness and being around the team?
CS:  I've just spent pretty much every minute I can with my kids. With my kids, my partner, their family, they're staying in like a Dutch Center Parcs, so it's great for me to go; we went swimming, I was taking them down slides and stuff. I have to say Utrecht is an amazing city, just to take the kids round there, but it's a bit of a nightmare because it's trying not to get the kids run over by a bike, a car, not fall in the river! It's been fun. For me to switch off, it is by spending time with family. Obviously in Canada in 2015, they didn't come, so I was completely on my own for six weeks. To have that here has been completely refreshing for me, but I am a person who likes to focus on the team and focus on my football and I'll be working very, very hard now to make sure I can be a part of the Portugal game.
SK: Coaching is something you've had more than a bit of involvement in over recent years, so how much of the Spain game and other games have you been able to look at from that perspective?
CS: I was just looking tactically how we could have changed things and I actually take my notebook every time I don't play. I'll note down things that we need to do and I'll always go in at half-time in the dressing room and maybe talk to the players about things we need to pick up on or approach differently in the second half. I'll do that anyway, even when I'm a sub, but you can step back when you're not involved and look at things from a different angle and a different lens. I was definitely trying to do that tonight and it's all a learning experience for me, as a player and as a coach. I definitely look at the game differently when I'm not involved.
SK: Finally, on that point, what can the team do better and what was done particularly well?
CS: It was difficult, because they had a different system to what we faced against Scotland, and I think we probably need to retain the ball a little bit better and build our way up the pitch. We were giving our forwards stuff to chase, but not realistic chase. Having said that, we've had very little possession and scored two goals; we were very clinical. We just needed to get up the pitch, get higher up the pitch, and we could have got closer to their players to press, rather than chasing around. I think we used up a lot of legs tonight chasing their players when we didn't really affect them on the ball, but I have to say sometimes you need to win when you're not at your best. I don't think we were at our best in terms of keeping the ball, but I think you've got to respect a Spain side that can play and can keep possession. But for all their possession, they didn't do an awful lot with it in the final third.
#WEURO2017