We caught up with Scotland's Player of the Year, Liverpool midfielder Caroline Weir, for a chinwag, ahead of their first training session at their base in Woudenberg.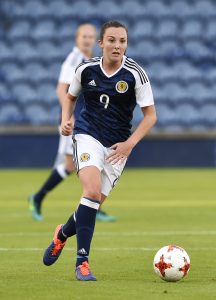 SK: Standard question to kick off. How's the mood in the camp?
CW: It's really good, we're obviously really excited. We've talked about it for months and now it's finally here. We're at our tournament base camp [arrived Saturday from southern Netherlands] now and it's getting quite real. I'm just really looking forward to getting going.
SK: How much have you thought about this England game, over recent months and now days?
CW: We've all tried not to think about it too much but it's probably always been at the back our minds and we've been training or it for quite a while so we're super excited. It's going to be a great occasion but I'm glad it's round the corner now.
SK: You and several of your team mates will know the England players and their styles and how they play, quite well. Does it make the opening game less daunting?
CW: Yeah it takes away the whole mystery of a team. The ones who play in England obviously know the English players very well and they're a strong team, with good players but we know what to expect from individuals because we play with or against each other every week, so that takes away the mystery of it.
SK: How many times, can you estimate, have you been asked about whether there has been banter between you and your Liverpool/England team mates ahead of this match?
CW: A lot! There was a bit of banter when the Euros draw was made but since then it has died down and as the game has got closer, it's got a bit more serious.
SK: Has there been a mix of hard work and also some down time since you came out to Netherlands?
CW: Yeah, preparation has been really good. It's been ideal, you don't want to get too intense too quickly because it's a long trip, so we've had a chilled couple of days but now we're at or our base camp things will start to get a bit busier with the media and stuff like that. But we've had a good balance between having time off and training really hard as well.
We've seen a bit of the country, played some games. We played a Swedish game the other night, which was fun. It takes your mind off football completely – so that's nice and just what you need because you're at camp 24/7 – it's great for us and the players really enjoy it.
SK: Is 'Love Island' still on the watching agenda?
CW: Yes. We've got a dedicated 'Love Island' room in the hotel! It's so nice, there's candles and everything. That's a constant, every night, and the majority of the team watches it.  We'll be pretty devastated when it finishes. I don't even want to be thinking about that right now!
SK: It's your first time at a major tournament finals. Does it feel like you thought it would?
CW: Not quite yet. It's been like a normal camp, which is good because you don't want to get too sucked up in it all because at the end of the day it's just football. Obviously there's more attention on it. The game [on Wed] itself may be a bit like that but we'll try and keep away from that and keep it as normal as possible. The facilities are really nice and we're well looked after, so in that sense it does feel more special but at the same time it's like a normal camp.
SK: Physically you're ready, are you emotionally and mentally ready too? Have you had assistance with that?
CW: Yeah, physically of course we have been training really hard over the past few weeks and months. Mentally, yes we've got great staff here, so any issues we have we can go to. So I think we're all ready to go now.
SK: Do you like being the underdogs?
CW: Yeah obviously we are the underdogs going into it. There's not loads of pressure from the outside on us, the pressure is put on us by ourselves. I think we can go out there and play with no fear. We know what we want to do and that's the main thing and hopefully we can do that and put a decent performance in.
SK: Liverpool were a team that frustrated Man City (who have a lot of England players) in games over the past year?
CW: Yeah, like I've said, the girls who play in England know the players very well and that we can compete with them.
SK: You, personally, have had a fantastic past year and a half, form-wise, is this an opportunity for you to be able to show what you can do on the big stage?
CW: I'd like to think so. Yeah, the past 18 months have been quite good for me, it's been enjoyable and if I get the chance to do that here then I hope to take it.
SK: England have said they know their opponents' weaknesses, do you know their weaknesses and how to hurt them?
CW: Again, I'd like to think so. We've done a lot of prep on them. We know what they're about. They've obviously got a lot of qualities but of course there's things that hopefully we can exploit as well.
SK: Is there a big Weir Cheer Squad coming out?
CW: Yeah there's quite a few coming out. My family and a lot of friends are coming out, football friends too. I think lots of players have.
SK: Did you get a big send off before you came away?
CW: No, nothing like that. Although when I was unpacking my case the other day there was a wee card in there from my family, which was quite nice. But that's typical Weir family and I'd rather it that way.
#WEURO2017
SHE KICKS – online community for women's football