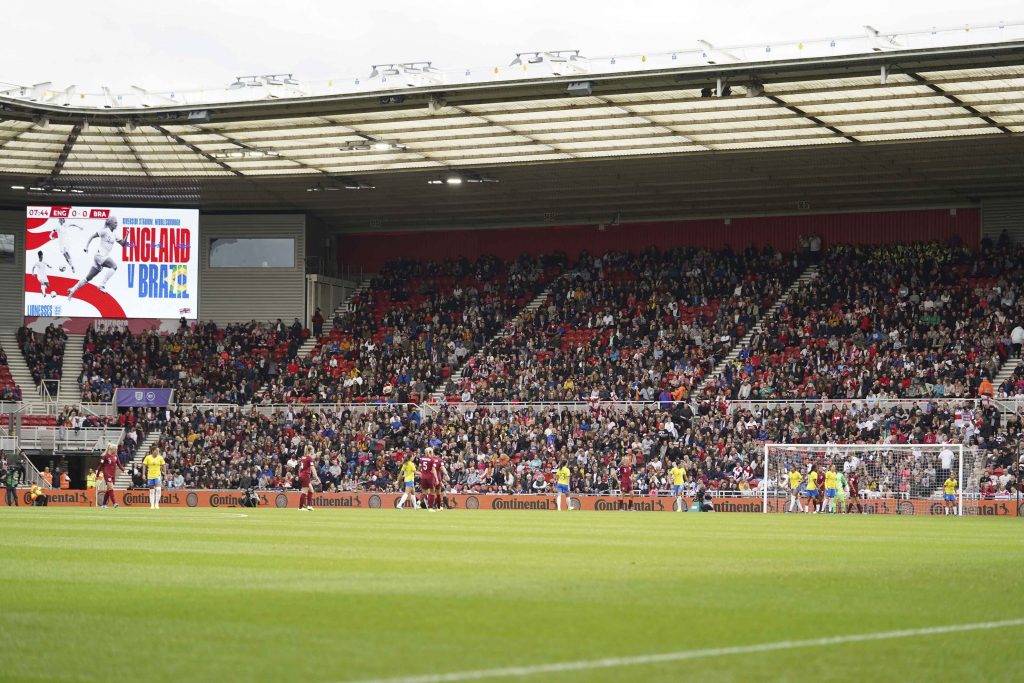 The over-riding vibe from the England camp on Saturday afternoon was, understandably, that they are not one little bit happy with the result against Brazil and are determined to change that in Portugal, on Tuesday. Much has been written – and rightly so – about what continues to be a concerning pattern of lapses in concentration and vulnerability in defending crosses but it's also true that the team played some excellent football, particularly in the first half, and created more than enough good chances to easily win the game.
The result and the leaking of messy goals aside, there were still a number of positives to take from the game from an England perspective: the record crowd [outside of London], the return of Jordan Nobbs and Leah Williamson's performance but the biggest contributions to England's performance came from two Beths. 
We spoke to both, in the mixed zone after the game, to get a snippet of their reaction.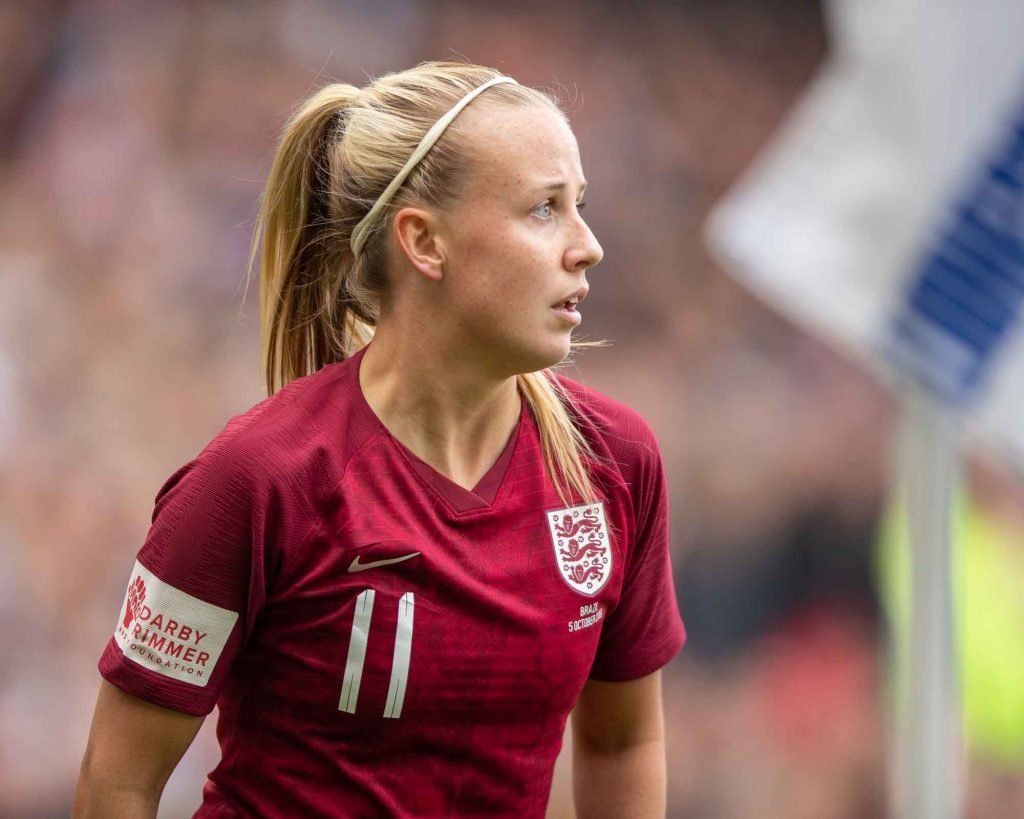 BETH MEAD
The Arsenal forward, who hails from just down the coast from Middlesbrough, has started the season in fine form. She was a constant menace down the left and crafted a number of openings for team-mates and herself, picking up the 'Player of the Match' award. It was a disappointing result, on an enjoyable day. Here's what she had to say… 
On her Player of the Match award for England, being a small consolation:
Yeah, I guess so. It's frustrating. Last camp we were very, very flat and disappointing but actually I thought we played a good game of football today except for our finishing. They have two chances, score both and we lose the game. We could have had it dead by half time.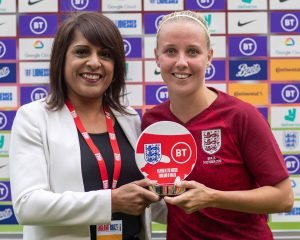 On her big chance, after a mazy dribble, in the first half:
I did everything but score, everything but. I should have just tried to place it, but I put too much on it and it went wide. 
On creating so many chances for team-mates -like Jodie Taylor – that in previous games they likely would have converted:
It's frustrating because people will expect me to put that away and I'd expect Jodie to put her one-on-ones away. We had an offside decision against us, it's these small margins and they come away with the win.
On Phil's post-match comments that that was possibly her best performance in an England shirt:
It's hard to be happy about it because we've lost but for me it's good that I'm heading in the right direction and that my manager thinks that of me. I'm just putting in everything I can out there to either score or… They'll say it's those small margins and if I want to be like Megan Rapinoe then I'd have finished that chance. And they're right. This is what I'm striving for now. I want to become a world class player and that's what a world class player would have done.
THROWBACK: Team GB played a warm-up game @Boro in 2012 & we spotted a local future #Lionesses star outside. She was already banging in goals for @SAFCLadies & Eng U17s but had to work hard/be patient to be the ⭐ she is today. 👋 @bmeado9 😁 #HinderwellHotshot 📸: @CatherineEtoe pic.twitter.com/9gWR9RBC3b

— Jen O'Neill (@SheKicksdotnet) October 5, 2019
On being a fan in 2012 at the Riverside and now being a star on the field, in front of a great crowd:
Yeah, you stitched me! But I was being inspired to be one of those girls and now I've got to do it today. It's what dreams are made of. The crowd was amazing, they should have more games up here. It was about time. Everybody loves their football up here. The atmosphere was amazing. I call on The FA to bring more games to the North East! Half of Hinderwell and half of Whitby where here and so it was nice to see everyone because I don't get home much. It was an enjoyable day apart from the loss.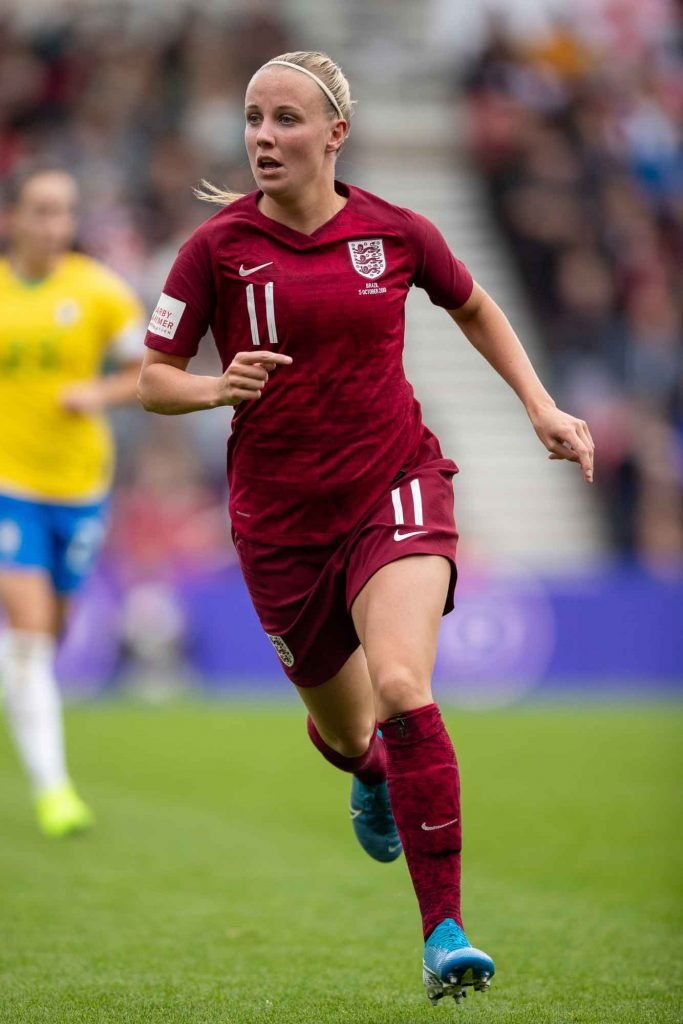 BETH ENGLAND
The Chelsea striker made a big impact after being introduced with 15 or so minutes remaining, scoring one and going close with another. Here's what she had to say…
On her first goal for her country:
It's just a shame it didn't come under better circumstances. You want to celebrate your first goal for England but in that mindset I was just like, get the ball, go again, we've got to push for a draw if not win the game. We had a lot of of the ball in the last 5, 10, 15 minutes. So I'm obviously absolutely ecstatic but also gutted that we didn't get the result that we came here for. I literally just dropped as soon I saw it hit the back of the net, and I think it was me and Rach ran to get the ball and get it straight it back. It's not about me, it's about the team and I'm gutted we didn't get the result, even though we were so dominant in the first half.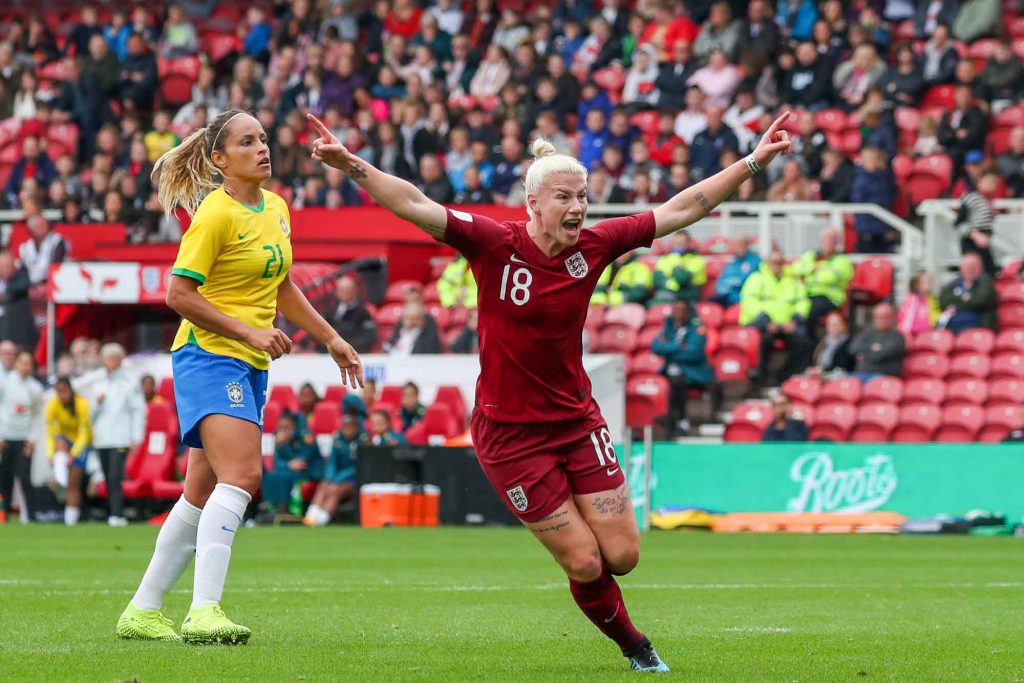 On the journey and hard work that it has taken to get to this point:
There's been a lot of support along the way and I could appreciate it any more. It's nice to think I've given something back to them because it's not just my journey, they're on this journey on me, like my family and all of my team-mates. Everyone's journey's been different and mine has been a whirlwind, to say the least, a few knock-backs but you've just got to pick yourself up and go again and it's days like today that proves that it does pay off. I couldn't be happier to have scored that goal today.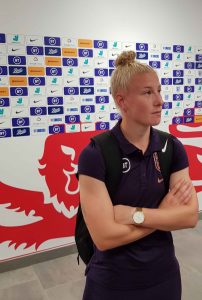 On the drive she has had to overcome those knock-backs:
It's something that I've had to work on over the years is growing up a little bit and getting a stronger mentality. I think when I was younger a few things probably affected me more than I should have let it but again everyone goes on a different path and you learn how to get a thicker skin and get on with it. Thankfully, I've been brought up to be a fighter, I'll never quit and I'll do the best that I can. I'm really proud that I managed to show that to my family today because it was their first game in the crowd.
On being the first player ever, male or female, with the surname 'England' to have scored for England:
I bet the headlines are going crazy for that aren't they? I've wanted this since I was a little girl and it's quite fitting with the name that I've got – it's quite poetic! – I'm just gutted we didn't win because that was the main aim for the day.