Melksham Town Ladies centre-midfielder, Mel Paterson, gave us a detailed look at the Wiltshire League leaders and her own struggles through long-term injury.
SK: Can you tell us a little of your footballing history and any personal high points?
MP: I've played football since I was 9 years old and I'm now 24. I started out playing for Melksham Town Youth until I was 13 when I very fortunately got scouted to go and play for Wiltshire County FA. What an experience that was, I trained twice a week with Wiltshire and got to travel all over the place to play. Our matches were on Sundays and it didn't take me long to realise that I could also continue to play for Melksham as their games were on Saturdays – happy days. What more could a football fanatic want? Three solid training days per week and a weekend of football games. My poor parents! Looking back at it now, I do not envy them at all. But they were so supportive. All of the travelling, the time they spent just taking me to training – which was 45 minutes away for Wiltshire during the week, and then then the time they spent watching me play.
I completed two seasons with Wiltshire before deciding that football had taken over my life and I wanted to spend more time with my friends at the weekend. I just felt like I was missing out. Quite possibly one of my regrets but as a stubborn teenage girl, there wasn't anyone who could tell me what to do.
A personal high point for me, which I can now laugh about – back then it completely broke me but whilst playing for Wiltshire, I broke my wrist at training one night – the day before an England scout was due to come and watch us. I often wonder what would have happened had I have not injured myself… But everything happens for a reason. Although I could have been England's captain by now! Who am I kidding? I had a baby at 19. No captain responsibilities here; let alone for England! Shortly after leaving Wiltshire, I went and played for Bath City for a season before returning to Melksham Town again.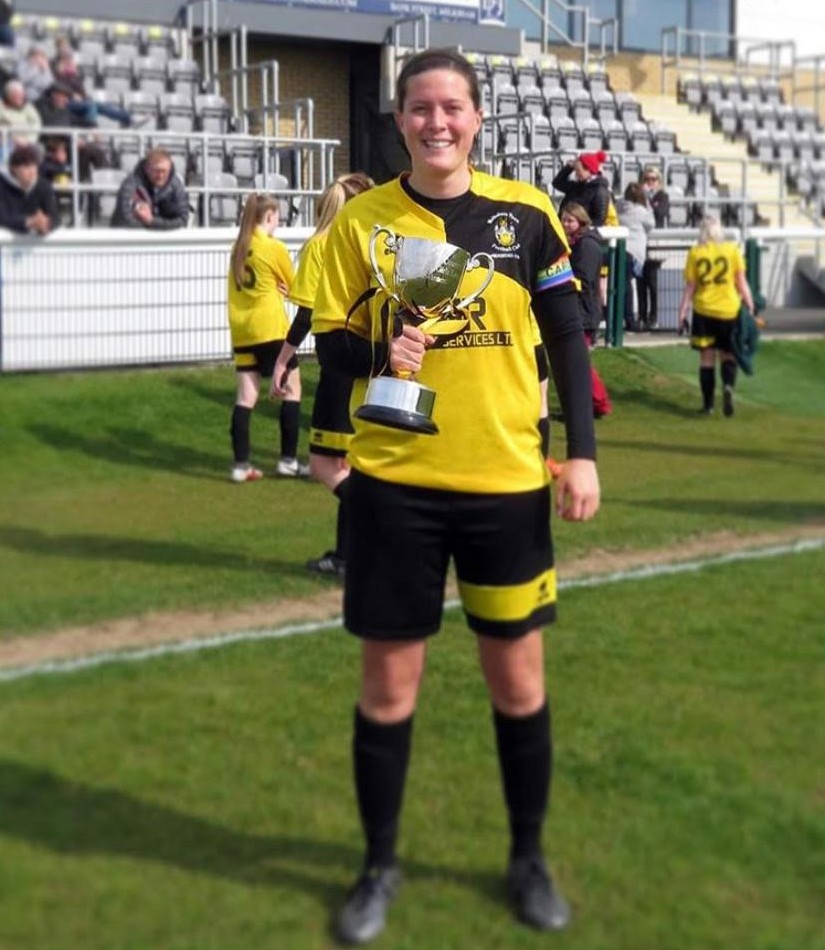 The older I got, the more I dipped in and out of playing. I wasn't ready to sacrifice my personal life for my football. I left school, started college and slowly stopped playing. I would work at a pub during the week, so training was non-existent and then parties became more frequent at the weekends, so football just disappeared off of the radar. At 19 I decided to go back to Melksham Town. I managed a couple of weeks of training before I then found out I was pregnant. Brilliant – football had stopped again. Just as I realised how desperate I was to play again.
The baby was born (a girl, if you're wondering), I returned to work – reality had been restored! Right, let's go back to football. That weekend, I had a bad accident which resulted in an operation to my lower right leg. The strong leg. The football leg. The favourite leg.  No bone damage but instead ligament, muscle and nerves all ripped to shreds. I would have rather broken my leg had I have known what the road ahead was like. Twenty-two months of weekly, intense physiotherapy. That was after having a cast on for 7 weeks. I thought football would never happen again, let alone all of the other things I was told I probably wouldn't manage.
Fast forward those 22 months, 7 months after physio had stopped I finally felt comfortable enough to try and play football again. I still have to keep my leg strapped up when playing but I've been back for almost a year now and I've never been happier.
The lessons I've learned from football are priceless. I learned how to tackle people and kick a ball but more importantly how to lead others and how the value of practice makes perfect really does mean what it says.
SK: How has your team's season been going and have you been happy with the campaign so far?
MP: What a great start to the season we've had. We are 10 points clear at the top of the table with only one loss all season. As a team we support one another, we get together outside of football and we're all really good friends. I believe just these foundations alone help us to stick together as a team whilst on the pitch and make us strong. When you play a sport you love with friends, it definitely contributes to your love of the game. Especially when you turn up to a game on a Sunday feeling a bit sorry for yourself because of the night before. Having team mates who can laugh about it instead of judge makes it that bit easier to get your backside on to the pitch and do your bit for your team. Despite this little blip, we are unstoppable and hope to continue our winning streak when all of this madness is over.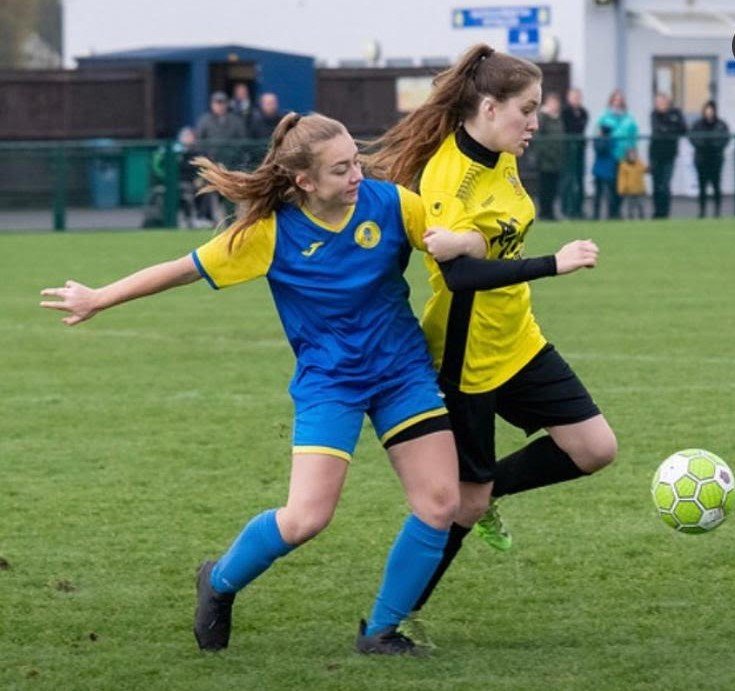 SK: Who are your local league rivals and how have you done against them in 2019-20?
MP: Our most challenging rivals this season would have to be FC Chippenham. We played them in a pre-season friendly last year and won and we've also met them only once so far this season and won that match too. The game we lost this season was against Trowbridge Wanderers. It was a strange feeling for us and we still not too sure how it happened considering the first time we met them this season we beat them 5-2 with no subs on our bench. When we met them for the third time this season, we needed to show them that we meant business and we were reclaiming our spot at the top of the table. Needless to say, we kept to our word and thrashed them 11-4.
SK: Any rising stars, club veterans and/or stand-out personalities that our readers should know about?
MP: The number of players we have coming through from youth teams is fantastic, Melksham Town has around 100 girls and even a Ladies walking football team. Chloe [Way] came through from the U-16 squad this season and has secured herself 16 league goals with Charlie [Canvin] also coming up. Ashley [Ellison] also came with them and is a solid player at the back in defence who puts on a spectacular performance in every single game. Lauren [Morris] is another newbie to the ladies team. Her accuracy down the right wing is super and is often able to outrun the opposition. Tory [Swinney] was very apprehensive about being in goal, however, after the first time the team watched her performance we were blown away. Since then she has only gotten stronger and stronger each week.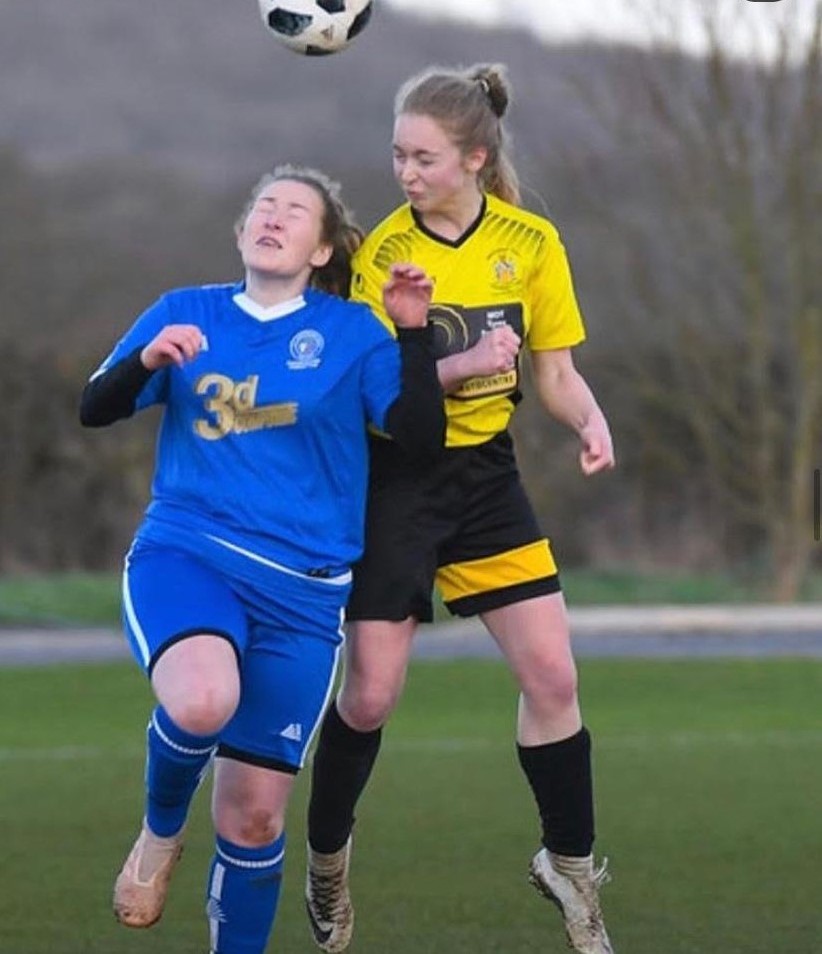 And as for stand out personalities, let's start with Captain Shep [Hannah Shepherd]. On the pitch, she's not afraid to tell you how it is. She will shout at you and be honest, but in the long run, you'll be glad to hear it. Jodie [Nicholson] – she's in the army, so basically I wouldn't cross her. She often questions people's common sense and occasionally shouts at our managers! Lauren [Morris] – You don't have to be crazy to be Lauren's friend because she'll just train you. She'll never allow you to do something stupid on your own and she's most likely to take a bullet for one of her friends.
SK: What are your hopes for your team and/or personal aims once you can resume playing?
MP: My hope for the team – once we're able to start playing again – is to make sure we can pick up from where we left off. I hope we can continue to go into matches with our game head on and do what we do best… play football. In this ugly state of current affairs, I really do hope that every single member of Melksham Town will return fit and healthy.
SK: Any football-related things you will be doing to help fill the void?
MP: Definitely try and work on the fitness aspect of football. I'm sure most of the team would agree here. It will certainly be difficult getting back into training and then the first match, especially as at the moment we have no idea how long we won't be playing for. Just things such as gentle jogs should hopefully keep the fitness momentum going but we could be at home for months yet, so who knows. I know a few of the girls have good set ups in their gardens with things such as goals and exercise equipment, so they'll come in handy now that the evenings are getting longer.
Lionesses Lucy Bronze wins BBC Women's Footballer of the Year