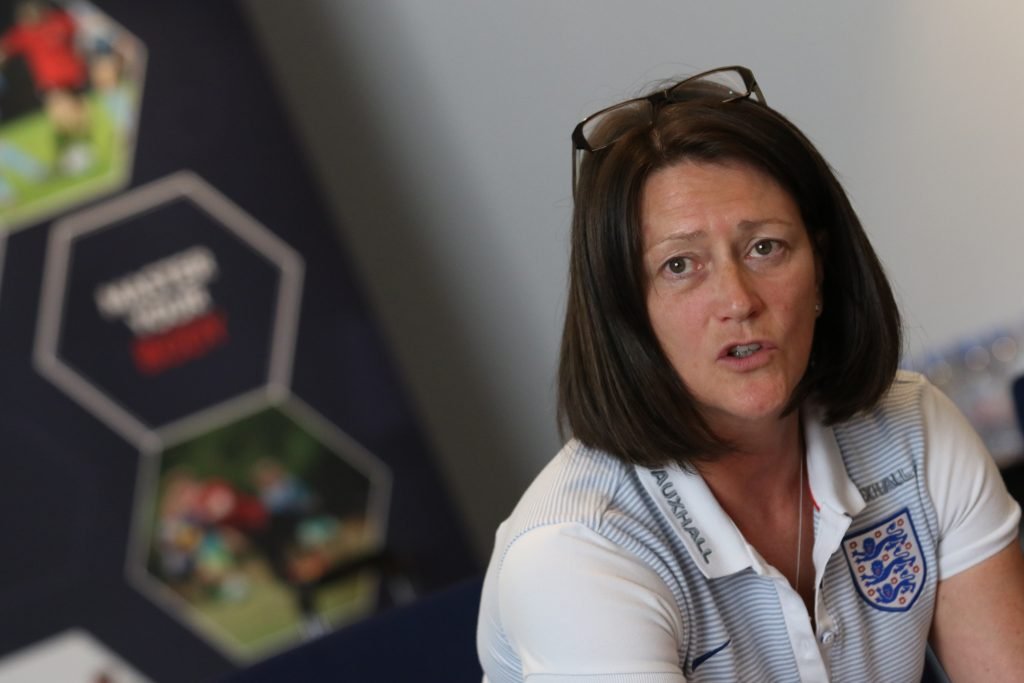 On the back of The FA's announcement today about the launch of the inaugural Coaching Excellence Initiative, we had a call with The FA's Head of Women's Coach Development Audrey Cooper, who kindly gave some of her time to explain to the media more about the new programme.
So if you would like to read a little further about the background and aims of the initiative and the processes employed in selecting the talented candidates and mentors, then this is for you…
Cooper, who has decades of experience as both an international athlete and coach, as well as in business and then in coach development, has been with The FA for four years.
Her remit includes leading a team dedicated to supporting coaches in women's football – the first time there has been a workforce dedicated to this task, in England –  which covers the grassroots through to the professional game, an area of particularly dynamic growth and with its own particular demands. As she explains:
"The women's game is exploding, with so much going on. We have spent a few years understanding what the coaching landscape looks like across the women's game, from those thinking about taking up coaching, to those working in the world of women's professional football."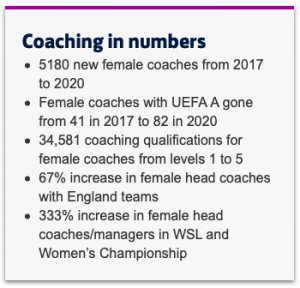 FYI – The FA's Gameplan for Growth [2017-2020] strategy's coaching achievements are summarised here: https://www.thefa.com/news/2020/may/28/gameplan-for-growth-coaching-280520
Cooper and her colleagues worked on gaining an understanding of the history of the women's game and where it is heading, so that they could, "offer something suitable for today's game, particularly in the professional game," acknowledging that the demands of the women's professional game are both new, sometimes unique and also incredibly varied.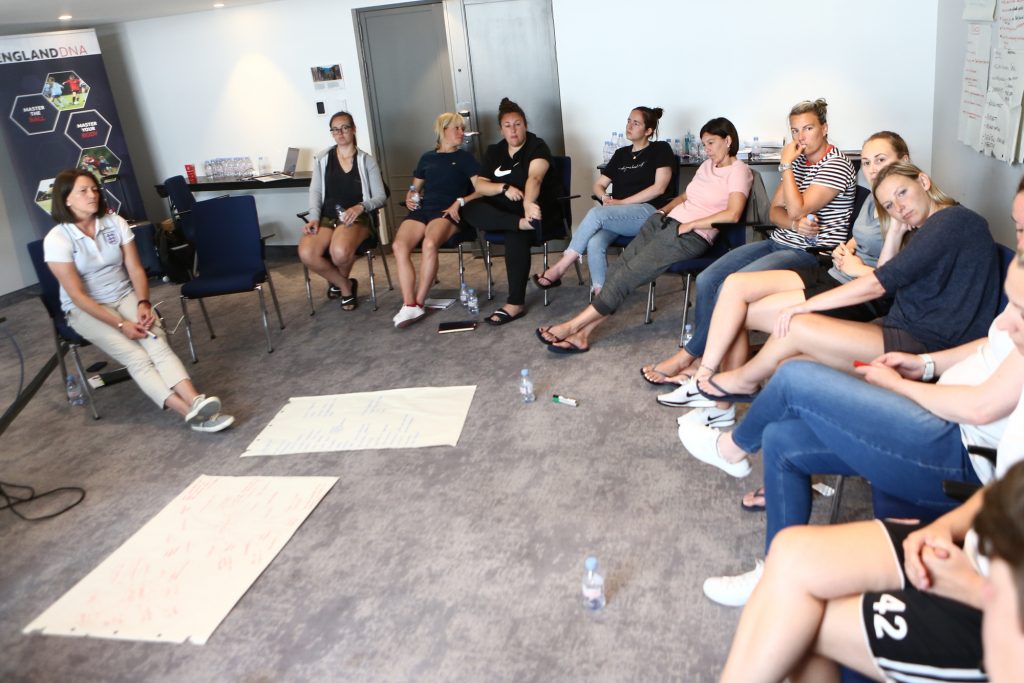 A trip to France with a group of coaches during the Women's World Cup in 2019 also helped Cooper's team get to know them and to learn more about their needs.
All of this background work laid the foundations for The FA to introduce what has become the Coaching Excellence Initiative, which Cooper outlines as:
"A bespoke programme dedicated to support coaches both male and female, across the professional game.
"It gets into the strands of: leadership, management, coaching and followership.
"It aims to equip coaches to be ready to succeed in this new world of professional women's football. The remit is for male and female coaches but we have a keen eye on females within the programme –  a big driver for us is the notion of normalising women in football coaching."
Cooper and her team are dedicated to creating a talent pipeline – a phrase often associated with players but equally applicable to the flow of coaching potential –  and they are actively and enthusiastically seeking the bright young stars coming through. 
'Talent' and 'exciting' were words that cropped up time and again as she enthused about the initiative and across her coach development work.
Here's a bit more detail from our Q&A with Audrey…
How were the first cohort of 14 coaches* selected?
AC: It was a rigorous process. Back in November/December 2019 we created an application, with questions in there so that we found a bit about them, what they're all about, what their philosophy is, what their ambitions are and we asked them to create a video as well. That was Phase One.
Then we shortlisted from those applications and went out to visit the coaches. This was something we'd never done before. We went into their club environments to experience what it was like, because going into a Bristol or a Manchester United or a Blackburn Rovers, we knew was going to be a little different and we wanted to understand their environment. We interviewed them again, to unpick and get to know their wants and needs a little more, we interviewed the General Manager [at the club], we talked to a couple of players and we spoke to one of their coaching staff and also one of their multi-disciplinary team, all to get a real picture of who they are and what they are about.
We took all of those interviews and put them into a melting pot and we created a summary. That started to tell them a bit about what we learned about them, what people told us about them and what they told us about themselves. From there we decided on 'who fitted the bill', who would get the absolute most based on where they are in their coaching journey, from our first ever Coaching Excellence Initiative, knowing that we probably had people who would be in year two.
It told us that there is incredible talent out there – coaches who were ready to go on a journey of bespoke support. It was a tough decision as to who we took forward but the flip side of that is we know we've got some really good coaches coming through.
*A reminder of the coaches on the scheme:
Carla Ward, Birmingham City WFC Manager
Charlotte Healy, Manchester United WSL Academy Manager
Gemma Davies, Aston Villa WFC Head Coach
Gemma Donnelly, Blackburn Rovers WFC Manager
Gemma Grainger, England WU17 Women's National Head Coach
Joe Sheehan, Ipswich Town WSL Academy Head Coach & First Team Manager
Karen Hills, in between roles
Leanne Champ, Chelsea WFC Technical Coach
Lydia Bedford, England Women's U18s Development Phase Head Coach
Melanie Reay, Sunderland AFC Ladies Head Coach
Riteesh Mishra, Charlton Athletic WFC Head Coach
Stephanie Libbey, Durham WFC First Team Coach
Tanya Oxtoby, Bristol City WFC Manager
Vicky Jepson, in between roles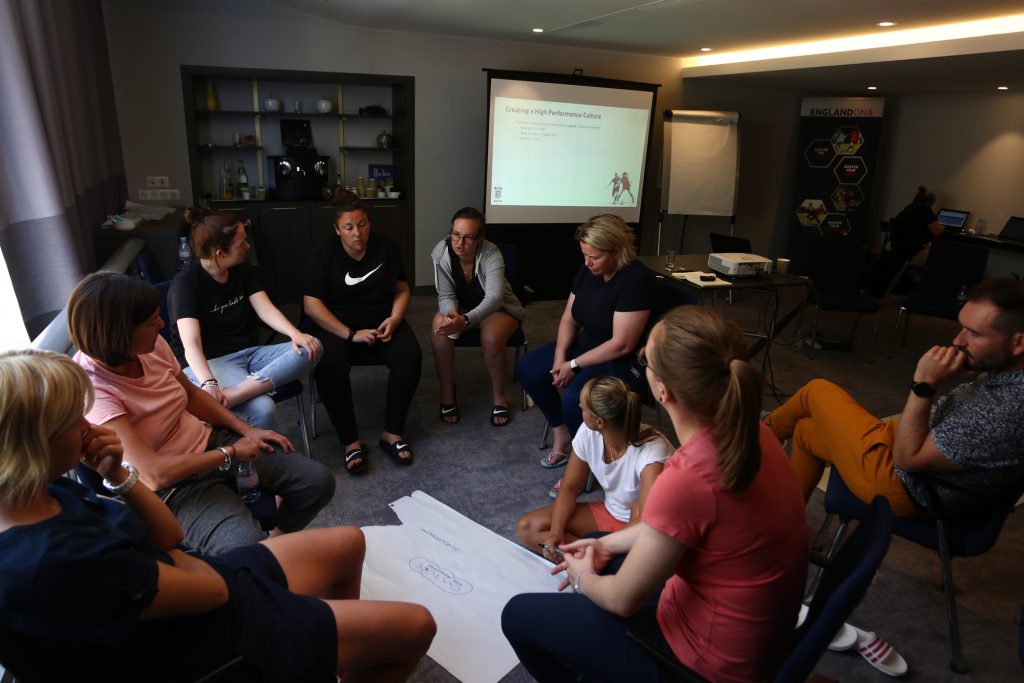 Did you give feedback to unsuccessful applicants and is the door open for them to be part of future programmes, in 'year two'?
AC: Yes, and that was really important to us. We gave them individual feedback. We talked to them, we created a visit summary for everybody that we went out to visit so it dovetails into an individual development plan, because it talks about their strengths and the areas that they want to work on, based on the role that they're in.
I've also got a team of four people that are dedicated to supporting coaches in the professional game, split geographically up and down around the country. They are now working with those coaches, individually, in their clubs, in their club environments and supporting some of their development needs, which came out of their application process. We absolutely wanted to surround them with support to almost use that phrase 'ready them' for a second cohort of the Coaching Excellence Initiative.
We've got the ones who had applied before, but we've also got some new talent coming through that's emerging, whether they're from the Championship or the Women's National League, or from our regional talent clubs, but certainly the ones that applied got some really good one on one feedback and continued support.
We're already creating a list of who we think we would want to tap on the shoulder to apply [for the next cohort]. At a best guess, it would be at the beginning of the new season when we go out. Let's just hope we don't have any more lockdowns that keep pushing it back.
A big part of the programme is the mentoring aspect, can you shed a bit of light on who some of those mentors might be?
AC: Now that we know quite a lot about the coaches we use this phrase called 'chemistry matching'. We wanted to fit the mentor with the coach, based on their needs, so they're from within sports, some of them. Some of them have been international coaches, some of them are in business, management and leadership. So, depending on the coach's needs, we matched them up with someone that we felt was appropriate, that would really help their personal development. Because it's not a programme with A, B, C, D, it's bespoke to their needs and the mentor particularly, will support their professional development and personal development needs. So a real mix of mentors and so far, the relationships and work they're doing with the mentors is going really well. They're finding it incredibly valuable.
So, the mentors have been drawn not just from the football community but from a much wider net?
AC: Yes, it's quite broad. Knowing that this new role that the coaches have in professional football is no longer just about coaching being on the grass: it's on the grass, it's off the grass, it's about leadership, about management, about working with the media, managing agents. The role is broad so we wanted to match what their needs were with the mentor. So they've got a wide spread of experience to be able to tap into.
All coaches develop at different rates and will feel 'ready' in their own time, so are fans and the media perhaps a little too impatient or naive as to the complex nature of a coach's development?

AC: I reference it as a 'journey'. It's a journey of learning. Learning about yourself – and that's part of what this CEI is all about, helping them understand who they are and what they stand for – and if you can do that you will then be able to have fantastic relationships, so then it's about how you develop those relationships, how do we educate and work with people around us to understand that patience is required? So it is about a journey.
The game is on a steep trajectory and the coaches are on that trajectory of learning but they're learning really quick, they're doing some fantastic stuff within their clubs. I think we could all probably be a bit more patient but we've got to recognise that these coaches are talented, so we surround them with the support that they need because there are going to be highs and there's going to be lows, that's the magic of coaching. One minute it's rewarding, the next it's like, "Oh gosh," and you have to pick yourself up and go again. It's a journey of development and I always say, "Who is the perfect coach?" I don't think that exists.
The great coaches, whether it's Sylvia Neid, it's Hope Powell or Emma Hayes, they're so curious and they're continuing to learn and develop and that's what we want to instil in the coaches that are coming through – continue to learn and continue to be open to learning. 
The FA's Inspiring Positive Change strategy coaching objectives are available here.
Fourteen women selected for FA's inaugural Coaching Excellence Initiative