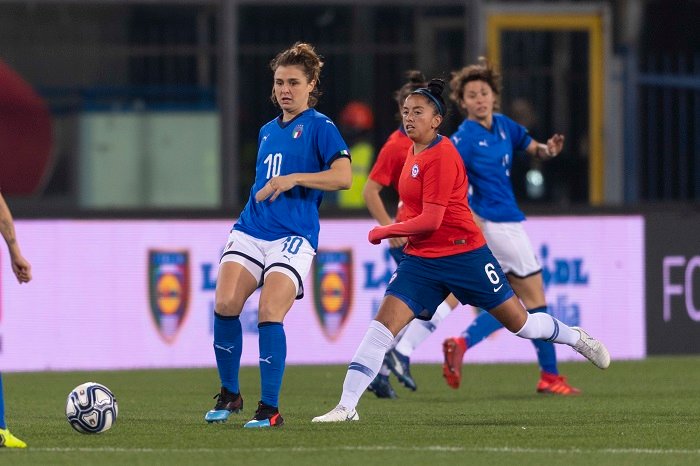 Cristiana Girelli has long been used to success at club level, with numerous cups and six Serie A titles split between her time at Bardolino (now AGSM Verona), ACF Brescia and Juventus. Joining Juve last summer was, nevertheless, a landmark move for the 29-year-old Italian international, as she not only linked up with a world-famous club name, but finally got to know what it is like to have top-level infrastructure surrounding her.
In this interview, she talks about changing times for Italian women's football and the national team, her notable English teammates, and the slightly significant matter of a rapidly-approaching FIFA Women's World Cup. Plus some more you may not know about one of Italy's premier attacking talents…
SK: Just one more month until your World Cup begins (Italy face Australia, Jamaica and Brazil in Group C), is there the feeling in the team that you can surprise people in this tournament who may not expect you to go far?
CG: Yes, that's right. We all want to surprise everyone, like we did a year ago, because nobody expected that we could qualify for the World Cup. Italy missed the World Cup for 20 years, so already it's a big step for the growth of women's football in Italy, but we don't want to just be happy with this qualification – we want to have a great World Cup. Of course, we know we will face some great teams, but this Italy has shown it has no fear. We will arrive in France without fear, with great enthusiasm, and a great will to enjoy it, because it is an unforgettable experience. We want to enjoy this experience and we will try to do our best.
SK: What has changed or improved about this team since Milena Bertolini replaced Antonio Cabrini (after Euro 2017)? Is it different?
CG: Yes, it's different, because I think Milena knows very well the movement of women's football in Italy. She really teaches how football should be played, she knows every one of us, and the biggest thing she taught the team is to not have fear. Maybe sometimes before, we didn't have our personality. We didn't have the confidence, maybe. She brought the confidence that we could do big things.
SK: You were a goalscorer in the group win (3-2) over Sweden in Euro 2017, and when we spoke after that game, you said 'imagine how well we could do with greater resources'. Has this support improved in the last two years?
CG: I think a big step was Fiorentina, because they started to believe in women's football. They decided to create a team, like Juventus, and to give the best support they could. So for example, at Juventus, we are training where the men's first team trained last year; we are training on the same pitch where (Paulo) Dybala, (Gonzalo) Higuaín and everyone from Juventus trained. If you think about it, three years ago, you couldn't believe that something like this could happen. I think a big step was made by this professional team who started to believe in women's football. If the players can grow, then also the national team will. Also, Sky decided to invest in the national team and the Champions League, by showing some of the games live. We needed this step some years ago, but better late than never.
SK: Here in England, much has improved in terms of attitudes towards women's football, but safe to say this does not apply to everyone. In Italy, have general attitudes to the women's game improved, or is there still a long way to go?
CG: I think there are many things still to do. We are at a big starting point, but there are many, many steps to go. I think England is a clear example what you can do. If Italy wants to, and also the federation, anything can be possible. Of course, results can help you to achieve something more. Qualification can help us, but there are still many, many things to do.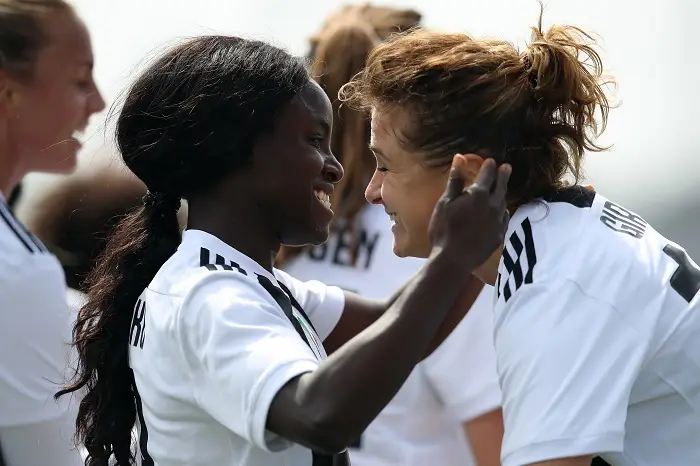 SK: You have won many trophies at club level in Italy, where does this first season with Juventus rank, for success, for happiness in your career overall?
CG: When I played in Brescia, I won the treble; Super Cup, the scudetto (league title) and Italian Cup. But I think this year is the best in other ways, because it is the first time in my career that I felt like a professional player. Last year I played in Brescia, and for me it was a big year, because I played all the games, and of course not to be arrogant, but I think I was the best player in the league last year, even if we didn't win, because we lost the final game against Juventus. But I have grown a lot this year. I am 29, but sometimes you recognise that you still have more to learn, and this year helped me a lot to do it. Also, Juventus gave me a different mentality. I hate to lose, even in training, but Juventus increased this even more. I think the national team will be grateful for this, because we have many players playing for Juventus; eight or nine in the national team. I think the national team will be happy, because this mentality will help in a game, or in a competition like a World Cup.
SK: What about some of the personalities at Juventus, who are the most fun? Who are the ones joking around, dancing in the changing room etc.?
CG: If you ask this question to another player, they would say me! Doris Bačić, our Croatian goalkeeper, she's funny, she's crazy. To be honest, we are a team that likes to enjoy these moments, because having this helps to create the right atmosphere. You have to work, you have to train, but there is also a time to relax.
SK: There are various nationalities in the team, including Eni Aluko and Lianne Sanderson from England. What do they tell you about life/football in England?
CG: When a game is not going in a positive way, or a training session, we are more focused, and they are like 'come on girls, good job.' We are not used to that, so when they did something like this, we are like 'ah, wow.' That is more Lianne, because if you know Eniola, she's quieter, calmer – but in the locker room she's crazy! They told me that in England, women's football is growing a lot. They like Italy, they are happy about the choice to come here. Eniola wanted to try something different, but she loved England, she loved Chelsea; we spoke about Chelsea many times. They came here with a lot of humility and I really appreciate it, because it's a big thing.
SK: What was life like where you grew up? Was it Gavardo?
CG: I was born in Gavardo but I grew up in Novellara. Now, for example, I'm here (in Novellara) because I'm on holiday until tomorrow, when I join the national team. I like to come here after a period in Turin where you are maybe a bit stressed about football. I like to come back, I like to stay with my family, with my niece, and it helps me a lot. I started to play football against boys until 14, so I think it helps me a lot, because when you play against boys, against men, you have to do more; you have to be stronger with the mind, with the feet. I was the captain and sometimes when I come here now, I see my ex-teammates.
SK: Before getting to play professionally, did you do any other jobs?
CG: No, I started to study biotechnology at the University of Brescia. I wanted to continue but I couldn't do it because I trained in Brescia and the university was one hour away. So it was nearly impossible, because sometimes you have to be in the university to be in the laboratory, so I decided to stop. I'm a bit sad about this choice, but sometimes you have to choose what is more important for you in life.
SK: It is fair to say not everyone in Italy speaks English, but you do! Having spent your whole club career so far in Italy, that is perhaps slightly extraordinary. When did you start to learn?
CG: This is another thing that Lianne and Eniola said when they came here – 'nobody speaks English here!' I studied in school, but you don't study like the story of the language, the grammar, so maybe it was lucky that I had many teammates in Verona, in Brescia, who didn't speak Italian. So I was the one who tried to speak with them, and when you try, you make many mistakes, but you keep trying and then you learn.
SK: Do English-language TV shows, films, music help you as well?
CG: Yes, last year I started to watch Designated Survivor in English, with subtitles in Italian. I really appreciate hearing the voice, because in Italy, they always change (dub over) the original voice. When you watch it usually in Italy, it's completely different! I started to watch it and I was like 'wow.'
SK: To be with Juventus is obviously hugely significant, but is there also desire to play in a different league before the end of your career?
CG: Three years ago, four years ago, I had the chance to leave Italy. I was about to go to Germany, but then I didn't go, and I'm happy for this choice. Now, I don't know, because as you said before, I won a lot here in Italy, and maybe before I finish my career I would like to have an experience in England; now I think it's maybe the most important league in Europe. Sometimes I think about it. Now I'm playing for my favourite team in Italy, I'm treated like a professional player. I don't want to finish my career and have regrets, so sometimes I think about it. If a good opportunity arrives I will take it under consideration. To be honest, I don't know.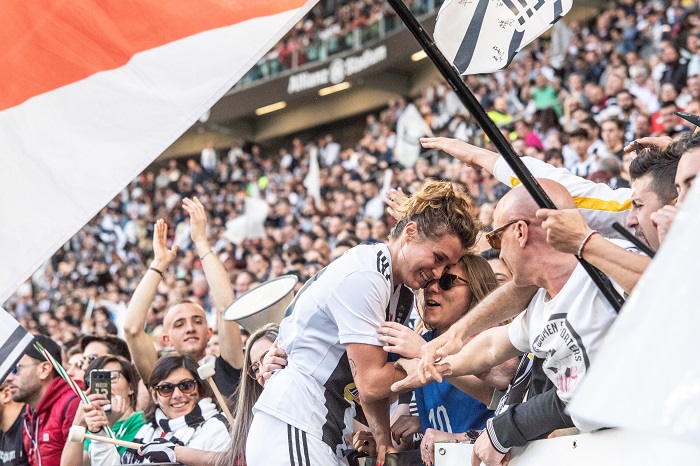 SK: Back to the World Cup, will you have family/friends coming to France to watch?
CG: Yes, my parents, friends, they have already organised the travel. Many are coming for the first game and for the last game; nobody against Jamaica, I don't know why!
SK: Other than to win the tournament, what will make you happy to know you have done this summer, when you look back one day?
CG: The dream is to win the World Cup but sometimes you have to have your feet on the floor. My goal is for the day I come back from France, on the plane, to think that I gave my all. Of course I want to play, I want to score, because when you are young, sometimes you play in the garden of your house with your friends and you dream of scoring in a World Cup. I want Italy to go far, and all my teammates want that. We will start tomorrow; some are already in Florence, but they decided to give us three days off after playing in the Italian Cup final (Juventus beat Fiorentina 2-1). I know they are already working a lot. We will make a lot of sacrifice.
SK: 29 is a funny age – you are still young but it is also a time when you perhaps reflect a lot. What have you learned from these years in football? Has it changed you from the Cristiana who was 18, 20, 23 years old?
CG: I changed my mentality. When I was 18, I was more free, because you think about taking on the world alone. I just wanted to play football; now I play football because I know it's my work and I want to do it the best I can. When I go in the locker room after training, I want to be able to say I did my best; when I was 18, it wasn't like this, I was just happy. I'm trying to give this mentality to the young players at Juventus now. They don't realise the possibilities they have; I would like to be five years younger! Now women's football in Italy is improving. I'm 29, I'm not old, of course, but sometimes I would like to have this mentality as a professional player when I was 21/22. For example, yesterday I was thinking that six years ago, I was playing in the Euros for the first time; it feels like yesterday, and then six years pass. Time flies and doesn't come back, so you have to carpe diem!
SK: Finally, are there any other interests in your life, or ways you like to spend your time?
CG: As I told you, I like to stay with my niece, because when she was born, I lived with her in the same house for a year-and-a-half. Now every time I'm in Turin, I miss her; sometimes I need to be with her. But about my interests, I like to cook, I like to go to the cinema, and to stay with my friends. Sometimes I think if I wasn't a football player, what would I be? Maybe I would like to be a chef, but to be honest, I don't like to work in a restaurant, behind a door! I just like to cook for my friends, and I like to read, and to travel. The problem of being a professional player is you don't have time!
Interview by @chris_brookes