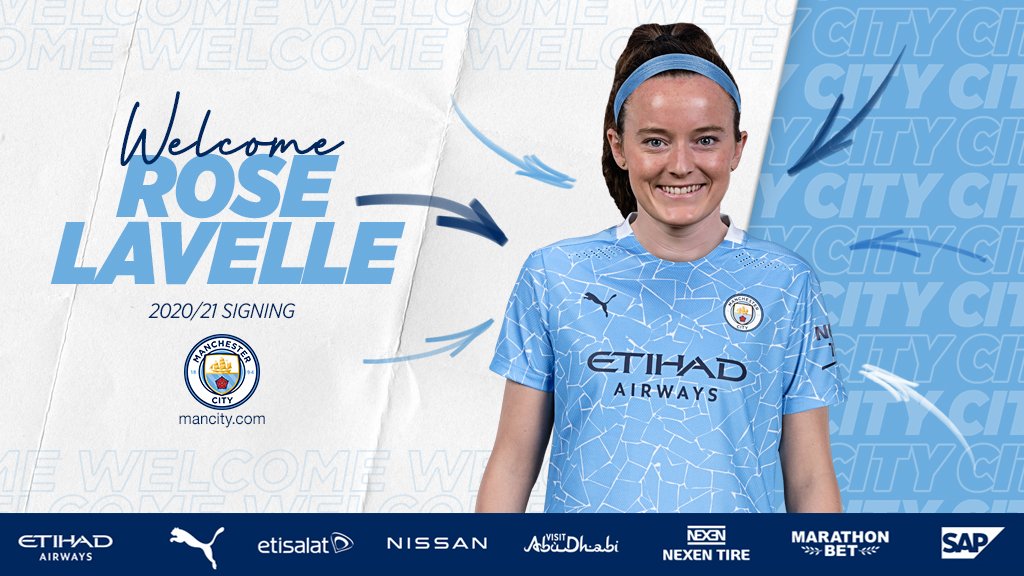 Hot on the heels of U.S. Women's National Team midfielder Sam Mewis' arrival, Manchester City this week announced the second FIFA Women's World Cup 2019™ winner to join them – Rose Lavelle. Following that announcement, midfield maestro Lavelle, 25, spoke to media this afternoon (Wednesday 19th August) from both sides of the Atlantic. She Kicks was part of the discussion with the recent Washington Spirit midfielder, scorer of the second goal in that World Cup final with the Netherlands, Bronze Ball winner at the tournament, and undoubtedly one of the most popular personalities to emerge in the women's game in recent years.
Here's what aRose (ba dum tss!) from that one…
On which of her new Manchester City teammates she's most looking forward to playing with:
Ooh, that's a tough question; there's a lot of great players on that team. I think the midfield is gonna be really fun; obviously there's Keira Walsh, Jill Scott, Caroline Weir. I think it's gonna be a really fun training environment; I think they're gonna push me and I'm excited to learn from them. So I'd say…the midfield, but then there's a lot of good forwards…I don't know, I'm excited for it all!
On how much she knows about Manchester itself:
I said this before, I honestly do not know much about the city! I know the football culture is amazing, so I'm excited to experience that, but I have a lot of exploring to do when I get there!
On the timeline of signing for City in relation to her NWSL rights being traded from Washington Spirit to Reign FC:
After the tournament (NWSL Challenge Cup), I kind of wanted to see what was going on with the NWSL, with the uncertainty. I know at some point I had wanted to go overseas, and I think given everything that's going on over here, it seems like the right time to go. I don't know when I'm gonna come back to the NWSL; I hoped when I did that it would be with the Spirit, but I obviously know that coming overseas without a definitive timeline of when I'll be back, put that in a difficult position. I understand the business side of it and why they wanted to trade my rights, it makes sense. I had to do what was best for me and I know they had to do what they thought was best for them. So yeah, (Spirit head coach) Richie (Burke) gave me a call and let me know that they were trading my rights to the Reign, and I thanked him for everything and left on good terms. I have nothing but great things to say about the Spirit; obviously sad to end that chapter. Reign's a great club, so whenever I come back, I'll be in good hands, but right now I'm gonna focus on this new, exciting adventure I have going.
On how soon she'll be with the City team, plus conversations so far with head coach Gareth Taylor:
I'm gonna be heading over there soon and then I'll have a little bit of a quarantine period, but then after that, if all goes well, I should hopefully be hopping into the team. I talked to Gareth and I think the conversations we had were just about how they wanted to play, how the girls are and how he saw me fitting into that whole equation. He was just somebody I felt like I could develop under, I was gonna learn from, and he was gonna push me to reach my potential and get better, so I'm excited to play under him.
On the prospect of playing in the Champions League:
I feel like growing up and watching the Champions League, I never imagined that I could be potentially playing in it myself. When the opportunity presented itself, I obviously was really excited. That's a huge, huge tournament, so to be able to play in it, and potentially win it would be incredible.
On conversations with USWNT coach Vlatko Andonovski about moving to England, in relation to her national team involvement:
Yeah, I obviously had let them know that I was thinking about going overseas, and they were supportive of me either way. It was kind of my decision to make; if I stayed in the NWSL, great, if I went over, great. Obviously with (national team) camps, I'm available when needed, if I get called up, and I think Sam (Mewis) said it best: if I wasn't ready to take on that challenge, I wouldn't have signed with Man City. But all the conversations have been good; they were supportive of whatever way I went and willing to kind of work with me on it.
On whether her English Bulldog, Wilma Jean, was particularly supportive of her moving to England!
Oh man, I don't think she knows I'm going yet. When she sees all the bags packed she's gonna get really sad, but I know she'll be supportive. I'll send her pictures of all the bulldogs I meet and I'll be tuning into my little pet cam and shooting her treats out overseas.
Congrats to Wilma for being voted the unanimous Dog of the Decade by me myself and I. She would like to thank everyone who helped make this possible pic.twitter.com/xg8yVcs1N2

— Rose Lavelle (@roselavelle) December 31, 2019
On how much she has reflected in recent months on the part she can personally play in speaking out and pushing for better in society (a follow-on from her social media post on racism and inequality in June):
Yeah, I think I summed it up in that post. I've never really been one to speak out; I don't know, I just wasn't. I don't think I really realised the kind of platform that I had and that I needed to use, but I think I just saw it as a moment that I need to stop sitting back and being quiet and complacent in all this. I think I have a lot of really good people to look up to; Pinoe (Megan Rapinoe) I think is great, she's always using her voice in such a powerful way and I think she's a great mentor to learn from. I think I saw all that she was doing and I was like 'I need to do my part, and stop just sitting back and watching this all happen and not helping in any way.' I still obviously have a lot to learn, but I think it's a role that I'm gonna continue to grow in, but I do wanna help make better for everybody else.