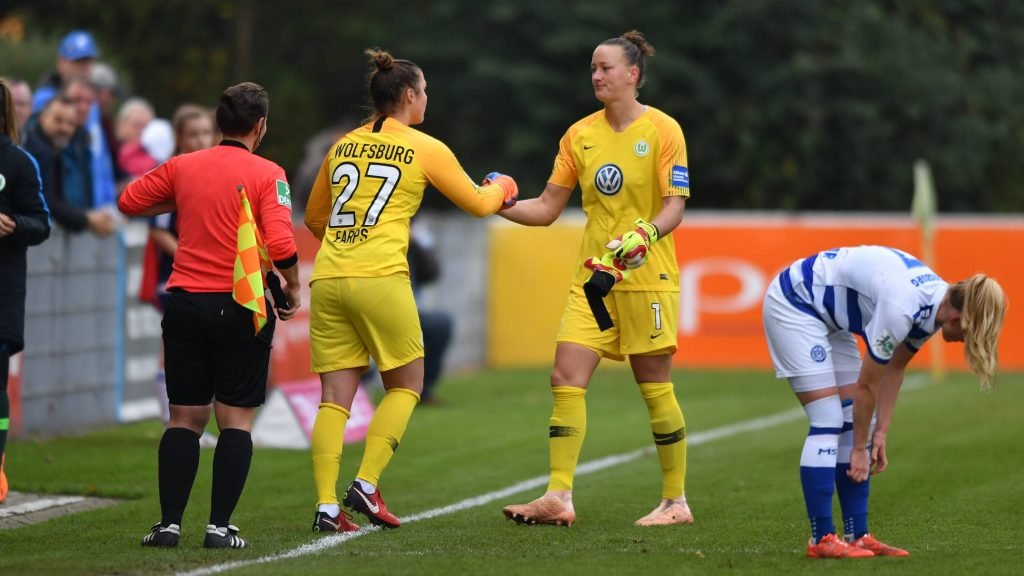 Mary Earps (25) made the switch to join the German league and cup double winners VfL Wolfsburg ahead of the 2018/19 season, ready to practise with the best and compete with Germany's no.1 Almuth Schult for a starting spot in the side. Despite impressing in Lionesses friendlies in the autumn and also with the way her all-round game is developing due to high-level and intense training with last season's Champions League finalists, opportunities between the sticks with Die Wölfinnen have been limited.
With Schult side-lined due to measles, Earps is set to start in the top of the table clash today, as they travel to play title rivals Bayern Munich in the Allianz Frauen-Bundesliga [💻: WATCH LIVE HERE, FROM 2pm UK TIME]. She talked with Jasmina Schweimler…
SK: The two best teams in Germany face each other today and you are now the number one in goal. How does that feel?
ME: This is a super competitive game and a big game on the top of the table. Emotions-wise it's just excitement for me. If you could put into words, "why did you join Wolfsburg?" It was to play in games like this. I just want to do whatever I can to help the team win. I just want to go and hope we put up a great performance to take the three points home. But I think it's going to be a different game compared to the first where we beat them 6-0. We had a really great day, and they didn't. But it will be way more competitive this time, I believe. But as long as we win, I'm happy.
SK: You have made an appearance in the league once so far and in the DFB Pokal (German Cup) twice. With Almuth Schult being out due to illness you will get more playing time now. But is that really enough?
ME: I obviously signed a one-year-contract, which runs out this summer. But I honestly haven't really thought so much about much beyond that because for me I knew that one year was going to be a huge learning experience already. I would see how the season went. You don't know what's going to happen. I wanted to come here, work hard and show what I'm about. So hopefully by the time my contract ends the staff know what I can do. But of course, I'm a goalkeeper that wants to play.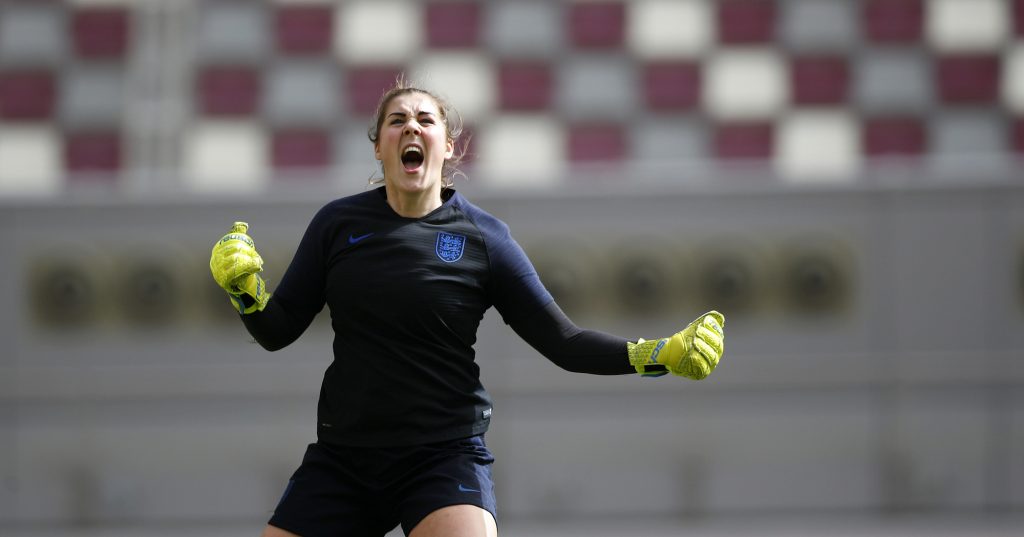 SK: Why did you choose the Frauen-Bundesliga?
ME: I played in the English league since it started, when I was 17. I really enjoyed it and played for a number of teams. I always wanted to play, that's why I kept moving around so much. And then when I played for Bristol Academy, we faced 1. FFC Frankfurt in the quarter final of the Women's Champions League and I was blown away by the standard, the style. My parents came out to watch the game and we got beaten heavily over both legs, but I still had a great time. I liked to challenge myself against some incredible players and to experience a quarter final in the Champions League. But I remember my parents coming to watch the game and they tell me that I have those moments, that when I see something and want it, they say there's a light in my eyes. And my dad said I had that two times in my career. The first time was when I first started training with Leanne Hall [now Arsenal Women's GK coach]. She showed me a new standard of training and a new standard of goalkeeping. And the second time was when we played against Frankfurt and when I saw how organised they were, the style of play, the quality and caliber of players they could attract: their technique, tactics, everything. I knew I wanted to play in Germany someday.
SK: And then VfL Wolfsburg came knocking on the door?
ME: When this opportunity came up to play for the best German team, I was like: "Wow!" I really had to think about it because I knew the situation coming here. I wanted a real, open and honest conversation from the staff here. "When am I going to play?" etc. I mean, you can never guarantee these things because you never know when injury and illness are going to happen but we agreed on certain things like that I can train extra with the goalkeeper coach, so that was great. I also play with the U23 team sometimes, so I do get some minutes and that was really important for me. I knew that I was coming into a world-class environment, training with some of the best players in the world. To challenge myself every day, that excited me so much that I felt that this was the next step in my career and I couldn't be happier.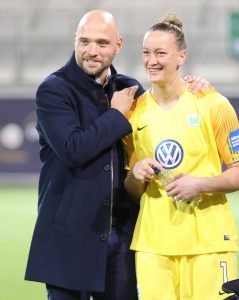 SK: How would you describe your relationship with Almuth Schult?
ME: We have a good relationship, it's really competitive. We both want to win, we both work very hard, we talk about goalkeeper stuff, the way she does things, the way I do things. We both try to learn from each other. I think that's super important, it's a healthy, competitive relationship because it's really hard when only one goalkeeper plays. I've been in situations before where it's really frosty, so I'm glad we can work together and push each other to make us both better.
SK: As soon as you joined the club you were out to what was termed a 'fatigue fracture'…
ME: It was frustrating because I felt fine. It was more of a precautionary measure. It was an older injury but nobody knew how old it really was. I've probably played with it for years. But that's one thing I really like about Germany, they are really organised. Every situation is handled with a certain caution. But the time also helped me get to know the team a little bit better. It allowed me to get a feeling for the city and everything. I had more time to process everything since this was also the first time I moved to a whole new country.
SK: What would you say is the biggest difference between German and English women's football?
ME: In the Frauen-Bundesliga it feels like everybody wants to play, which isn't always the case in England. In England it's super physical and competitive. The Bundesliga is also super competitive but not as physical but whether you play a team from the top or bottom, every team has their own style of play. Everybody wants to have possession whereas in England possession isn't as important. You play some of the lower teams and then it becomes a real fight and long ball game. I'm not saying that means one is better than the other, I just think that's the main difference that I found. It's competitive in different ways. In England there's this old stereotype that English teams love to go direct, which isn't always the case, though sometimes when you play the bottom teams that's what it becomes because maybe technically they can't compete as well. So their game plan is to be destructive and grab points however they can. It's not like that in Germany. I'm really impressed with the tactics here.
SK: What was toughest: the transition sporting-wise or the switch between driving on the right rather than the left?
ME: At first I had to adjust. The speed limits, oh my goodness. Sometimes I still get it wrong.
SK: Got a ticket yet?
ME: Oh yeah! [laughs] A lot…
SK: In England it seems that big clubs keep investing more and more money into women's football and some teams use the training facilities of the men's team. Besides the financial factors this makes England a lot more attractive for international players…
ME: I can't talk on behalf of every club in England or Germany, but what I can say is that some clubs in England have access to the men's facilities but not all. Of course that's fantastic. But I know the clubs that I was at didn't have that. I think it depends on what you define 'professionalism' to be. In England there are clubs that don't have access to the men's facilities but still work incredibly professionally. Or for example, it can be like: you can use the men's facilities only between 8 and 8:30 am when the men are not there, so that is a common misconception. Or when you cross over with the men. Over here in Wolfsburg I haven't experienced that even when I used the VfL academy. The facilities there are incredible. But for me it's about what works for the club. We have an incredible training facility, our own changing room where we can leave our things. It's really big and not cramped. We have what we need. We have our own stadium and quite a lot of fans come to watch. I've never played in front of so many people all the time. The attendances over here are much more consistent. The fans are all great, the stadiums are incredible.
SK: We also start talking more about money in women's football now. Is that a good thing?
ME: The English league is growing all the time. I can only speak about what's best for me. I turned opportunities down because I didn't feel like it was the best fit for me. Does that mean the club or situation are bad? Absolutely not! It just means for me it didn't fit at that time. With Wolfsburg it felt like it was the best move I could make at the time. It excited me so much and it was something I've wanted to do for years. On the other side other players will move on to other things, but that doesn't mean they are wrong or I am right, or they are moving to something better. It means they are moving to something that's better for them.
That's an understanding thing for all women's football, because I always see comments like: 'why did she move there?' It's fine if you don't understand. Whatever is the best thing for you, I support it. That's the key thing. In general there's a transition happening in women's football. Things keep changing, players keep moving, thing's are happening. But that's exactly what we wanted, right? We wanted all this change. We wanted investors to come in and back us, we wanted sponsors, commercial deals, television deals. We want to raise the profile of the women's game. We want more young women to come in and make this a career. We want girls to be able to commit to this full-time and I'm grateful I'm in a position to do this.
SK: Is the Frauen-Bundesliga still the best league in the world?
ME: For me personally, I would say yes. But you might say I'm a bit biased and I'll take that. If you ask Lucy Bronze, she'll probably say it's France. If you ask Toni Duggan, she goes with Spain and for the players in England it's the league there. In our opinion we're all the best [laughs].