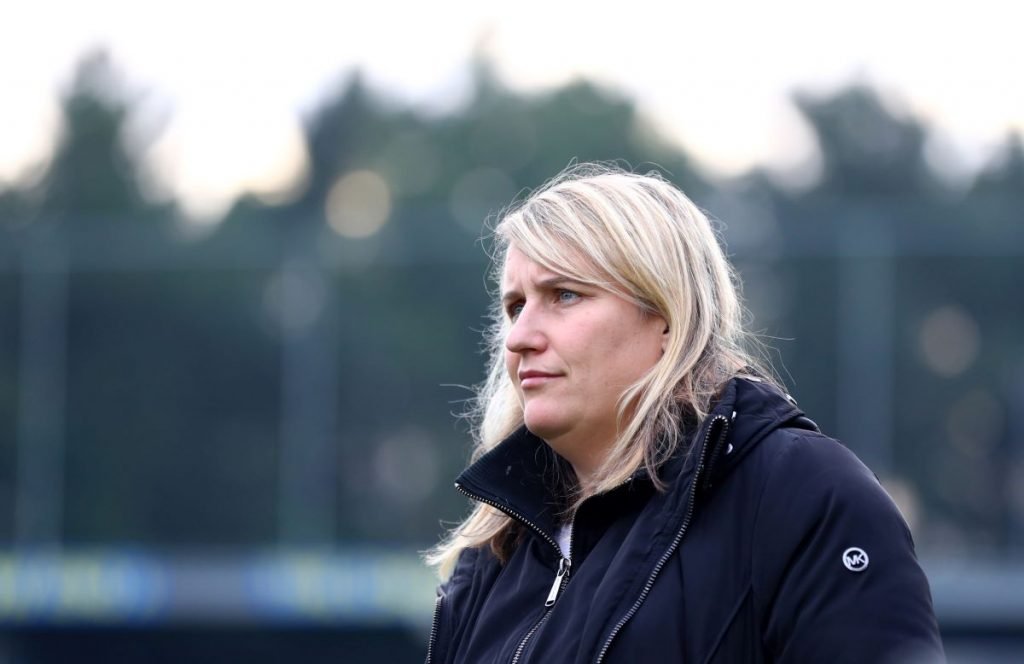 While football and life as we know it are taking an intermission, the She Kicks show must go on; reworked and re-jigged, but the same backstage crew and the women's football plotline we all love. We have one of our recent big-name interviews to share with you here.
The only unbeaten side in this season's Barclays FA Women's Super League, Chelsea's title prospects are in their own hands, with the Blues a point behind leaders Manchester City, with a game in hand and having already played City and third-place Arsenal twice. Quarter-finalists in the Women's FA Cup, a domestic treble remains on for the recent Continental Cup winners.
Top scorers in the division (47 in 15 games) by seven goals, the New Year saw them welcome Sam Kerr. The Aussie striking sensation has formed a fearsome link-up with Beth England, and the Lionesses forward has only continued her red-hot (blue-hot…) streak since. Then there's the form of Norwegian maestro Guro Reiten in her debut season, the ever-productive Ji So-yun, the continuing progression of players like Erin Cuthbert, and more. Manager Emma Hayes MBE certainly doesn't have to look far for the beacons of encouragement, as the Blues bid to return to UEFA Women's Champions League action next season after an unwelcome year away.
Named the league's Manager of the Month three times this season, Hayes continues to be at the forefront of the conversations on driving the women's game forward. Here's an extended version of her interview in our recent Issue 58 (January 2020), in Q&A format, as she reflects on a seven-year Chelsea tenure of unprecedented progression for the club. She discusses her coaching style, recruitment, motherhood, the 'alien' feeling of stepping into mainstream punditry, bridging the FA WSL's resource gap, super Scandis, and more still…
SK: We've got used to Chelsea as a leading contender but it's easy to forget the club were nowhere near the title in the first three WSL seasons (Emma took over for the latter of those). The club was also unrecognisable overall to what we see now. Looking back on the progression of your Chelsea over these first seven years, what stands out to you most?
EH: Well, one that I'm still in the job! I think the fact that the team's been competitive every year. I think there's been stability in the team, even when there's been an evolution of players. The playing style always evolved, but I'd like to think our teams have a really strong spine, with good balance of robustness but creativity.
SK: Becoming a parent in the last couple of years, how is the balance with it all currently? Can we say it's even made you a better coach?
EH: I think it's made me a better coach. I think the players see a softer side to me. I get the balance knowing if I struggle and I haven't seen a lot of Harry, then I either bring him to work with me or take him away, knowing that he's an integral part of the team, as well as my life. I think the balance is that I have to be honest with what my needs are when they come; some weeks are busier than others, but I know what I need and I make sure I look after that.
SK: How do you approach having a strong bond with the players but also ensuring they don't step outside of/fall short of the standards?
EH: Yeah, you've got to be consistent; you can't have double standards. You've always got to self-reflect, always got to look into yourself first for your own behaviours, and as long as that self-awareness is there, then you're able to master both.
SK: Beth England has been in magnificent form for you, but she admits it hit her quite hard when she left for Liverpool on loan (in 2017/18). Do you see a big difference when you compare Beth before she went on that loan, to what you see now?
EH: Beth needed to develop some resilience, and she did that with rejection, and a loan move. That whole process gave her what she needed, because the talent was there. Hardships are good for players. Diverse journeys are absolutely necessary.
SK: The divide between clubs in the WSL who have strong resources and those who are some way behind is an increasingly relevant topic. You've spoken previously about how you believe the top teams strengthening can actually filter down to the lower teams. Alongside winning for Chelsea, how much responsibility do you feel upon yourself to offer potential solutions for the rest of the league?
EH: I have done ever since I've worked in this game. I've been an integral part of driving not just those standards on the pitch, but I do that because I know that by improving the product on the pitch, that is what will turn women's football into a business, i.e. the trickle-down effect from commercial and broadcasting. You can't do that if the product isn't good enough, and no doubt there's casualties that come with that, but it's not about leaving anyone behind, it's being able to say that it's the top players and the top teams that are gonna drive interest to the sport from those broadcasters and those commercial partners. It's important that we create a trickle effect so that especially the smaller clubs benefit from that. That's my objective.
SK: In terms of that trickle-down effect, how do you see that working in practice?
EH: I think we have to realise our sport is still very much in its infancy, but if Chelsea are bringing the likes of Sam Kerr to the league, that in turn is driving an Opta sponsorship for a broadcasting arrangement from The FA, and its partnership with Barclaycard that is gonna create revenues for clubs. However, everybody has to accept that if we want to move to a full professional entity then it is gonna be painful. It's not an easy process and one where everybody is going to be happy with that. I'm just a real advocate of pushing the governing body or the league to continue to find ways to trickle that money down to the clubs, and I think we're at the beginning stages of that.
SK: An especially crucial question…can you have too many Scandinavians in the team?!
EH: Never! I have a blonde child now and I think all the girls think he's Scandinavian. I enjoy working with Scandinavian players; they're extremely professional. I think they've been a great influence on our English players and they have settled so well at Chelsea. I think I probably need to get a Danish one next!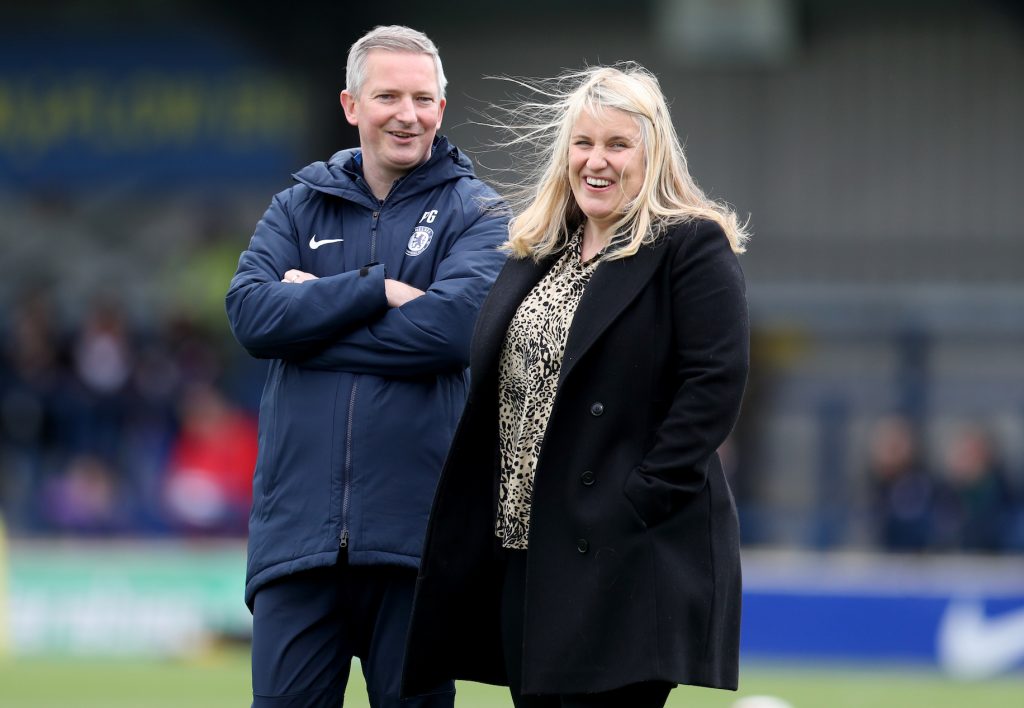 SK: On that subject of recruitment, what is the typical groundwork that goes into the club making a new signing?
EH: Our staff will be scouting potential players, along with myself and (assistant) Paul Green, and it's him and I that drive the recruitment process from start to finish, in terms of going to see the player live, probably over seven times before we make a final decision on anyone.
SK: How do you approach managing the players who are in the squad but outside the current group of regular starters? Keeping them engaged, getting a handle on how they're feeling etc.
EH: I think it's a challenge for every coach to manage a squad, because ultimately, every week, only 11 players are happy. Communication is key to that, and an acceptance that a player might not be happy if they're out of the team, but as long as they've got clarity, and constant feedback and training objectives, and monitoring, then you can manage it. I think one of the things I've found to be successful is that every player in the squad has a weekly meeting with a member of staff. Regardless of whether you're starting or not, we're constantly developing that player and making sure they've got the platform to communicate, because they don't always wanna do that to the manager, because sometimes the manager's not gonna tell them what they wanna hear. That's where the assistants are so crucial in a squad game.
SK: As a student of the game, who have you been learning from lately?
EH: Everyone. I've been reflective of (head coach/president of the NBA's San Antonio Spurs) Gregg Popovich; I range across sports, there's different things I learn. For me, it's not about mirroring or replicating other people's work, it's about looking across the spectrum and seeing what best pieces or practices I can take to apply in our own setting. That varies even from one profession to the next.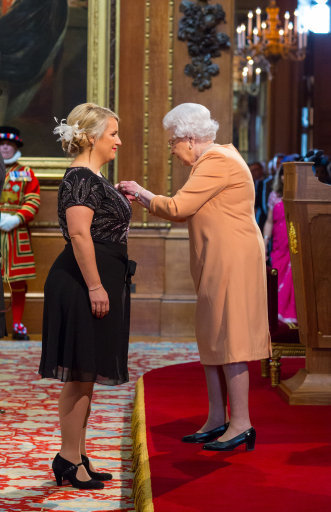 SK: Having reached semi-finals yourself in recent seasons, what do you think it will take for an English side to win the Champions League, and ultimately, wrestle that dominance away from Lyon?
EH: Well, I think first of all, (Lyon) have got much more experience in the competition than Chelsea; we're relative newcomers to Champions League football, and I think that in itself takes time. I think you need to experience it yourself a few times first to really see where that different level is. I am certain that defensively you have to be good enough to stay in the competition at the latter stages, because the top teams have top forwards and top midfield players. I think as long as our league keeps progressing the way that it is, our teams will be more ready for it, and I think the changing in guard is getting ever closer. A missed penalty, in all fairness, has seen Lyon progress to the final (over Chelsea in 2019), and no other team has really taken them that far. I think that will be pushed again, even by Arsenal this year, who have got a great opportunity to progress. I'd say it's not as far away as people think. The players as well are no longer always choosing those clubs. You're getting the top talent coming to England now, whereas Wolfsburg and Lyon used to proliferate all of the talent, stack it up, but I think it's being shared around smaller clubs around the world now.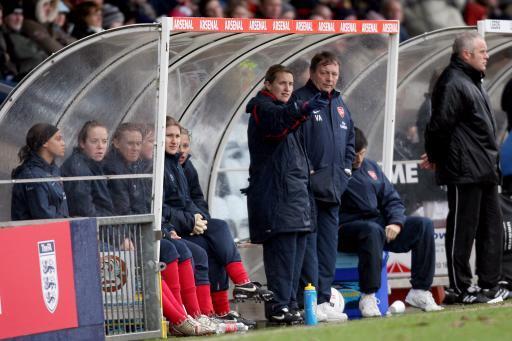 SK: There have been a number of overseas players at Chelsea who've come in and played a part during your time in charge. Sam Kerr is obviously a headline-grabbing one just lately, but Ramona Bachmann was a high-profile international addition, and is now three years in at the club. She's always been capable of lighting up a game, but what have you seen from her in terms of development overall in these years?
EH: Ramona is a wonderful person, who has abilities on the ball that can be devastating. She's had to adjust to the physical side to the league in England; you get less time on the ball, less space, so you've got to make quicker decisions. I think she's responded so well from not being a regular starter last year and has developed a bigger resilience and a stronger mindset to produce performances that have earned her the plaudits. She's very coachable and constantly seeks feedback about how she can keep progressing her game.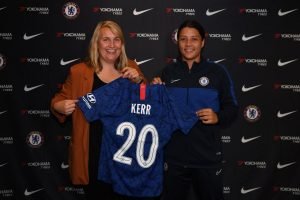 SK: A player who doesn't get the limelight but is hugely rated by her teammates is Drew Spence. What is she like to work with? 
EH: I'm extremely proud of Drew, for everything's she's battled through in her career to constantly fight and stay at the top end. We often say in our environment that no matter who we bring in, Drew will find a way; that's what she has in her. She's got a resilience, she's got a football intelligence, she's got a heart of gold. Unfortunately, she's a big Gooner, and that lets her down a little! I agree with what everybody says; Drew is so impactful to the Chelsea squad that I've enjoyed coaching every minute with her.
SK: In your media work, you've been part of programmes like The Debate and Gillette Soccer Special on Sky Sports in recent times. Has that all felt very natural? How do the nerves compare to big games with Chelsea, for example?
EH: I wouldn't say nerves, it's just awkward. It's a very strange thing, it's alien to me. I'm used to coaching teams, so it's a different skill set, but I do think having done ten years of commentary, that has probably readied me for it. It's certainly a different feeling, but I also look at it as another opportunity to work on improving my communication, so I take it as another learning step to making me a better coach.
SK: We've been looking back over the past decade for the women's game, are there any major moments that particularly stand out for you?
EH: Definitely 2012 Olympics; I think it was the starting point. First FA Cup win at Wembley (Chelsea v Notts County, 2015), the first time it had been at Wembley. This last World Cup, and definitely England versus Germany at Wembley is another milestone for the women's game.
Coach Kicks Q&A:
SK: What is your favourite session to deliver and why?
EH: 'Herman the German' – it's a transition game and it's been a religion at Chelsea for every match day minus one. It's one I have adapted from a very similar three-team possession game.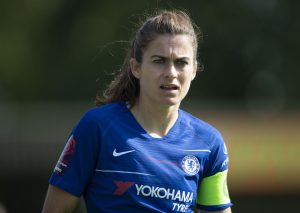 SK: Which player has made the biggest or most immediate impression on you in your coaching career and why?
EH: Karen Carney. I knew she'd be in my life for the rest of my life. Amazing human being.
SK: Is your car, house or office full of footballs, bibs and cones?
EH: No – those days are long gone!
SK: What do your players moan about the most?
EH: Having to stay in beyond lunchtime.
SK: Do you ever join in, in training?
EH: I'm just grateful to get out of bed and walk; I can't play football any more.
SK: The best coaches are always learning, what has been the latest lesson you have learned?
EH: I learned that the most important thing with communication is listening.
SK: Which coaching book, manual, website, resource or tool do you most value and why?
EH: Raymond Verheijen Football Periodisation.
SK: Do you have a favourite motivational line?
EH: What got us here won't get us there.
SK: Do you repeat something A LOT?
EH: You'll have to ask the players! I'll always focus on standards, and those standards have been developed in-house, so the players know what they are.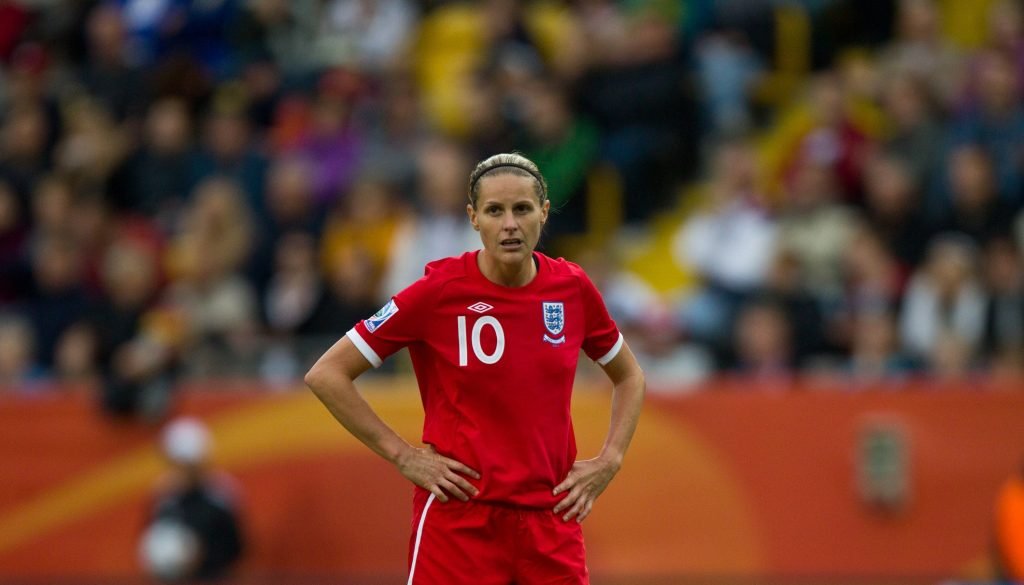 SK: If you could have any player in your side, who would it be and why?
EH: Well, for me, it's Kelly Smith.
SK: What advice would you give to an aspiring/new coach?
EH: Make as many mistakes as you can.
Interview by @chris_brookes