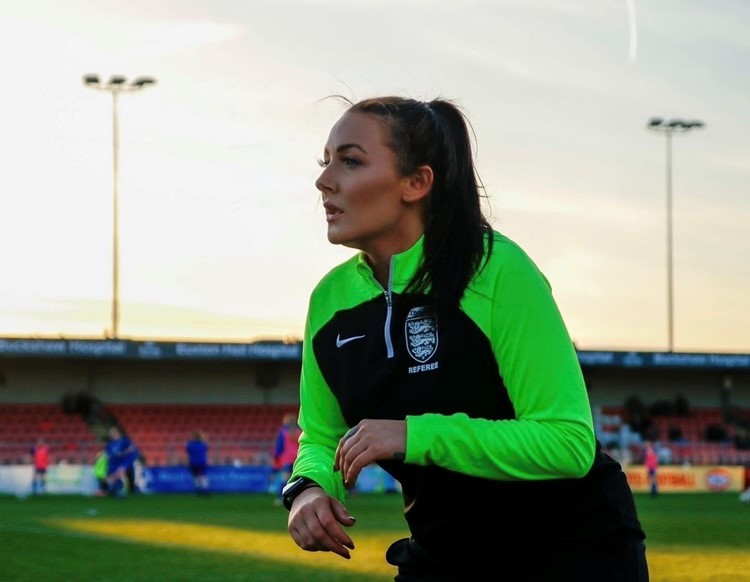 Highly-rated referee Chelsea Hodgson will take charge of this weekend's historic clash between Accrington Stanley Women and Isle of Man WNT at The Wham Stadium.
Chelsea will referee her 15th cup final this year despite it only being her fifth season, while she has also recently been voted Senior Referee of the Year for the West Lancashire League.
Her remarkable rise in the game has also seen her previously win female official of the season, while she has also had the opportunity to take charge of England U17s v Norway U17s, as well as being involved in other international games and various charity matches.
Based in Hyndburn, Chelsea is also a level five official in the men's game, having worked her way up the ladder from being a lineswoman for three seasons in the North West Counties divisions, and now targeting the English Football League.
On becoming a referee, Chelsea said: "I started my refereeing career through wanting to see a different perspective in football.
"Back in 2018 I was playing football, as well as having tried bits of coaching, and I thought it would go hand in hand skills wise, to support my teaching career.
"Originally I started out refereeing thinking I would be doing junior grassroots games and that would be me. However, I quickly had a lot of people starting to believe in me and who wanted to push me further, which I am extremely grateful for!
"With this, I started to officiate in women's football at county level. I worked my way up to National level, which is what I am now – this is known as 3W on the women's pathway. I hope that I will be in the Championship soon and progressing on into the WSL and FIFA."
Accrington Stanley Women are delighted to welcome Chelsea to officiate their historic game at The Wham Stadium, which kicks off at 3pm on Sunday 30 April, with free entry for all.
From 2pm the club will celebrate the success of Accrington Stanley Women with a pitchside parade, which will see players from throughout the club's different age groups take part in the spectacle.
There will also be half-time entertainment featuring a crossbar challenge, sponsored by Sundown Solutions, headed up by Strongman Mark Felix, who will attempt to hit the crossbar to win £10,000 towards a new minibus for Accrington Stanley Women.
VIP hospitality is also available for the game, including a sit down meal and presentations from Chelsea, as well as sports psychologist for Blackburn Rovers Ladies Jack Blake, and nutritionist for the Lionesses, Louise Bloor.
On Chelsea's appointment for the game, Accrington Stanley Women's Chair, Sami Smithson, commented: "We are absolutely thrilled that Chelsea is taking charge of this game, she really is a local legend, who will go very far in the game for both the mens and womens.
"Not only is Chelsea great at what she does, but she is also very engaging with young people and she is a fantastic ambassador for our game."