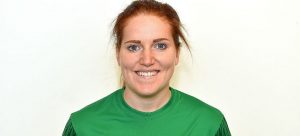 Danielle Gibbons say she has decided to take a step back from being a WSL keeper in order to focus on another passion of hers.
Gibbons, who has challenged England international Siobhan Chamberlain for the Reds' No.1 spot over the past 18 months, joined the club from Preston North End in 2011.
Manager Scott Rogers told liverpoolfc.com: "Danielle is a fantastic professional as well as a fantastic goalkeeper. She has really tested Siobhan since I have been in charge but we both feel as though it is time for Danielle to be playing week in, week out.
"Danielle has represented England at U-23 and U-19 level as well as being called up to train with the senior squad, which proves her undoubted quality. The way that Danielle recovered from a serious brain tumour in 2015 shows her level of determination and I am sure that she will have a successful career with her next club."
Gibbons said in a statement: 'I have spent the last few weeks deliberating what's the best decision for my career and I've decided to take a step back and put my focus into another passion I have for the time being
'I have an incredible opportunity and I want to grab it with both hands'.