With their 13-0 opening win over Thailand attracting various headlines, the United States took care of business again as they met Chile in the Parc des Princes in game two. La Roja's Christiane Endler was in inspired form between the posts again, but Carli Lloyd (2) and Julie Ertz did sufficient damage in the first half. Lloyd later dragged a penalty (controversially awarded after a VAR review) wide, while Chile had been somewhat debatably denied a goal themselves with the score at 1-0.
The reigning champions take on Sweden in an exciting final group game, but before all that, here was the post-match reaction from goalkeeper Alyssa Naeher and midfielder Morgan Brian.
Alyssa Naeher
On the techniques she uses to stay switched on in games like this where she is largely a spectator:
I think the biggest thing is constant communication. Staying connected with the backline, communicating with them; that's the best way to kind of stay engaged. Always making sure I'm an outlet and option if needed, and just staying switched on is the best way to do it.
On any differences being around the national team when the real business of a World Cup begins:
No I think everybody's just focused, one thing at a time. All our focus was on Thailand and we were happy with the result there, and then switched focus to a good Chile team. Now we'll enjoy tonight and switch gears and start getting ready for Sweden, when we go again on Thursday.
On whether she has prepared or thought differently this time around compared to 2015, when she was a squad player rather than starter:
No, I don't think so. I think just the biggest thing I learned is taking one game at a time. It's really easy to start looking down the road, but the focus is on each game. Our focus is now on Sweden; we want three points, we want nine points in the group and then we'll switch gears to whoever we'll face in the round of 16.
On how deeply she'll study individual opponents and traits they have, before she is set to face them:
A little bit here and there. Obviously we watch a lot of games, and just familiarising myself with different players and styles that the teams play, but I think the biggest thing for me is just staying focused, staying sharp and controlling my preparation and mentality going into it. Then kind of letting just instincts and things take over from there.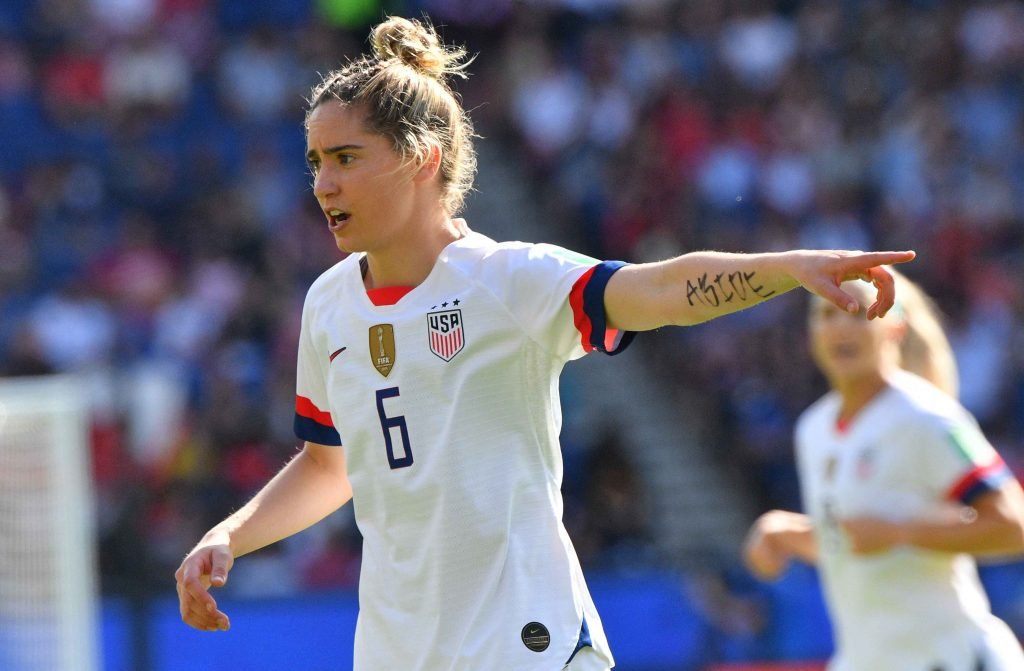 Morgan Brian
On her mindset going into this tournament (extra fired up, content?):
Well I definitely don't think I'm content, but I think obviously it's been a long road for me. I'm here to play whatever role's asked of me and to do it to 100 percent. I've got to mentally prepare myself to do whatever's asked and I think that's kind of where I'm at.
On how she feels compared to 2015 – a different player/person now?
Yeah, I mean I was the youngest player in the (U.S. team) in the last World Cup, so I think I'm more experienced now. I've been through a lot, I have a very different perspective on life. I've been through a lot of battles in the past four years, so I think that that's made me stronger, and I think it's given me a different perspective on football. For me, it's just exciting to be here and to play in a second World Cup. I don't think it's ever anything you take for granted, because playing in one World Cup is amazing, but to play in two is pretty great.
On her mindset for the Chile match after having played so little in 2019:
It's hard, but that's part of the job to be able to mentally prepare myself to go in and play a lot of minutes especially when I haven't played that much this year.  But I think it's soccer and so I try and step across the white line and play the way I know how to play and bring my confidence and help the team in the best way possible.
On the match:
I enjoyed it. It's always awesome to put on the red, white and blue and play for your country, I never take that granted, the past two years it's been a rollercoaster for me and so to be able to play in front of a crowd like that in a World Cup and help the team win, it's awesome.
On a more frustrating second half:
We created a lot of chances and the goalkeeper made some world class saves. We knew she was a great goalkeeper going in and we're happy we're creating those chances, now can we finish them? That's important going into the next game against Sweden.
On Sweden:
We're excited about it. We keep focusing on one game at a time and that's Sweden and we've to try and put our best foot forward every time we step on the field.