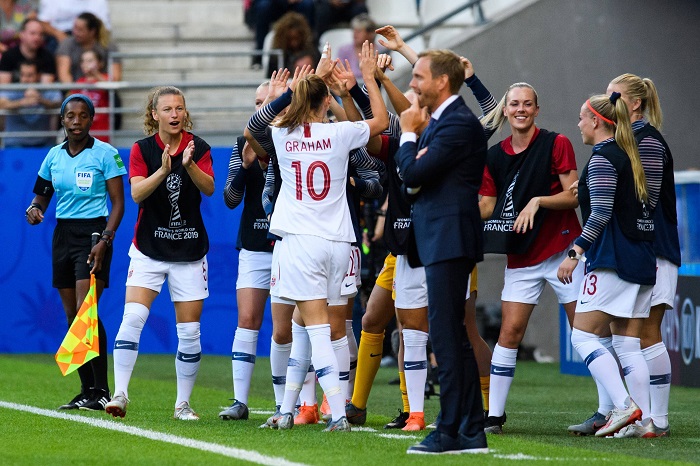 It was a night in Reims in which Norway were celebrating their safe passage through to the FIFA Women's World Cup last 16. The 2-1 victory over South Korea sparked a mixture of joy and relief for Martin Sjögren's team, but also an anxious wait now to see if attacking star Caroline Graham Hansen – scorer of the first of Norway's two penalties – will be able to recover from a foot/ankle injury that left her leaving the stadium on crutches.
Here were the post-match thoughts of several from the Norwegian camp…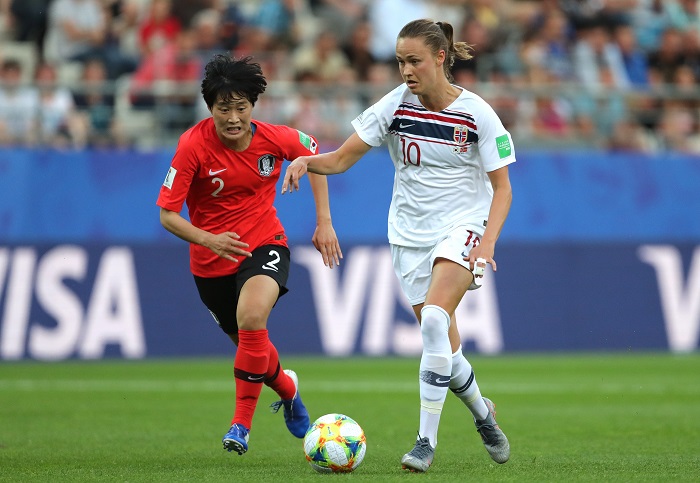 Caroline Graham Hansen
On how her ankle is after she was forced off with the injury:
I don't know, we have to see, but the medical staff are positive. I just have to rely on them until we take pictures and see if something is wrong.
On the satisfaction of making the knockout round:
It means a lot, we have been in an uphill kind of fight with ourselves since the really bad Euros performance we had. Today we qualify for the last 16, and we are just really happy that we are one step closer to our goal, and that we have kind of proven everybody wrong, because after the draw we kind of got the hardest group we could, on paper, in terms of the FIFA ranking. It's just a good feeling to stand here and show that we are a good team, and even though we don't make our best performance today, we show that we also can win football matches on bad days.
On her emotions at present – relief for the team but also really hoping for some positive news on a personal level?
I'm just really, really happy. I said to all the players that are on the bench, and have been on the bench most of the tournament, 'respect to you guys, because it's really, really hard to sit on the bench and not be out there, and not to run for your teammates.' To see they are struggling and you can't do anything else but push positive words out. I just said big respect to them, because they do a great job, and this is terrible, to sit and watch.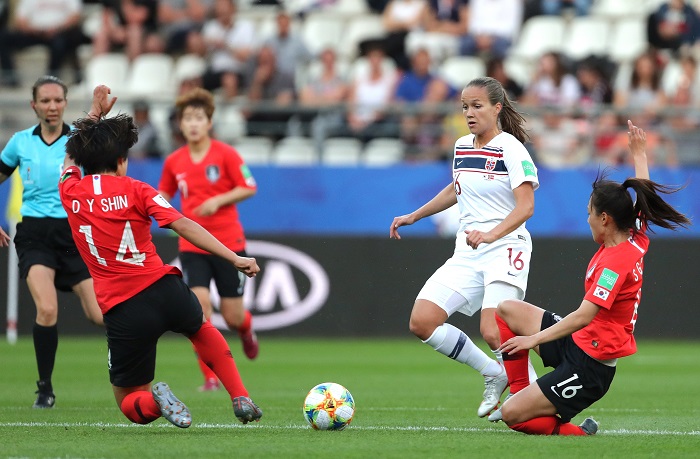 Guro Reiten
On how happy she has been with the performances so far:
I'm happy with the first two games; I think we played well and the way that we wanted. Today was a very tough game for us; South Korea is a great team, they have technique and skills. Today it felt like there were three of them around one of us. It's all about scoring the most goals, and we did, so we're through to the next round and that's all that matters.
On how the experience has been for her at her first World Cup (though not her first major tournament). Has she got on with concentrating on the games, or also stopped to enjoy everything around it:
You have to enjoy it, you know? You train every day to play tournaments like this. It's a World Cup, it's my first time, I have to enjoy it with a smile and try not to be so nervous that I ruin the experience. I think I managed to do that.
On who has kept the fun side going for her, and if she has a roommate:
Yeah, Lisa-Marie (Utland), she's my roommate. We've been sharing a room for many years; we played together during SK Trondheims-Ørn. We know each other, we know when we wanna have fun, and when to relax and when to be quiet! We sleep a lot, but we also watch movies.
On whether she has been making any small preparations for her upcoming move to Chelsea during her free time at this tournament:
(Laughs) I have to practice my English. I've been trying to get an apartment, and that's very important, so I think that's about to be done, but I haven't been doing anything more than that. I have to be focused on the World Cup.
On how much of a contender for the tournament she thinks Norway are at this point:
I think we are well prepared for this World Cup. We played France, but it's the biggest favourite, and we did very well. I think we deserved a point in that game. We proved that anything is possible and we keep on fighting.
On whether the team have used the feeling of injustice against them for France's winning penalty as an extra spark, or decided to leave it behind and move on:
I mean…I don't think it's a penalty! (Laughs) If someone uses it as motivation, okay, fine, but we've proven that we can play very well against a great team like France. That's the important thing.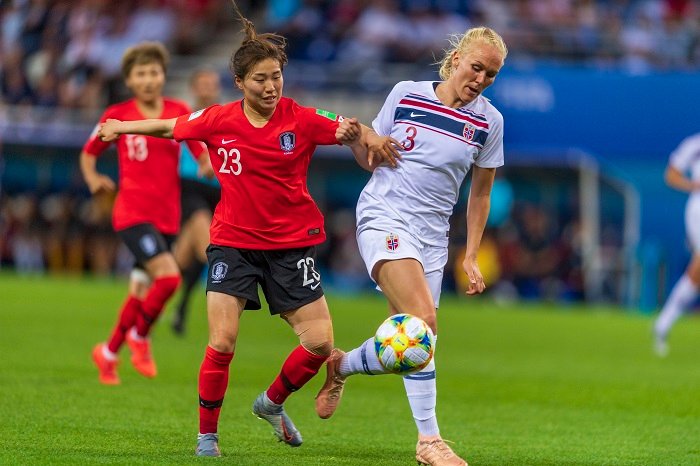 Maria Thorisdottir
On whether she can feel an improvement in the team over the opening three games:
Yeah, I think we are improving. Today wasn't the game we wanted, we didn't perform that well, but at the same time, it's good to win a game on a bad day. We have improved a lot since the Euros two years ago, and we're still going, so I can't wait for the round of 16.
On whether her thoughts were for Norway to slow it down, after South Korea got back to 2-1 on 78 minutes, or to go on the attack and try to score again:
(Laughs) Well, I didn't actually think. I knew we were gonna win the game, I just looked at Maren (Mjelde) and we were like 'they're not gonna score again.' I think we had kind of good control back there, but of course we hate to have a goal against us, as defenders.
On what Norway coach Martin Sjögren has asked of the players this tournament:
Just do what we have done the last two years. We have improved, we know what the game plan is, and just have fun, because we know we can play football.
On how serious/relaxed it has been in camp this tournament:
We have kind of a mix. We're really relaxed, and when we're not training, playing games, we like having fun, trying to do something else. We're really good at doing other things together, but when we're on the pitch we're on, we're focused, so it's kind of a mix, I think.
On whether the wider increase in coverage/support for the women's game we hear so much about has taken effect in Norway as well:
It's getting better but still has a lot to improve. If you look at Holland, and France, they're getting a lot of fans with real interest. I think we have something to improve in Norway. In the league in Norway we have something like 200/300 people watching games; that's not much. So I hope this tournament will lift it back home.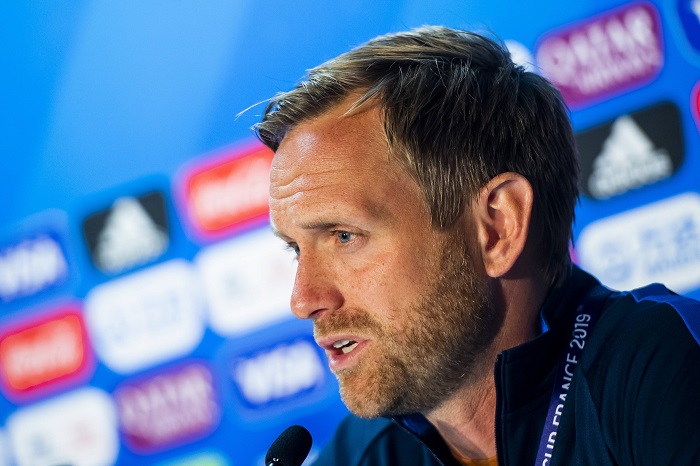 Coach, Martin Sjögren
On his key messages to the team and what he wanted to see heading into this World Cup, after the group-stage exit at Euro 2017:
Oh it's such a big difference. First of all, we have had so much more time with the players. That's a major change, because if you get time with the players you get time to improve. We also found some very, very high-quality players from the younger national teams that we have brought into the team, so it's a major difference from two years ago.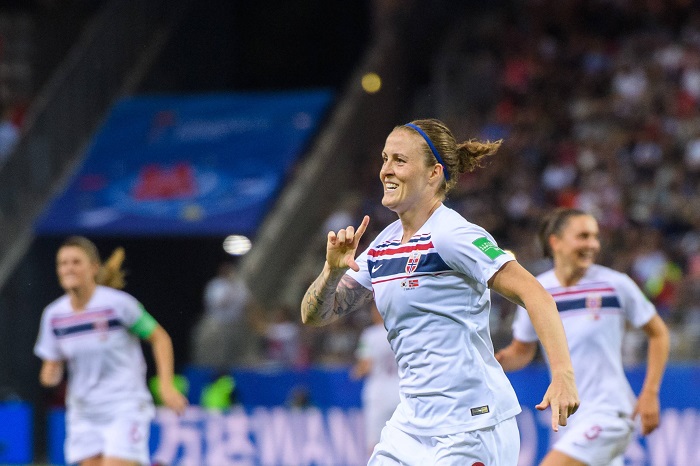 Isabell Herlovsen
On how she rated the performance and whether it mattered all that much in relation to the result:
We didn't play how we wanted, but we won the game, and that was the most important thing today.
On how she would describe this 2019 team, perhaps compared to major tournament teams she has been part of in the past:
I think this is the best team I've played with. We are really strong together, we are working for each other all the time, we are fighting, and I also think we play good soccer.
On if she remembers how she felt at her first World Cup (in 2007, as a 19-year-old), and whether it is different now:
It's a different feeling. I'm not so nervous before the games now; I'm nervous, but not like when I was 19. So it's different; I'm older and I have experience.
On whether she actively looks to give advice to the younger players, or if it tends to take care of itself:
I think the young players here have been amazing. In their first World Cup, they are playing really, really good. They are not like stressed, they are calm with the ball, so I haven't been speaking to them a lot. Just like normal.
On whether the team has been practicing penalties so far in France (she scored one in this game):
No, we have not been practicing, but maybe we should now! It's important to have players who want to take penalties, and I think many of the players in this team want to take penalties, so I don't think it's going to be a problem.
On who has been helping to keep the mood lighter at times in camp, and whether she still likes to dance a lot:
Yeah, you have heard about my dance! I think Maria Thorisdottir, she's a really funny person, but there's so many players in this team who have those good qualities.