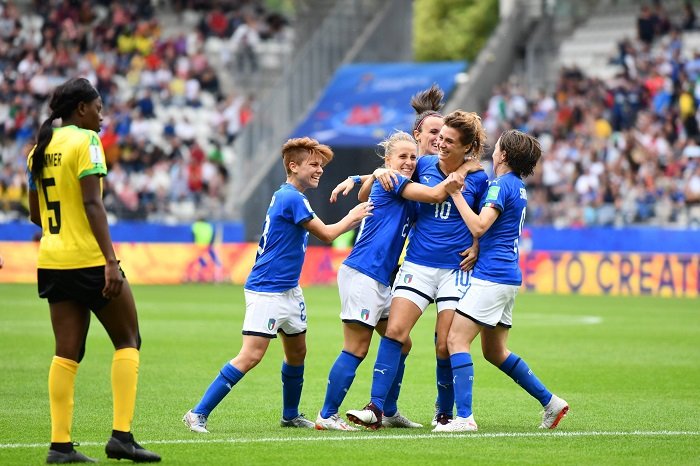 Emerging as the classic 'dark horse' of this FIFA Women's World Cup, Italy were ruthless against Jamaica in Reims on Friday evening. The 5-0 scoreline was arguably somewhat harsh on the Reggae Girlz, though, especially after a controversial incident in the first half. With the scoreline goalless, a penalty was awarded to Italy for a foul on Barbara Bonansea after a VAR check. Cristiana Girelli, who would go on to net a hat-trick, was initially denied from the penalty spot by Jamaica keeper Sydney Schneider.
The 19-year-old had kept out Brazil's Andressa Alves from 12 yards in the opening game, and she did the same again when Girelli stepped up, only for a retake to be ordered after a VAR check. It was ruled that the New Jersey native had committed an infringement by stepping off her line before the kick was taken. Clearly stunned by the decision, and by the yellow card given to her, she was beaten by the second kick, as the mood and momentum of the game shifted towards Italy in an instant.
Aurora Galli also bagged a brace in the second half to send the Azzurre clear at the top of the group. Here were the post-match thoughts of Schneider, as well as teammate Lauren Silver.
Sydney Schneider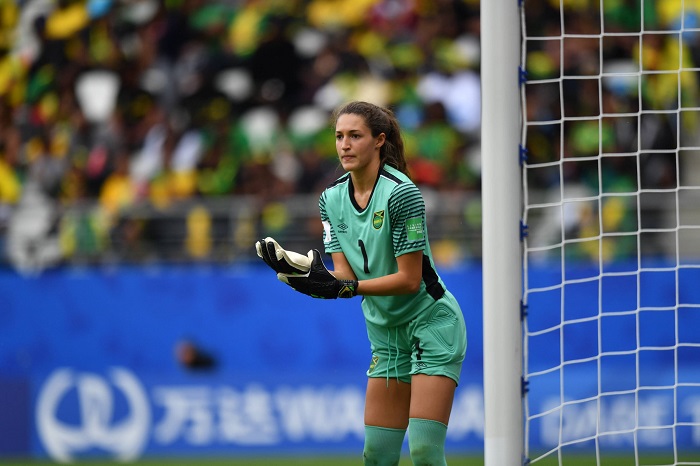 On her thought process as she faced the retaken penalty, having been booked for marginally coming off her line as the initial kick was taken:
It kind of made me second-guess what I was doing. I definitely went in it with more caution; I obviously didn't want to get sent out of the game for penalty kicks.
On whether it played on her mind after that, or if she was able to brush it off:
It stayed in my mind for a little bit but I tried to push it behind me. Obviously there was nothing I could do about it, you just have to worry about the next ball, the next play.
On what she feels has been positive and what has been missing over the first two games:
I feel coming into this game, our communication was lacking; we were on different pages in the first game, but I feel like this game we definitely improved on that. So that's a step in the right direction. Obviously it wasn't the result we wanted, but we've just got to keep taking steps in the right direction, put this result behind us and go into our last game with hopes for our goal of getting three points.
On what the World Cup experience has been like for her, especially as a teenager, and a player who has been earning plaudits:
It's surreal, it's crazy. I don't even know how to put it into words. When you're little you watch this on TV and you're like 'wow, look at them!' and you're so amazed. Just to be in the tournament that I watched when I was young and was just in awe of, and now I'm here, and we're all here and just living a dream, it's incredible.
On whether this has solidified her ambition to pursue a career in the game after college (at UNC Wilmington):
Yeah I don't wanna say that's 100 percent what I'm gonna do, because anything can happen, so I wanna say that's gonna be a goal of mine. Obviously being on a big stage like this gives people an opportunity to see who I am and what I can do, so that helps, but it's not the only thing.
Lauren Silver
On how she saw the overall performance, firstly from the bench, and then when she was in the action as a substitute:
I think as a team, obviously we're new to the World Cup. Going from playing friendlies to being on an international stage like this, the speed of the game is on a whole other level. I think that's one thing that's a good and a bad, because it's something that we're not used to, but it's also something that we've been able to see in this tournament, so I think it's really good for us moving forward.
On what is most important to take from the Australia game on Tuesday (18th June):
Like I said, we're new to the World Cup, so it just gives us an opportunity to get out there and play and show what we have to offer. Every game that we go to, we're gonna make mistakes, and we're gonna learn something new each time, and I hope that as we go along this process it's a learning experience for us. Going into Australia, can we take something from this game and apply it to playing against one of the best teams in the world?
On whether the players were talking about the penalty retake at half-time or trying to move on:
I think when we went to half-time it was just more of an attitude of 'stuff's gonna happen in the game, we can't control what the ref's gonna do,' so whether we get a retake or we don't, it's just a matter of being able to restart and have a good attitude. I think maybe it did shake us a little bit, but going into half-time, just trying to reset and going out onto the field and starting over.
On what kind of experience the World Cup has been so far overall:
It's been a mix of a lot of different things. We have different players on the field, different players on the bench, and I'm playing a different role this tournament, and learning how to support our teammates and make sure that I'm the best teammate that I can be. Whether I'm supporting people or I'm playing, that's the role I'm taking on. We're going into this tournament – I'll say it over and over again – this is very new for us. I think people are learning as we're going.
On what has to happen now for Jamaican women's football so all the progress is not lost:
So the chain of events for us to get here, people will say 'oh, how can Jamaica be in a World Cup?' The chain of events that led us here shows that this isn't a coincidence. We earned being here, we deserve to be here, and each step we qualified (in CONCACAF) showed like a trend along the way. We worked to get here, and going forward, I wanna see more of that. I hope that goes in a forward direction from our youth to our senior team, so that we get to see more of these situations and predicaments, and the next World Cup, we're here again. We're playing more of these great sides like Australia, Italy and Brazil, and we do better, that's all.