Did you enjoy the england v Wales game on Friday? Chances are, if you were a neutral or a Wales fan you definitely did and if you were cheering on the Lionesses you probably did some shouting and swearing. You can't say it wasn't exciting (well, the second half definitely)! And even the grumpiest England fan must acknowledge the efforts of their team and begrudgingly applaud the gutsy performance of their Welsh neighbours.
We asked YOU to tell us which player was your She Kicks Player of the Match. And you did, thank you. And you showed that you aren't all biased beasts (and of course there were some Welsh voters … though we also suspect the odd few always just  vote for their favourite player regardless!) because here's what your collective footballing minds decided. In reverse order the top four are (as % of all votes):
Ellen White 5%
Lucy Bronze 7%
Mel Lawley 7%
And your top rated player, #FIFAWWC Qualifying ENG v WAL – She Kicks Player of the Match is: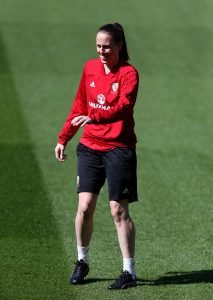 LAURA O'SULLIVAN who received a massive 66% of the votes. Chwarae teg!

Laura was outstanding from the first minute to the last. She was confident coming to punch crosses, she was brave in one on ones, she was decisive in her decision-making, she pulled out a host of worldy saves and she rightfully gets the plaudits from your good selves. No wonder her Welsh manager, Jayne Ludlow, said: "I love her." ?
You can read the post match reaction of Ludlow and Wales skipper Sophie Ingle HERE (& England boss Phil Neville HERE)
Here's some of what some you had to say about your top performers:
Laura O'Sullivan
Ian Hanahoe: Brick wall
Garrett Guillotte: Clean sheet against relentless English attack
Ian Todd: Dominated her area and made some excellent saves
Phil Elliott: First class goalkeeping right through the game, she's been magnificent
Neil Thornton: Laura O`Sullivan has been outstanding in the match tonight.  She was magnificent throughout.  When you have a goalkeeper who dominates the penalty area like Laura has the confidence it gives the defence is immeasurable.
Rachel Hopkinson: Laura was immense in the Wales net, esp in the last 10 minutes when we threw everything at her – unfortunately
Alison Greenwood: Outstanding performance, showing just how good female goalkeepers can be.
Julie James: Outstanding saves earning them a well deserved draw which surely must feel like a win to Wales
Holly Allen: Peppered goal, but she didn't budge!
Anon: Phenomenal saves and composure. Solid defence all round
David Batte: Played through cramp. Top drawer saves. Agile, athletic, great at running the clock down too
Phillipa Kipling: She was outstanding in goal for Wales and we couldn't get the ball to go past her.
Elizabeth Bardsley: Simply outstanding
Emily Hyman: Solid, some spectacular saves
John Carrier: Totally focused performance, taking command of her area. Putting her body, heart and soul on the line to inspire her team-mates and country #Cymruambyth
Roy Hayden: Unbeatable tonight and inspired her defence
John Spooner: Went for everything, fearless, encouraging and some terrific saves
Melissa Lawley
Louise Bradshaw: From first moment on pitch created exciting opportunities, worked tirelessly to create more and more. Excited to see more of her in the future. A well deserved team place.
Becky Lenton: Made an impact as soon as she came on. Took players on and effected the game. Pure class, should have started.
Lucy Bronze
Mark Williams: Because of the Goal Line Clearance she made, (whole ball has to cross the line) better than any save that Sullivan made. Completely Neutral observation
Toni Barnes-Warden: Good play from England in the end but not our best, but that save on the line from Lucy Bronze!
Ellen White
Jon White: Passionate, hardworking, made a significant difference when she was introduced and always a threat in front of goal
Anon: She's a trier
And some extra shout outs to some of the other Welsh warriors too:
Hayley Ladd
Carol Smith: Hayley Ladd has been outstanding for Wales.
Rachel Rowe
Michael Stockton: Worked hard all game, great effort in defence and attack for the limited Welsh side
Sophie Ingle
Heather Owens: Class performance as always, just like she does for Liverpool. Didn't let England have a look at goal
Heather Owen was drawn out of the hat to win some goodies, THANKS to everyone for voting.

NEXT VOTE IS THE SSE WOMEN'S FA CUP FINAL!